MSC Copper River King Salmon Bulk Bits & Pieces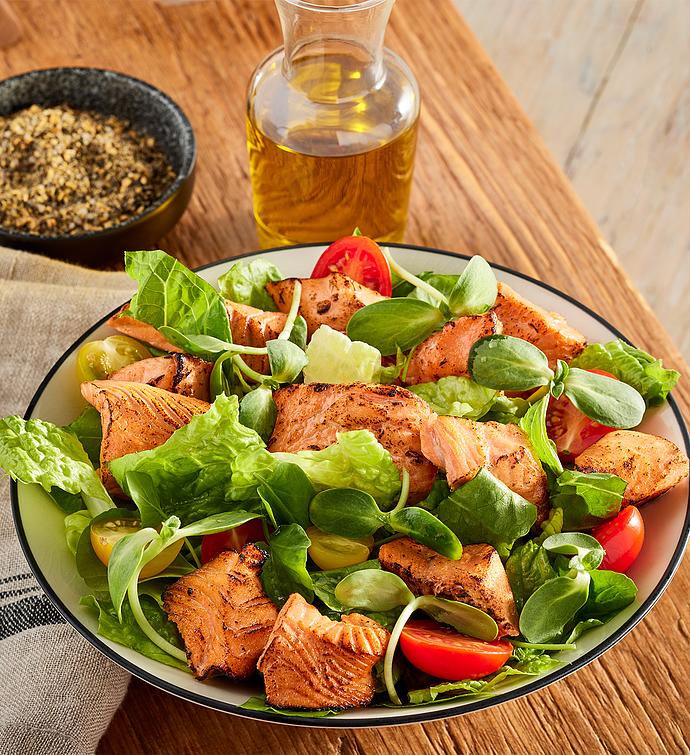 MSC Copper River King Salmon Bulk Bits & Pieces
4 packages MSC wild Copper River king salmon bulk bits and pieces, skinless, boneless, 8 oz (227g) each
Net Weight: 2 lb
The 2023 Copper River salmon season is underway in Southcentral Alaska, and we're privileged to offer our customers this prized delicacy. Copper River king salmon, sometimes called the "Wagyu of seafood" after the famed Japanese cattle stock, are the largest and most succulent of wild salmon, surpassing even other king salmon from Alaska in terms of taste and texture. Chefs and salmon connoisseurs worldwide eagerly anticipate Alaska's annual Copper River run. This salmon's high fat content makes it ideal for a wide range of cooking methods, including grilling, broiling, baking, poaching, sautéing, smoking, roasting, or steaming. Thrifty, versatile, and delicious, our Copper River king salmon "bits & pieces" are perfect for tacos, chowders, kabobs, and fish cakes. From the same fish as our premium-cut portions, these come to you vacuum-packaged in eight-ounce blocks. Kosher (EK).

What makes Copper River king salmon so special?
Each May, the glacier-fed Copper River in south-central Alaska plays host to the momentous event when king salmon return to their ancestral spawning grounds deep in the Alaskan backcountry. It is the very first salmon run of the year and Copper River king salmon are unlike any other. They accumulate extra fat stores while living in the ocean, giving them the fuel necessary to swim hundreds of miles upstream and gain thousands of feet of elevation while facing near-freezing water temperatures. Those extra fat stores produce salmon with exceptionally rich, luscious flavor and large, velvety flakes. Like all seafood harvested in Alaska, Copper River salmon is MSC certified sustainable.* The Copper River king salmon run is carefully managed to ensure the long-term health of the run. The Alaska Department of Fish and Game sets strict quotas on the number of fish that can be harvested each year, and carefully counts the "escapement"-the number of fish that get past fisherman and make it back upstream to spawn.


MSC certified sustainable*

23g protein per 4-oz (113g) serving

17mcg vitamin D per 4-oz (113g) serving

1,968mg omega-3 DHA + EPA per 4-oz (113g) serving

Kosher (EK), approved for Passover

*MSC CERTIFIED SUSTAINABLE SEAFOOD: The Marine Stewardship Council (MSC) is a global nonprofit that operates the world's leading certification program for sustainable wild seafood. They work with fisheries, scientists, industry, and NGOs to protect the ocean and ensure that wild seafood is available to feed future generations. Every purchase of a product with the MSC blue fish label helps to support a healthier ocean. Learn more at www.msc.org.

Ingredients: king (Chinook) salmon (Oncorhynchus tshawytscha). Contains fish.