Wild Alaskan Weathervane Scallops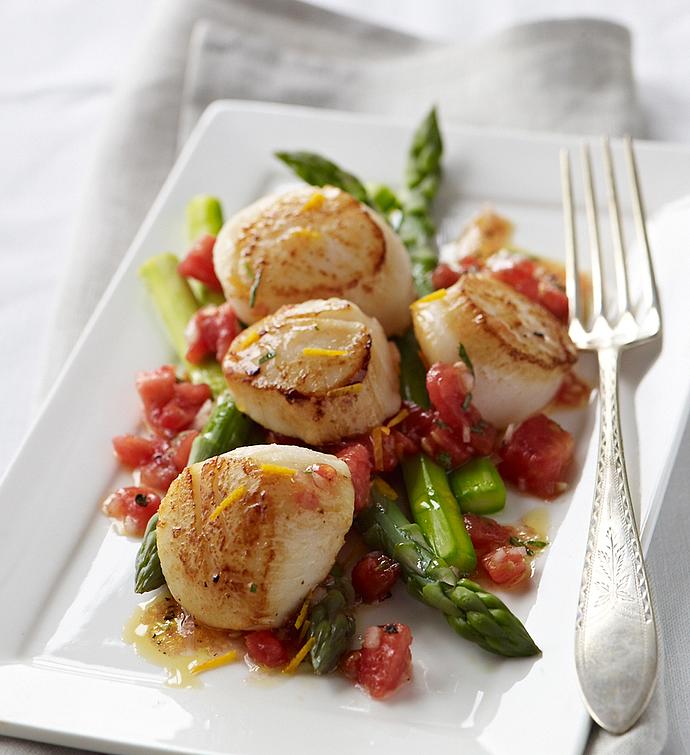 Express two-day shipping is included on this item. Only standard shipping and processing charges will apply. Please note: To avoid weekend transit, orders placed after 10 AM PT / 1 PM ET on Wednesday will ship on Monday of the following week.
2 blocks Weathervane Scallops, 20 oz (1 lb 4 oz) 567g each
Net Weight: 2 lb 8 oz
Sustainably harvested in icy Alaskan waters, our Weathervane scallops (Patinopecten caurinus) come to you hand-shucked, vacuum-packaged, and flash-frozen in a block. With tender yet firm, buttery meat that is creamy in color and turns opalescent white when cooked, Alaskan scallops lend themselves to a variety of elegant presentations, whether grilled, sautéed, or broiled. Ships frozen.


25-37 scallops per block

No added phosphates, water, or preservatives

Excellent source of lean protein

Product of USA (Alaska)

Weathervane scallops harvested with towed dredges in the Gulf of Alaska and the Bering Sea are a Seafood Watch® Best Choice

ALASKAN SEAFOOD: Serving as a model for effective fishery management around the globe, Alaska is the only state in the nation whose constitution mandates that all fisheries be responsibly managed to support continued abundance. All seafood harvested in Alaska waters comes from fisheries that are verified sustainable, responsible, and traceable back to the source. All Alaskan seafood is certified sustainable by Alaska Responsible Fisheries Management (RFM) and the Marine Stewardship Council (MSC), programs which are benchmarked by the Global Sustainable Seafood Initiative (GSSI) and are aligned with the United Nations Food and Agriculture Organization (FAO) Code of Conduct for Responsible Fisheries, the most comprehensive set of international standards and best practices for wild fisheries.

SEAFOOD WATCH®: Since 1999, the Monterey Bay Aquarium Seafood Watch® program has provided science-based seafood recommendations that help consumers and businesses make purchasing decisions for a healthy ocean. Seafood Watch® has developed the most trusted, rigorous standards for fishing and aquaculture practices worldwide, setting the global bar for ecologically sustainable seafood. Seafood Watch® is a registered service mark of the Monterey Bay Aquarium.