MSC Wild Alaskan Sockeye and Halibut with Grilling Planks - Holiday Gift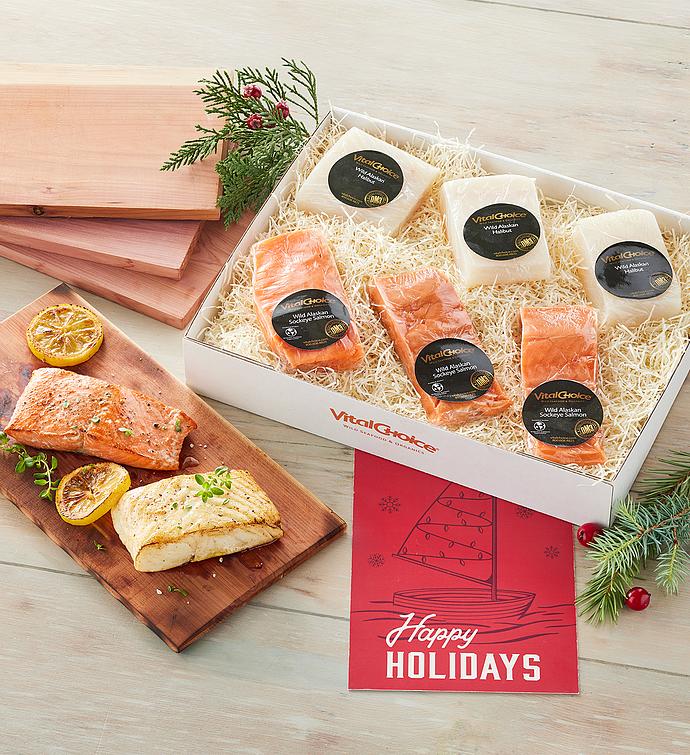 MSC Wild Alaskan Sockeye and Halibut with Grilling Planks - Holiday Gift
3 portions MSC wild Alaskan sockeye salmon, skinless, boneless , 4 oz (113g) each
3 portions MSC wild Alaskan halibut, skinless, boneless, 4 oz (113g) each
4 all-natural red cedar grilling planks, 11 in L x 5.5 in W x 1.75 in H (27.9 cm x 13.9 cm x 4.4 cm)
Pre-printed holiday medallion
Net Weight: 1 lb 1 oz
Send season's greetings to the grill master in your life with this wonderful gift featuring a complementary pairing of our most popular wild salmon and white fish varieties. Sustainably caught in icy Alaskan waters, our MSC certified sustainable* sockeye salmon and halibut are individually flash-frozen and vacuum-packaged in skinless, boneless, recipe-ready portions. Four aromatic, red cedar grilling planks come with easy instructions for use with gas, charcoal, or ceramic grills. Everything arrives handsomely boxed with a "Happy Holidays" tag.

*MSC CERTIFIED SUSTAINABLE SEAFOOD: The Marine Stewardship Council (MSC) is a global nonprofit that operates the world's leading certification program for sustainable wild seafood. They work with fisheries, scientists, industry, and NGOs to protect the ocean and ensure that wild seafood is available to feed future generations. Every purchase of a product with the MSC blue fish label helps to support a healthier ocean. Learn more at www.msc.org.

Ingredients: Pacific sockeye salmon (Oncorhynchus nerka) and Pacific halibut (Hippoglossus stenolepis).