MSC Ventresca Albacore Tuna in Olive Oil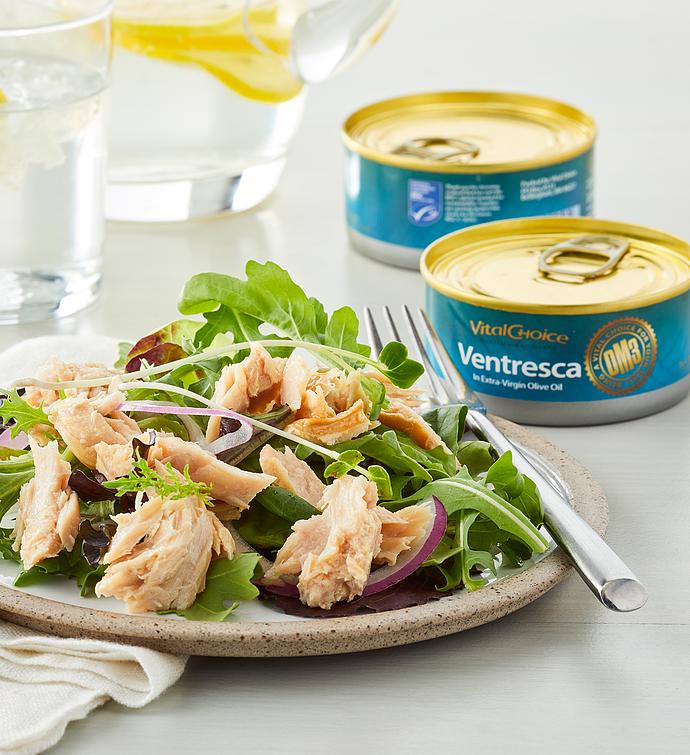 MSC Ventresca Albacore Tuna in Olive Oil
MSC Certified
6 cans MSC Ventresca albacore tuna in olive oil, 3.75 oz (106g) each
Net Weight: 1 lb 6 oz
Unique, delicious, and wildly popular, our Ventresca is the most luxurious canned tuna you'll ever eat. Hand-cut from the richest, most tender portion of the small albacore, the belly meat is packed by hand with organic extra virgin olive oil and a pinch of sea salt. Our albacore tuna comes from a Pacific fishery in which smaller boats line-catch individual tuna using the troll method, which ensures careful handling of each fish, safety for dolphins, and very minimal bycatch. Unlike most canned tuna, ours is cooked only once, which preserves its mild flavor and tender texture.


MSC certified sustainable*

Excellent source of protein

3,550mg omega-3s per 2-ounce serving

Organic extra virgin olive oil

Product of USA

*MSC CERTIFIED SUSTAINABLE SEAFOOD: The Marine Stewardship Council (MSC) is a global nonprofit that operates the world's leading certification program for sustainable wild seafood. They work with fisheries, scientists, industry, and NGOs to protect the ocean and ensure that wild seafood is available to feed future generations. Every purchase of a product with the MSC blue fish label helps to support a healthier ocean. Learn more at www.msc.org.

Ingredients: Pacific albacore tuna (Thunnus alalunga), organic extra virgin olive oil, sea salt. Contains fish.