Wild Yellowfin (Ahi) Tuna Steaks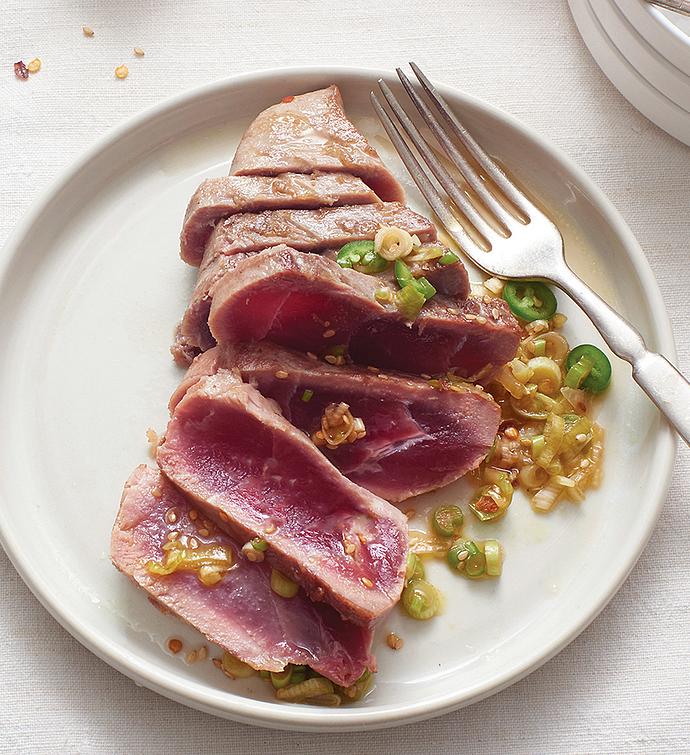 Express two-day shipping is included on this item. Only standard shipping and processing charges will apply. Please note: To avoid weekend transit, orders placed after 10 AM PT / 1 PM ET on Wednesday will ship on Monday of the following week.
6 Wild Yellowfin (Ahi) Tuna Steaks, skinless, boneless, 5 oz (142g) each
Net Weight: 2 lb 2 oz
Known also as ahi, our yellowfin tuna comes from an artisanal Indonesian fishery in the Western Central Pacific Ocean and meets rigorous standards for resource management, human rights, and working conditions. High in protein and low in fat, yellowfin is tender and delicious when grilled or pan-seared and served rare*. Unlike other yellowfin tuna sold in the U.S., which is typically exposed to synthetic carbon monoxide (CO) gas to preserve its natural color, our supplier's cutting-edge technology uses natural hickory wood smoke to preserve color and taste while enhancing food safety and extending shelf-life once thawed. Individually flash-frozen and vacuum-packaged in recipe-ready portions.


Excellent source of lean protein

Good source of vitamin D

Product of Indonesia

*Consuming raw or undercooked seafood and shellfish may increase your risk of foodborne illness, especially if you have certain medical conditions.

Ingredients: Yellowfin tuna (Thunnus Albacares), filtered wood smoke (for color retention). Contains fish.