Salmon with Provencal Vegetables Vinaigrette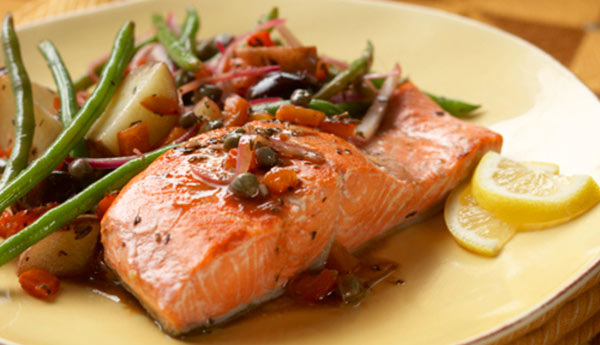 Salmon with Provencal Vegetables Vinaigrette
Salmon with Provencal Vegetables Vinaigrette
Prep Time: 20 minutes |
Cook Time: 15 minutes |
Total Time: 35 minutes
Ingredients
4 Vital Choice wild salmon fillets (4 to 6 ounces each), thawed
Vital Choice extra-virgin olive oil
Salt and black pepper, to taste
1/4 cup Fumé Blanc (optional)
1/4 cup coarsely chopped Italian parsley
Lemon wedges, for garnish
2 cloves garlic, minced
3 tablespoons fresh lemon juice
1 tablespoon balsamic vinegar
2 teaspoons dried Herbes de Provence or 1 teaspoon each dried basil leaves and dried thyme leaves
1 cup frozen tiny green beans (haricots verts), defrosted
6 red new potatoes, cooked and diced
1/2 cup diced roasted red peppers
1/2 small red onion, slivered lengthwise, rinsed in cold water and drained thoroughly
1/4 cup pitted imported olives, such as Kalamata
1 tablespoon capers, drained
Instructions
Mix garlic, lemon juice, balsamic, 5 tablespoons olive oil, Herbes de Provence, green beans, potatoes, roasted red peppers, onion, olives and capers together in a small bowl and set aside.
Pat salmon dry with paper towel. Heat a large heavy nonstick skillet over medium-high heat. Brush both sides of salmon with a little olive oil.
Place salmon, skin side up, in heated skillet and cook, uncovered, about 3 to 4 minutes, until browned. Shake pan occasionally to keep fish from sticking.
Turn salmon over and season with salt and pepper. Move the pan off the burner, add wine to pan, and immediately return pan to burner. Cover pan tightly and reduce heat to medium. Cook an additional 3 to 4 minutes. Cook just until fish is opaque throughout.
Remove fish to a platter; do not wash the pan. In the pan that the fish was cooked in, add the Provençal Vegetables Vinaigrette, and heat over high heat until just warmed, about 1 to 2 minutes. 
Pour vegetables over fish on platter, sprinkle with parsley and garnish with lemon wedges, if desired. Serve immediately.