Roasted Wild Salmon with Spinach Herb Pesto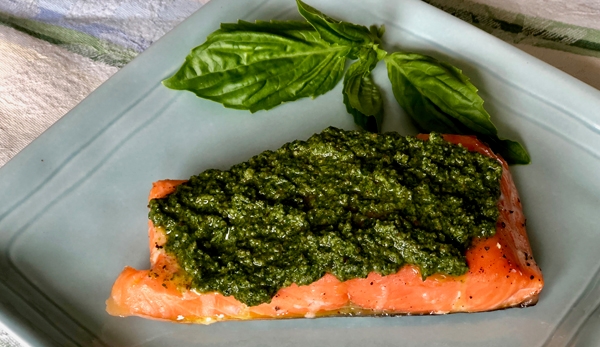 Roasted Wild Salmon with Spinach Herb Pesto
Go beyond the ordinary (and use up those leftover bits of fresh herbs) with this nutritious, technicolor topping for any variety of roasted wild Salmon. I absolutely love traditional basil pesto, but don't always have cups of fresh basil on hand. The beauty of this pesto recipe is that it's more of a kitchen-sink preparation – you use two cups of any combination of fresh spinach and fresh herbs for a wonderful and nutrient-dense addition to luscious slow-roasted salmon. For this recipe I used what I had on hand – wild Alaskans silver (coho) salmon. Although silver salmon is leaner than sockeye or king salmon, sockeye will cook through faster — and you can keep any salmon species moist by slowly roasting it at a lower temperature.

A few notes for the cook: Use crushed walnuts or the traditional pine nuts if you prefer, but pecans proved delicious in this preparation. I used spinach combined with fresh basil, Italian parsley and fresh tarragon — feel free to use this recipe as an opportunity to use up leftover greens and herbs. Any combination will work well. I found the hint of tarragon and lemon zest added welcome depth and tang. And, if your salmon portions are skin-on, as mine were, you'll find the salmon fillets easy to slip off the skins after roasting. A food processor will make pesto quickly and effortlessly. Or, you can also use a blender or a traditional mortar and pestle.
Roasted Wild Salmon with Spinach Herb Pesto
Prep Time: 10 minutes |
Cook Time: 20 minutes |
Total Time: 30 minutes
Ingredients
2 Vital Choice wild salmon fillets (4 to 6 ounces each), thawed
1/3 cup plus 1 tablespoon Vital Choice extra-virgin olive oil
¼ cup pecans
1 clove garlic
1 cup baby spinach, packed
1 cup mixed fresh herbs, packed (For example: ¾ cup basil, 2 tablespoons Italian parsley, 2 tablespoons tarragon)
¼ cup freshly grated Parmigiano-Reggiano cheese
Zest of ½ lemon
Salt to taste
Instructions
Preheat the oven to 300ºF and line a baking sheet with parchment paper.
Pat the salmon portions dry and place them on the parchment. Drizzle the salmon with 1 tablespoon olive oil and season to taste with salt and pepper.
Roast the salmon 15 to 18 minutes, until it reaches your desired level of doneness.
While the salmon roasts, gently toast the pecans (or pine nuts or crushed walnuts) until they just begin to brown and become fragrant. You can do this in the oven, toaster oven or in a dry sauté pan over medium heat (my preferred method). Remove from heat to cool.
Place pecans (or crushed walnuts or pine nuts), garlic, spinach, herbs, Parmigiano-Reggiano, lemon zest and salt in the bowl of a food processor and pulse until finely chopped. With the processor running, drizzle in 1/3 cup olive oil and run until thoroughly combined. Season to taste with salt.
Once the salmon is done, top each portion with a generous dollop of pesto. To store leftover pesto, press a piece of plastic wrap on the surface to prevent browning and refrigerate (use the following day).