Pan-Steamed Lingcod Marseilles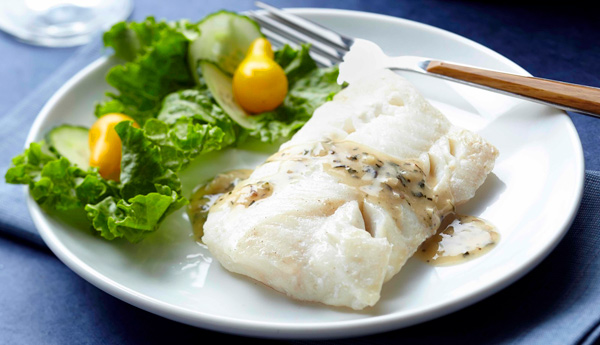 Pan-Steamed Lingcod Marseilles
Pan-Steamed Lingcod Marseilles
Prep Time: 5 minutes |
Cook Time: 15 minutes |
Total Time: 20 minutes
Ingredients
4 Vital Choice lingcod portions (4 to 6 ounces each), thawed
1 tablespoon Vital Choice extra-virgin olive oil
1 tablespoon shallot, minced
1 clove garlic, minced
Water, for poaching (about 1 cup)
1/2 cup white wine (Sauvignon Blanc or Chardonnay)
1/4 teaspoon sea salt
1/8 teaspoon white pepper
1/2 to 1 teaspoon dried Italian seasoning or Herbs de Provence
2 tablespoons butter
1 teaspoon fresh lemon juice
Instructions
Heat a very large skillet (10 to 12-inches, depending on size of fillets) over medium heat for one minute. Add the oil and swirl the pan to coat evenly. Add shallot and garlic; sauté for 30 seconds.
Remove the pan from heat. Place seafood in pan, skin side down. Add water to the pan until it reaches half way up the side of the fillets.
Add the wine, salt and pepper. Return the pan to medium-high heat until it begins to simmer. Cover pan tightly and reduce heat to low; liquid should simmer, not boil. Cook 2 minutes. Turn off heat and let seafood rest in liquid for 5 minutes.
Remove seafood to a plate/platter and keep warm.
Create a quick reduction sauce with the remaining steamy liquid by returning pan to medium-high heat. Reduce liquid by at least half, about 3 to 5 minutes.
Reduce heat to low and add the butter, herbs and lemon juice. Whisk until butter melts and sauce thickens, about 1 minute.
To serve, drizzle fillets with sauce.