Chilean Sea Bass with Spice Rub, Corn Risotto, and Avocado Salad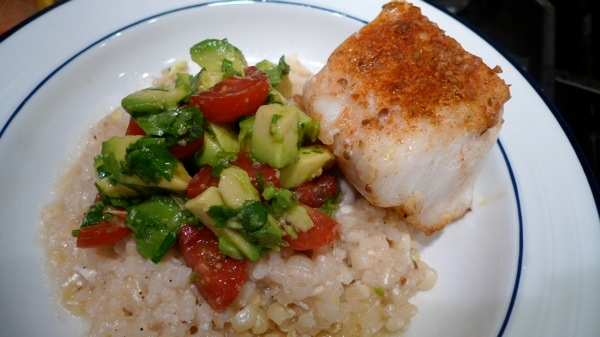 Chilean Sea Bass with Spice Rub, Corn Risotto, and Avocado Salad
Chilean Sea Bass with Spice Rub, Corn Risotto, and Avocado Salad
Prep Time: 10 minutes |
Cook Time: 20 minutes |
Total Time: 30 minutes
Ingredients
6 portions Vital Choice Chilean sea bass (4 ounces each) 
Vital Choice extra-virgin olive oil
Salt, to taste
1 teaspoon coriander powder
1 teaspoon smoked paprika
1 teaspoon roasted cumin, powdered
1 medium shallot, chopped
2 garlic cloves, minced
2 ears of corn, off the cob
1 cup Arborio rice
3 to 4 cups chicken broth, warmed
1/3 cup half and half
½ cup queso fresco (or mild feta cheese), grated
1 large Hass avocado, cut into ½ inch pieces
½ cup cherry tomatoes, cut in half
Juice of half a lime
½ cup cilantro, chopped
Instructions
Make salad: Mix avocado, cherry tomatoes, lime juice, salt and cilantro together in a bowl. Set aside.
Make rub: Mix together coriander, smoked paprika and 1 teaspoon salt. Rub the fish filets all over with the spice rub. Marinate for 2 to 3 hours in the fridge.
Preheat oven to 400 degrees F.
Place the fish filets on a lined cookie sheet. Drizzle oil and sprinkle salt on each of the filets. Bake for 9 to 12 minutes, depending on the size of the filets.
Make risotto: Heat a wide frying pan with the olive oil. Add cumin and sauté for a minute on medium heat. Add the shallot and garlic. Saute for 2 to 3 minutes. Add the corn and the rice. Saute for 3 to 4 minutes on medium low heat.
Gradually add the broth one ladle at a time, stirring the rice in between. Add the liquid as it cooks out. The risotto should take about 20 minutes to cook.
Add the half and half and cheese to the risotto. Mix well and check for seasonings. Add salt as needed.
Serve the avocado salad on top of the risotto and fish on the side. Enjoy!