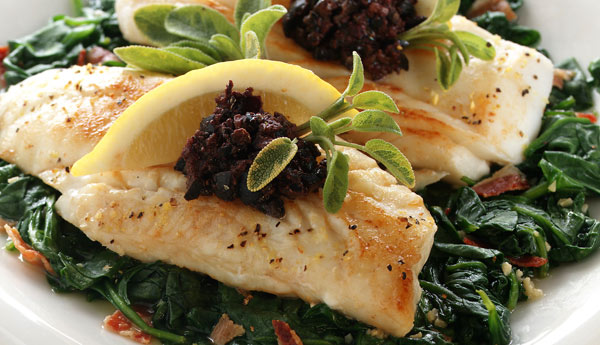 White Fish Florentine
A dish prepared à la Florentine typically features a main ingredient such as eggs, poultry, or fish, served on a bed of steamed or sautéed spinach. The adjective "Florentine" refers to a person or item from the Italian city of Florence, but today, it is most commonly used to mean a dish that features spinach. This recipe also calls for pancetta (dry, cured pork belly), but you can certainly substitute bacon (dry, cold-smoked pork belly) or our wild salmon "bacon".
White Fish Florentine
Prep Time: 10 minutes |
Cook Time: 15 minutes |
Total Time: 25 minutes
Ingredients
2 tablespoons Vital Choice extra-virgin olive oil, divided
4 Vital Choice cod, mahi mahi, haddock, halibut, lingcod or sablefish fillets (5 to 6 ounces each), thawed
2 teaspoons chopped garlic
2 ounces pancetta or ¼ cup crumbled bacon (pastured pork or wild salmon)
1/2 to 1 teaspoon lemon pepper blend
1/4 cup water
2 packages fresh baby spinach (6 to 7 ounces each)
2 tablespoons prepared tapenade OR 1 can pitted chopped black olives (4 ounces), drained
Instructions
Heat 1 tablespoon oil in large, deep fry pan or stockpot over medium heat. Stir in garlic and pancetta and cook 1 to 2 minutes. Remove pancetta from pan; hold aside.
Brush both sides of cod fillets with remaining oil. Place fillets in pan and cook, uncovered, over medium-high heat about 3 minutes, until browned. Shake pan occasionally to keep fish from sticking.
Turn fillets over and sprinkle with lemon pepper. Cover pan tightly and reduce heat to medium. Cook an additional 2 to 5 minutes. Cook just until fish is opaque throughout. Remove fillets to platter; keep warm.
Add water, spinach and pancetta to pot; cover and cook a few minutes, just until spinach is wilted. Stir to blend flavors and heat through.
To serve, portion about 1/2 cup spinach blend onto each plate. Top with a seafood fillet and 1/2 tablespoon tapenade or 1 tablespoon olives.