MSC High Potency Omega-3 Therapy + Vitamin D3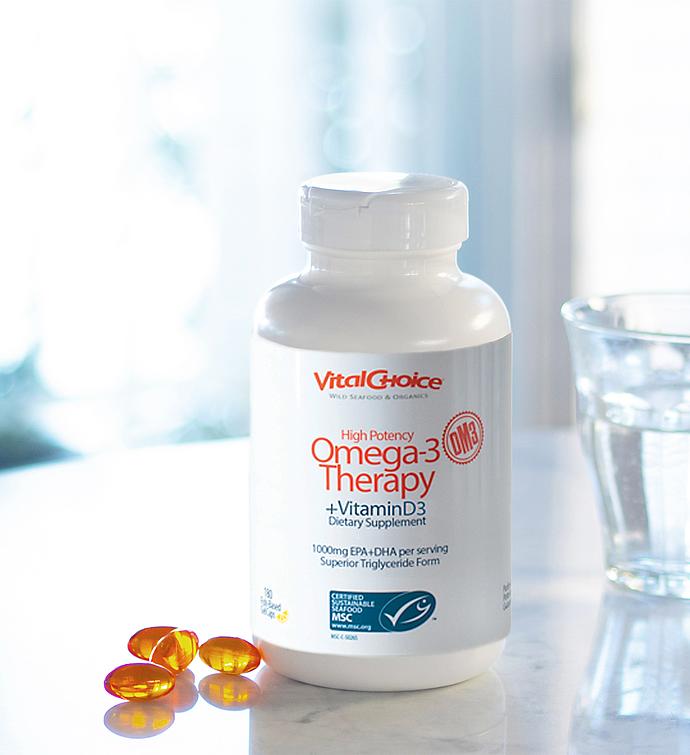 1 bottle MSC high potency omega-3 therapy + vitamin D3 - 850mg gel caps (180ct)
Net Weight: 5 oz
For those seeking more omega-3s per capsule than our signature sockeye salmon oil offers, this supplement combines wild Alaskan pollock oil with vitamin D3 to provide 1,180mg of triglyceride-form of omega-3s and 50mcg of vitamin D3 per serving. No dairy, starch, wheat, yeast, sugar, gluten, GMOs, artificial preservatives, artificial colors, binders, or stearates. Contents independently tested and certified by NSF International.


MSC certified sustainable*

Suggested use: 2 gel caps daily

50mcg (2,000 IU) of vitamin D3 per serving

670mg EPA + 340mg DHA per serving

Flavored with organic lemon oil

Fish-based gelatin capsule

Product of USA

*MSC CERTIFIED SUSTAINABLE SEAFOOD: The Marine Stewardship Council (MSC) is a global nonprofit that operates the world's leading certification program for sustainable wild seafood. They work with fisheries, scientists, industry, and NGOs to protect the ocean and ensure that wild seafood is available to feed future generations. Every purchase of a product with the MSC blue fish label helps to support a healthier ocean. Learn more at www.msc.org.

Ingredients: pollock oil (Theragra chalcogramma), vitamin D3 (cholecalciferol), organic lemon oil, natural astaxanthin (Haematococcus pluvialis microalgae extract), non-GMO mixed tocopherols, softgel capsule (fish gelatin, vegetable glycerin, purified water). Contains fish.