Wild Sardines in Extra-Virgin Olive Oil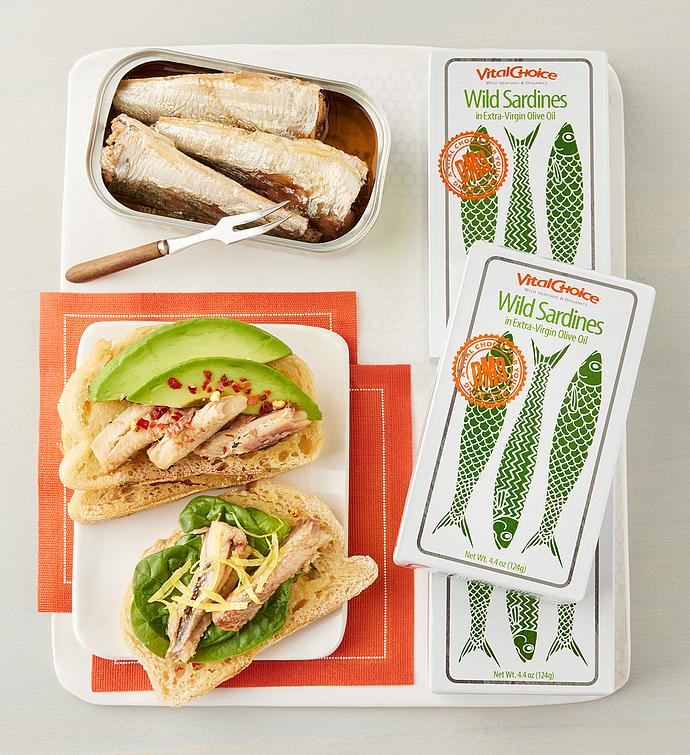 6 tins wild sardines in extra virgin olive oil, 4.4 oz (125g) each
Net Weight: 1 lb 10 oz
Custom-canned for us by one of the oldest fish canneries in the world, our wildly popular Portuguese sardines are purse-seine caught and packed by hand within hours of catch. Sardines are a convenient source of protein, vitamin D, calcium, and omega-3s. Contains edible skin and bones.
Excellent source of protein, calcium, and vitamin D


3,000mg omega-3s per serving


Organic extra-virgin olive oil


Product of Portugal
Ingredients: Sardines, organic extra virgin olive oil, sea salt. Contains fish.
Marine Omega-3s: Omega-3 fatty acids are found in seafood, livestock, and some plants, but seafood is the only concentrated source of two types that are vital for human health: eicosapentaenoic acid (EPA) and docosahexaenoic acid (DHA). Evidence suggests consumption of EPA and DHA supports brain development and eye and heart health.