Canned Smoked Sockeye Salmon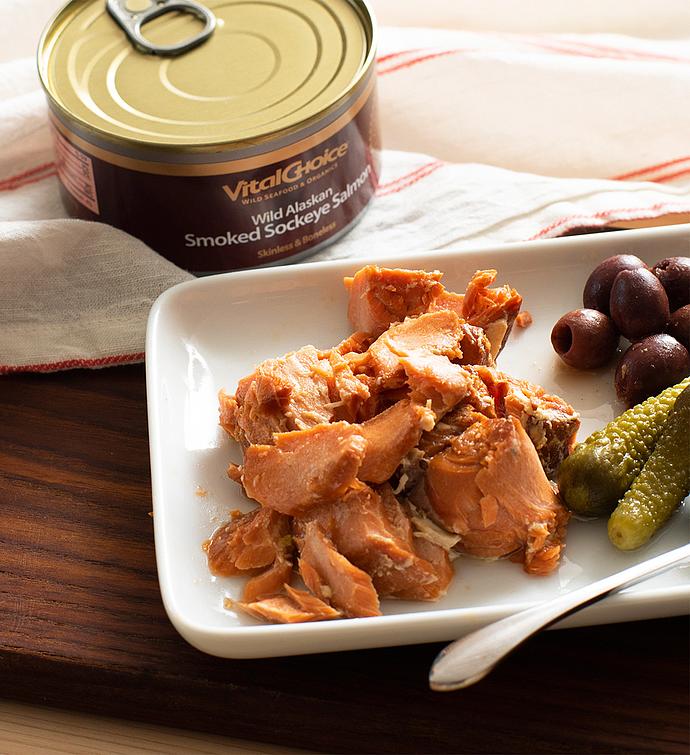 3 cans MSC smoked wild Alaskan sockeye salmon, 5.5 oz (156g) each
Net Weight: 1 lb
Our canned smoked sockeye salmon is a delicious treat to enjoy anytime, anywhere. Known also as red salmon, wild Alaskan sockeye is celebrated for its vivid color, firm texture, and bold flavor. Of the five Pacific salmon species, sockeye has the highest protein and vitamin D content per serving. Ours is sustainably caught in the icy waters of Alaska, and tastes delicious on a salad, in chowders and casseroles, or straight out of the can.
Skinless, boneless


Excellent source of lean protein and vitamin D


900mg omega-3s per serving


Certified sustainable by the Marine Stewardship Council


Kosher pareve (OU)


Product of USA (Alaska)
Ingredients: Smoked wild Pacific sockeye salmon (Oncorhynchus nerka), natural sea salt, organic brown sugar, organic garlic powder. Contains fish.
Alaska Seafood is Sustainable Seafood: With more than three million lakes, more than 12,000 rivers, and more coastline than the rest of the U.S. put together, Alaskan waters produce some of the planet's most pure, nutrient-dense seafood. Serving as a model for effective fishery management around the globe, Alaska is the only state in the nation whose constitution mandates that all fisheries be responsibly managed to support continued abundance. And because fish farming is prohibited in Alaska, you can always be certain Alaskan seafood is wild.
Marine Stewardship Council: The MSC is a global nonprofit organization that works with scientists, fisheries, industry experts, and other nonprofits to improve the way our oceans are fished. In the MSC program, sustainable seafood means that it was fished from stocks with healthy populations, with minimal impact on the environment, and in an area with effective, responsible management. When you see the MSC blue fish label on a Vital Choice product, you can be confident it comes from a certified sustainable source, one that is helping to combat mislabeling and seafood fraud. Our MSC chain of custody certification number is MSC-C-50265.
Marine Omega-3s: Omega-3 fatty acids are found in seafood, livestock, and some plants, but seafood is the only concentrated source of two types that are vital for human health: eicosapentaenoic acid (EPA) and docosahexaenoic acid (DHA). Evidence suggests consumption of EPA and DHA supports brain development and eye and heart health.