Wild Alaskan Golden King Crab Legs and Claw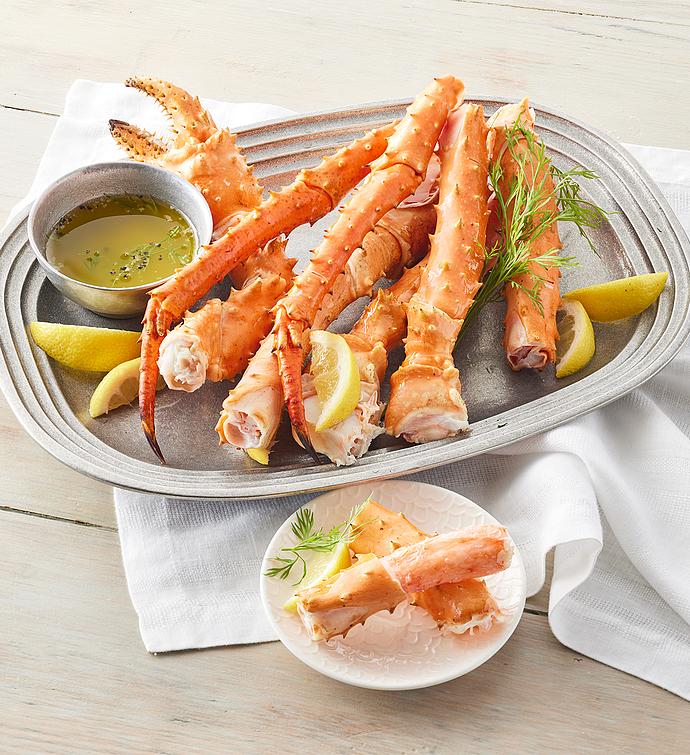 Wild Alaskan Golden King Crab Legs and Claw
1 bag golden king crab legs & claw, cooked, scored (4-6 legs & 1 claw, 2 lb) 907g
Net Weight: 2 lb
Named for the color of their shells, golden king crab are sustainably* harvested from the deep, icy waters of the Bering Sea surrounding the remote Aleutian Islands of Alaska. This crab variety has a slightly sweeter flavor and lighter texture than that of its better-known cousin, red king crab. Each two-pound bag contains four to six crab legs and one claw, which have been cooked and flash-frozen to preserve their wild-caught quality. To prepare them at home, simply thaw, rinse, and serve chilled or warmed.

THAWING INSTRUCTIONS

Overnight: Remove crab from package, place in a colander, and cover loosely. Allow to thaw under refrigeration at or below 38ûF (3ûC) for 12 to 24 hours.

Quick-thawing: Place frozen package in cool water for approximately 20 to 30 minutes. Once thawed, immediately cook or refrigerate. If refrigerating, transfer to storage container and use within 2 days. Prior to cooking, pat dry with paper towels as needed.

HEATING INSTRUCTIONS

Stove top: Bring a large pot of water to boil, turn off the heat, and place the crab (in its shell) into the hot water. Let the crab sit in the hot water for 4 to 8 minutes until fragrant and warmed through. Remove the crab from the water with tongs and drain in a colander.

Oven: Preheat oven to 350°F. Add crab legs and ⅛ inch of water to a shallow baking pan. Cover with foil and bake for 3 to 8 minutes until just heated.

Grill: Heat grill to medium-high heat. Brush crab legs with olive oil and place on the grill. Cook for 2 to 5 minutes, flip, and heat for an additional 2 to 5 minutes until the crab meat is warm.

*Golden king crab (Lithodes aequispinus) that is harvested off Alaska's Aleutian Islands with pots is a Seafood Watch® Best Choice.