Summery Nova Lox Egg Salad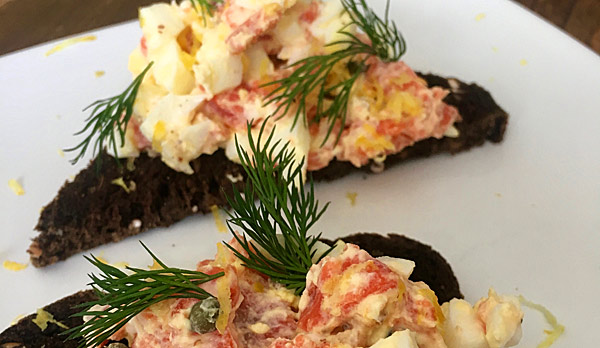 Summery Nova Lox Egg Salad
Welcome to my Colorado kitchen!

This series features me, Michelle — a writer and soccer mom from the Rocky Mountains — my husband and two kids, some beautiful Vital Choice seafood, and lots of regular home cooking.

(Click here to learn more about me, below.)

I want to feature the products and preparations you're curious about.

Have a suggestion? Question? Recipe you want me to test?

Email me and help to shape this series.

First, a confession. I've never prepared egg salad before because I'm mayo-averse.

However, other "binders" can work just as well, and I used Greek yogurt. Mashed avocado would also work, and if you like mayo, by all means use that.

To give this egg salad extra flavor and an omega-3 boost, I added Vital Choice Sockeye Salmon Nova Lox, and the results were outstanding.

By combining eggs and smoked sockeye salmon, you get a full-flavor, high-protein lunch or snack that's heart-healthy, colorful and quick to make.

Send me a note and let me know you made this simple dish your own!

My rating: 3½ out of 4 stars

A few notes for the cook
You'll see that I didn't include any salt or pepper in the preparation.

The combination of capers, nova lox, dill, and lemon zest made this incredibly flavorful without additional seasonings. But please season to taste.
Summery Nova Lox Egg Salad
Prep Time: 15 minutes |
Total Time: 15 minutes
Ingredients
2 ounces Vital Choice Sockeye Salmon Nova Lox, thawed
2 hardboiled eggs
½ teaspoon red onion, finely diced
1 teaspoon capers
2 tablespoons full-fat Green yogurt (or mayo or mashed avocado)
½ teaspoon Dijon mustard
Fresh dill and lemon zest to garnish
Instructions
Finely dice the red onion. Roughly chop the hardboiled eggs and smoked salmon into ½-inch pieces.
Combine nova lox, hardboiled eggs, red onion and capers in a mixing bowl. Gently stir in Greek yogurt (or mayonnaise or mashed avocado) and Dijon mustard until well combined.
Serve on bread, toast or crackers (I used black seeded rye – YUM!) and garnish with lemon zest and fresh dill to taste.