Jerked Wild Salmon and Spiced-Pineapple Skewers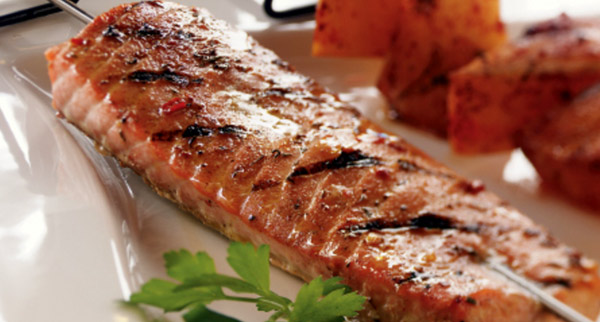 Jerked Wild Salmon and Spiced-Pineapple Skewers
Jerked Wild Salmon and Spiced-Pineapple Skewers
Prep Time: 30 minutes |
Cook Time: 10 minutes |
Total Time: 40 minutes
Ingredients
1 1/2 to 2 pounds Vital Choice skinless Alaskan Salmon fillets
12 wooden skewers
1 1/2 tablespoons Caribbean jerk seasoning
2 cloves garlic, minced
1/2 cup brown sugar, divided
1/4 cup fresh orange juice
Vital Choice organic extra virgin olive oil, as needed
1/4 cup soy sauce
1 whole fresh pineapple (2 to 3 pounds)
3 tablespoons Kosher or sea salt
1 teaspoon chili powder
1/2 teaspoon allspice
Instructions
Prior to grilling, soak wooden skewers in water for at least 30 minutes.
Mix together jerk seasoning, garlic, 1/4 cup brown sugar, orange juice, soy sauce and 1/4 cup olive oil.
Lay Alaskan salmon on a cutting board so that the grain of the flesh is horizontal; cut salmon length-wise into 2-inch wide strips. Place the strips in a large resealable plastic bag. Pour jerk marinade over the salmon; seal bag and turn several times to coat. Marinate, refrigerated, for 15 to 30 minutes.
Preheat grill or broiler/oven to medium-high heat.
Slice off top, bottom and skin of the pineapple. Cut into 1-inch slices, then cut each slice into 8 to 10 pieces.
In large bowl, mix salt, 1/4 cup brown sugar, chili powder and allspice. Add pineapple; stir to coat.
Thread salmon and pineapple chunks onto skewers. Place skewers onto a grill or broiling pan brushed with olive oil and cook, 5 to 6 inches from heat, for 3 to 4 minutes per side. Turn once during cooking. Cook just until salmon is opaque throughout.