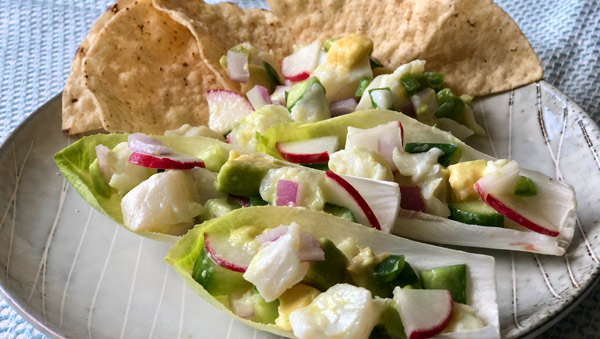 Spring Halibut Ceviche
Spring Halibut Ceviche
Prep Time: 10 minutes |
Cook Time: 20 minutes |
Total Time: 30 minutes
Ingredients
2 Vital Choice Alaskan halibut fillets (6 ounces each), thawed
3 limes
1 tablespoon silver tequila (optional)
¼ red onion
1 jalapeno pepper
5 to 6 small radishes
2 small cucumbers
1 avocado
Salt to taste
Endive leaves, lettuce cups and/or tortilla chips to serve.
Instructions
Juice the limes into a medium ceramic or glass bowl and stir in the tequila. Dice the halibut portions into ½-inch cubes, stir into the lime juice mixture and refrigerate while you prepare the remaining ingredients. Set a timer for 10 minutes.
Dice the red onion and cucumbers; mince the jalapeno. Stir all into the onion and cucumber mixture. To adjust the spice level of the ceviche, use all, some or none of the jalapeno seeds – whatever you prefer. I enjoy about half of the jalapeno seeds.
Cut the avocado into ½-inch pieces. Gently stir the avocado into the other vegetables.
After 10 minutes, stir the vegetable mixture into the marinating halibut and refrigerate an additional 10 to 50 minutes (I prefer marinating for 20 minutes total). Season to taste with salt.
Rinse and separate the lettuce or endive leaves to create small "boats." Fill each leaf with a tablespoon of ceviche and serve immediately with tortilla chips on the side.