Grilled or Roasted Wild Salmon with Chipotle Adobo Rub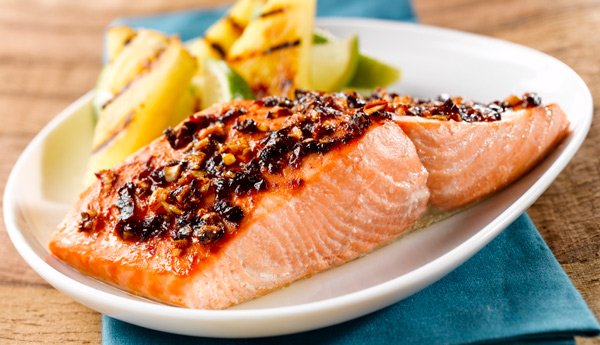 Grilled or Roasted Wild Salmon with Chipotle Adobo Rub
Grilled or Roasted Wild Salmon with Chipotle Adobo Rub
Prep Time: 15 minutes |
Cook Time: 15 minutes |
Total Time: 30 minutes
Ingredients
1 1/2 pounds Vital Choice wild salmon fillets
2 to 3 tablespoons white vinegar
2 tablespoons packed brown sugar
2 tablespoons fresh chopped garlic
1 Tablespoon chopped Chipotle chiles (Canned chiles in adobo sauce. Remove seeds, if desired, to reduce heat.)
Vital Choice grill planks (optional)
Instructions
Soak wood plank in water for 30 minutes to 2 hours (plank is optional).
Sprinkle vinegar onto Alaska Salmon (1 teaspoon per individual portion or 2 tablespoons per salmon side). Blend remaining ingredients.
Pat wood plank with paper towels and spray-coat or lightly oil one side. Lay salmon on coated side of plank; spread 1 to 2 teaspoons of rub mixture on each salmon portion (non-skin side) or apply all of the rub to salmon side. Let the salmon rest for 5 minutes before cooking.
Heat grill to medium-high heat. Grill salmon using indirect heat (not directly over heat) in covered grill for 10 to 15 minutes. Cook just until salmon is opaque throughout, or remove fish from grill while it is still pink in the very center; cover, and allow to self-cook for a few minutes.