Grilled Salmon with Blueberry-Horseradish Glaze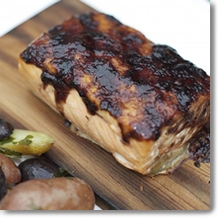 Grilled Salmon with Blueberry-Horseradish Glaze
Grilled Salmon with Blueberry-Horseradish Glaze
Prep Time: 15 minutes |
Cook Time: 10 minutes |
Total Time: 25 minutes
Ingredients
4 Vital Choice wild salmon fillets (6 ounces each)
Sea salt
1 teaspoon organic black pepper
1/2 teaspoon organic cinnamon
1/4 cup thawed organic blueberries (or raspberries), pureed
1 tablespoon horseradish (or to taste)
1/2 teaspoon red wine vinegar
Instructions
Heat grill or broiler just before you are ready to cook.
Combine salt, pepper, cinnamon, pureed berries, horseradish and vinegar in a small bowl. Mix well.
Cook salmon for 8 minutes or until fish flakes easily with fork. During last 3 minutes of cooking, baste with berry mix.
Serve with any remaining berry mix on the table.