Blackened White Fish with Fennel and Orange Salad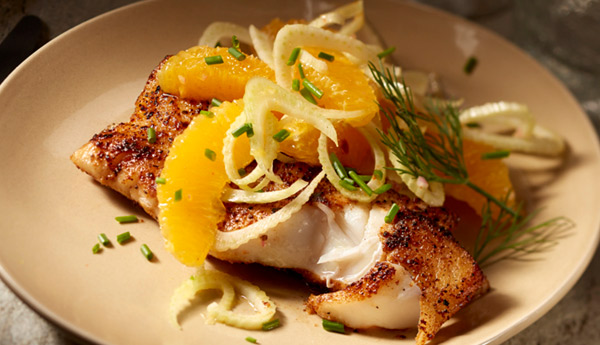 Blackened White Fish with Fennel and Orange Salad
Blackened White Fish with Fennel and Orange Salad
Prep Time: 15 minutes |
Cook Time: 10 minutes |
Total Time: 25 minutes
Ingredients
6 portions Vital Choice wild mahi mahi, wild Alaskan cod or Alaskan halibut (6 ounces each), thawed
1/4 cup plus 2 tablespoons Vital Choice organic extra virgin olive oil, divided
Blackened seasoning or Creole Seasoning, to taste
1 tablespoon rice wine vinegar
1 tablespoon fresh lemon juice
1 teaspoon fresh lemon zest
1 tablespoon minced shallot
Pinch of crushed red pepper flakes
Salt and pepper, to taste
1 medium fennel bulb, sliced thinly crosswise 
4 oranges, peeled and supremed
Pinch of cayenne pepper
Pinch of sugar
1/4 cup fresh chopped chives
Small sprigs from 1 fresh dill branch
Instructions
Make lemon vinaigrette: Place rice wine vinegar, lemon juice, lemon zest, shallot, red pepper flakes, 1/4 cup olive oil and salt and pepper to taste in a small bowl. Whisk together until well mixed; set aside.
Make the salad: Place the fennel, oranges, vinaigrette, cayenne pepper and sugar in a medium bowl. Toss gently, then season with salt and pepper.
Season the fish with blackened seasoning to taste.
Heat 2 tablespoons olive oil in a skillet over medium-high heat. Add the fish and cook 3 to 5 minutes on each side until bronze in color and opaque throughout.
Place a piece of fish on each plate. Top fish with one-sixth of the salad mixture. Garnish with chives and dill.