Wild Sardines in Water - no added salt or oil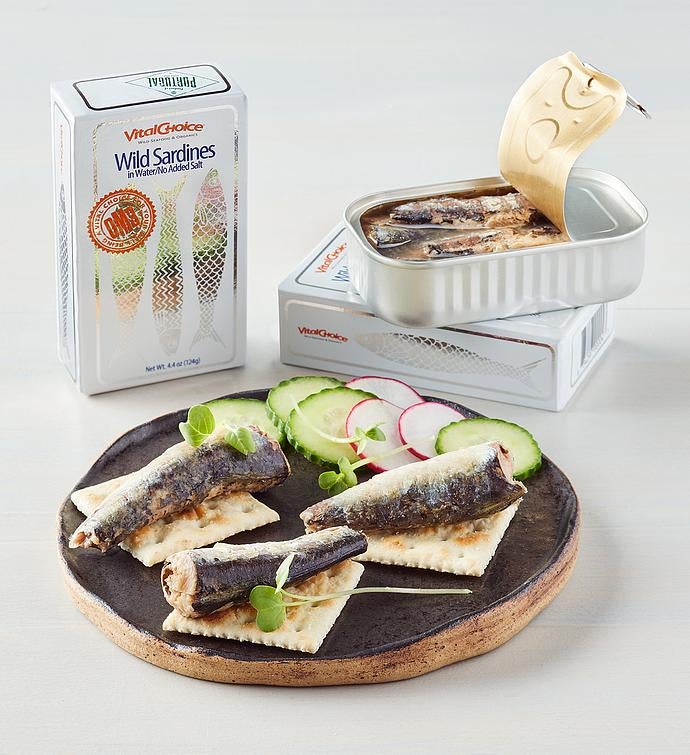 6 tins Wild Sardines in Water, no added salt or oil, 4.4 oz (125g) each
Net Weight: 1 lb 10 oz
Custom-canned for us by one of the oldest fish canneries in the world, our wildly popular Portuguese sardines are purse-seine caught and packed by hand within hours of catch. Sardines are a convenient source of protein, vitamin D, calcium, and omega-3s. Delicious in salads, in sandwiches, or right out of the can. Contains edible skin and bones.
Low sodium (50mg per serving)


Packed in water with no added salt or oil


Excellent source of lean protein, calcium, and vitamin D


3,200mg omega-3s per serving


Product of Portugal
Ingredients: Sardines, purified water. Contains fish.
Marine Omega-3s: Omega-3 fatty acids are found in seafood, livestock, and some plants, but seafood is the only concentrated source of two types that are vital for human health: eicosapentaenoic acid (EPA) and docosahexaenoic acid (DHA). Evidence suggests consumption of EPA and DHA supports brain development and eye and heart health.