When pairing wine with fish or seafood, it seems most folks have a knee-jerk method: reds go with meat, whites go with fish.
My humble suggestion: forget it.
Now, white wine is certainly appropriate, but think outside that bottle. For instance, if you consider weight and substance, a wine that pairs well with robust swordfish or savory tuna is unlikely to pair well with shellfish or a light and flakey white fish like haddock. Delicate fish require equally delicate wines, like a light sauvignon blanc, while richer more substantial offerings like salmon and monkfish can stand up to heavier whites, like chardonnay or even reds like pinot noir.
---

---
Did I just recommend a red wine?
Most importantly, a proper pairing should celebrate the taste highlights of both the wine and the fish. Here are some of my favorite Harry & David wine pairings with seafood and fish from Vital Choice.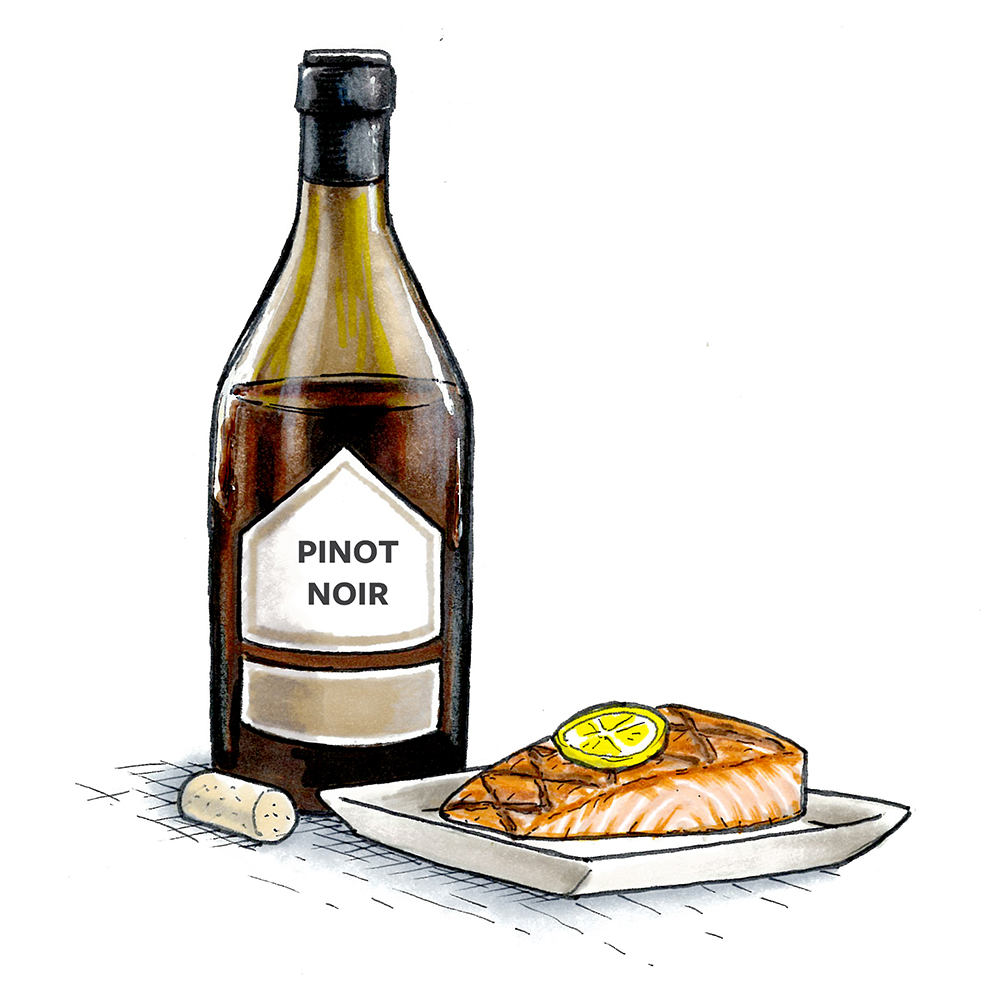 Pinot Noir | Salmon
In recent years, Oregon pinot noir and wild-caught Pacific Northwest salmon have become an iconic food and wine pairing, much like the traditional Champagne and oysters or cabernet and steak. The bright red cherry fruits and sweet acidity of the wine perfectly complement the protein-rich texture and bold, savory flavors of wild caught salmon.
While this pairing works with practically any preparation style you choose, simply grilling sockeye or king salmon is one of my favorites. The smoky flavors from the grill hook up nicely with the mushroom-dusted, earthy secondary flavors of the wine, adding another level of complexity to the pairing.
Another tasty, easy-to-prepare option is to respect the soft, velvety tannins of the pinot noir and pair it with the sashimi-style sockeye salmon tataki for a more globally inspired pairing.
This highlights the more subtle, herbaceous flavors of the wine and the slightly firmer texture and assertive flavor of the lightly seared salmon.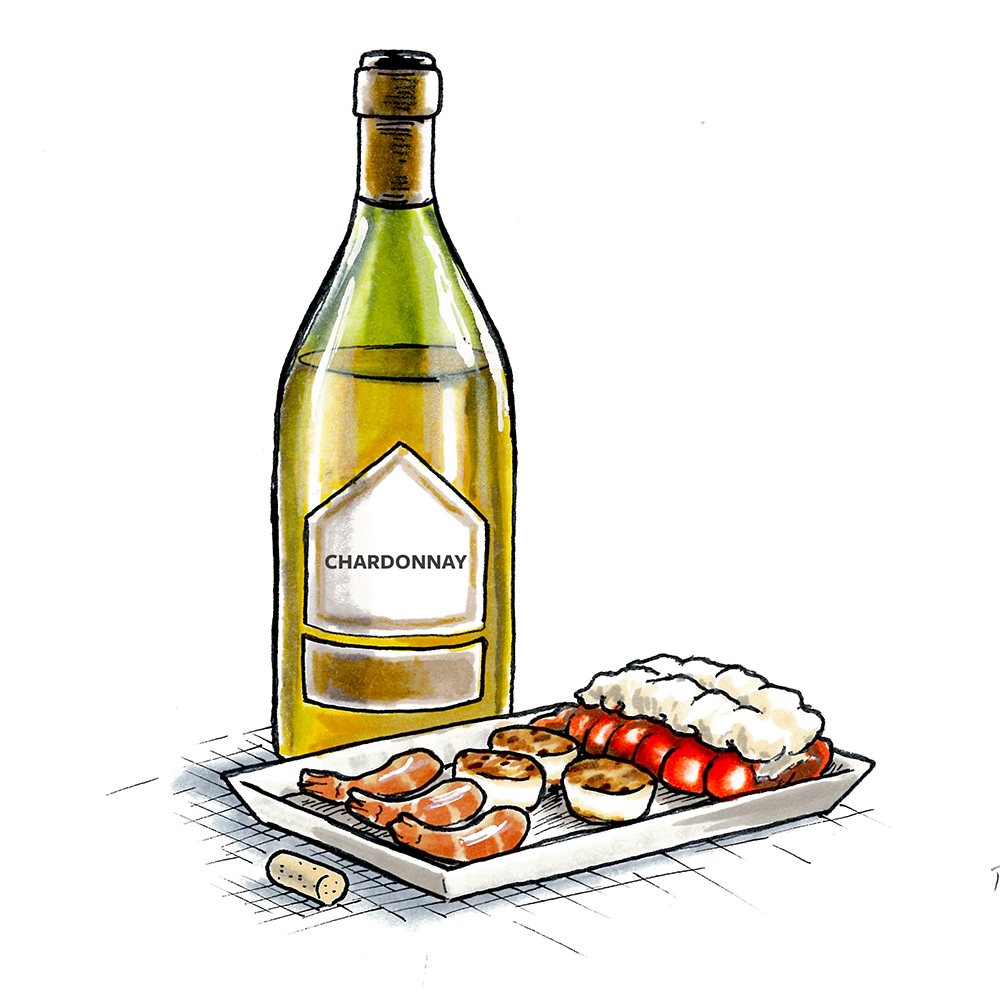 Chardonnay | Shellfish trio (scallops, spot prawns, lobster)
Chardonnay pairs naturally with a variety of shellfish because its soft oak profile and creamy, buttery mouthfeel complement the sweet flavors and firm texture of shrimp, lobster and scallops.
With a simply grilled Atlantic scallop or blue shrimp brushed with butter, the smoky char from the grill permeates the golden apple and Meyer lemon flavors from the wine, treating your palate with a nice back-and-forth of sweet and smoky long after each bite.
Or try a classic scampi with a twist and add some shucked Maine lobster meat or Oregon Dungeness crab with the shrimp. Enjoy how the garlic herbs and red pepper flakes hit the high notes over the buttery sweetness of the seafood, with the comforting apple and pear flavors of the wine comfortably hanging out underneath.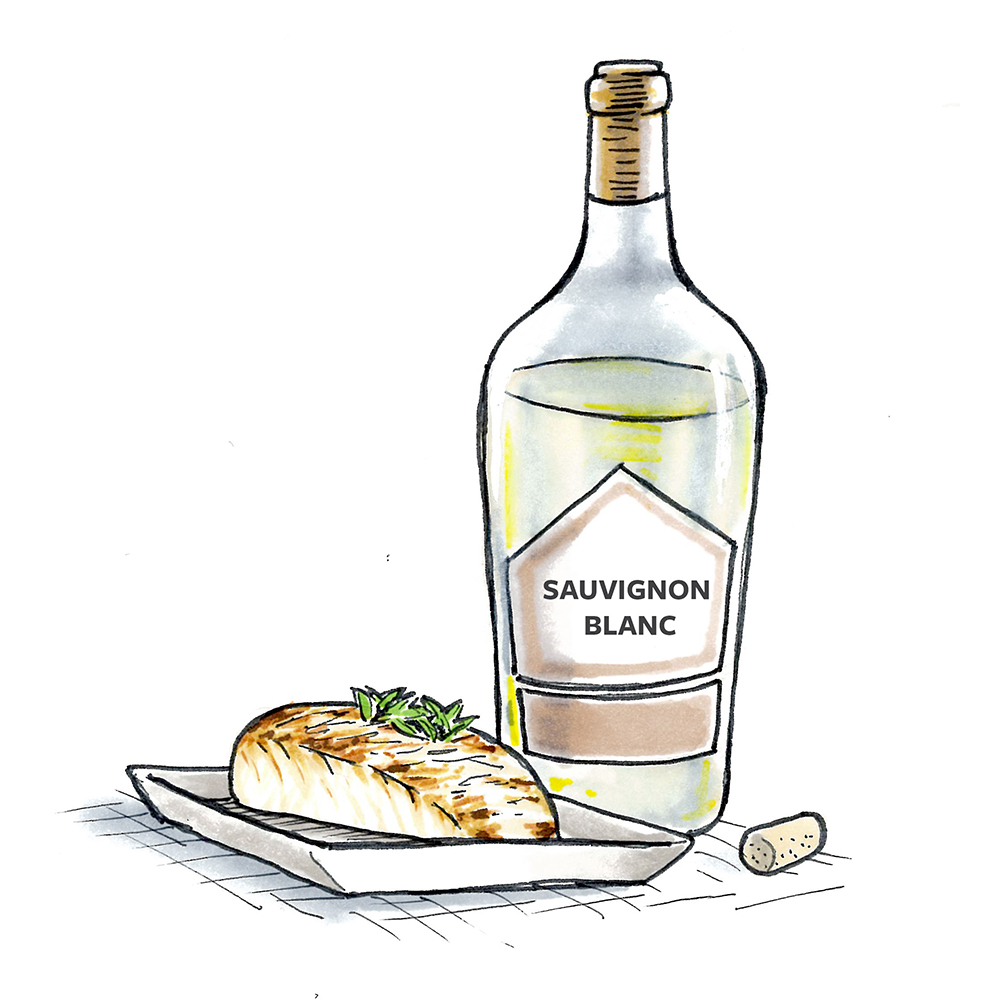 Sauvignon blanc | Halibut & cod
I like to pair medium textured, subtly flavored, flakey white fish like halibut and cod with a medium bodied wine that has high aromatics, good acidity, and a clean finish. Sauvignon blanc checks all these boxes with an aromatic nose that's bursting with tropical notes of pineapple, peaches, and grapefruit.
On the palate, more subtle flavors like ripe melon and mandarin orange start to unfold until the crisp, clean finish leaves you primed for a bite of food or another sip of wine. In terms of preparation, wild Alaskan halibut and cod can handle almost anything, from heavier creamy sauces to a garlic parmesan crust, and my favorite, a simple pan sear with lemon butter.
This sauvignon blanc is one of the few wines capable of holding its own with any of those preparations and more, easily making it my wine of choice for almost any fish of this type.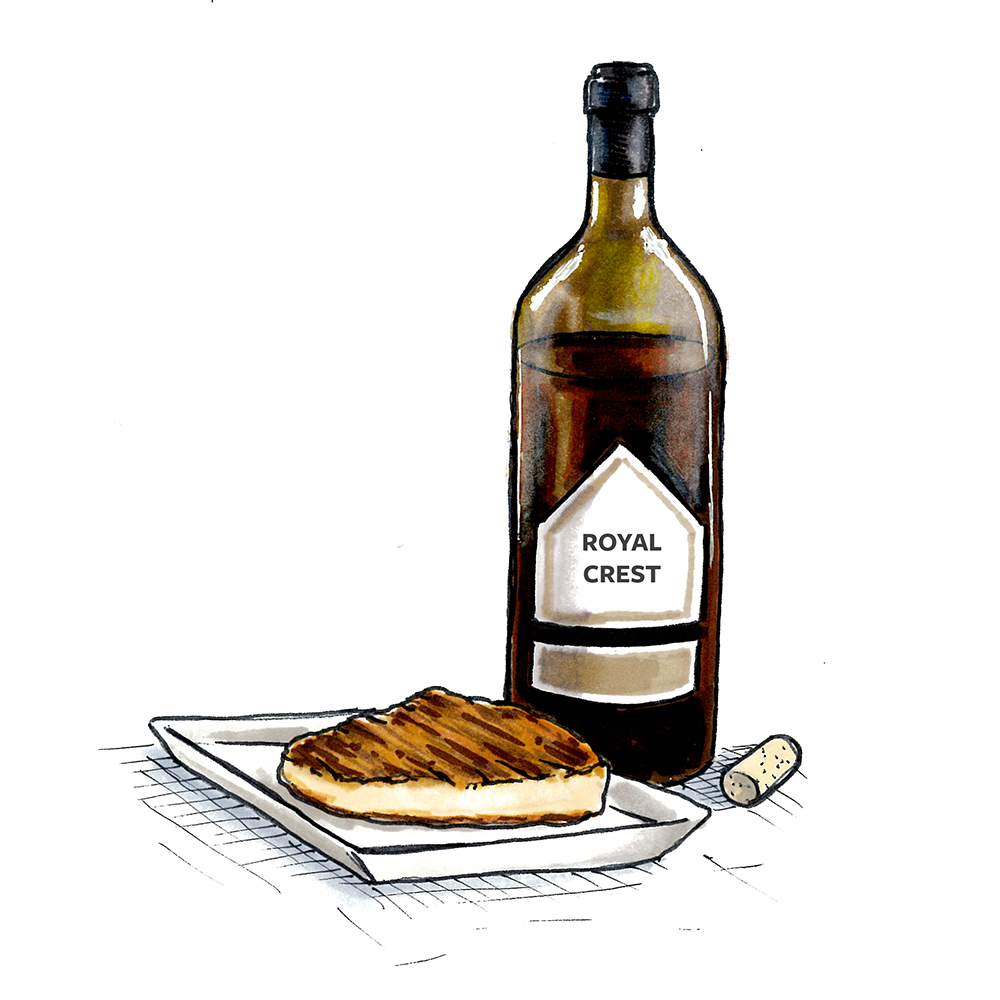 Royal Crest | Blackened swordfish
Royal Crest is Harry & David's Bordeaux-style blend made from Southern Oregon grapes. Remember, parts of Oregon are on the same latitude as France. They have similar cool, rainy climates and volcanic soil, elements that produce outstanding wines.
Typically, I would pair this wine with lamb or barbecue because of its prominent spice profile of rosemary and bay leaf along with its subtle earthiness on the finish. However, I find that swordfish is a fantastic medium for rubs, crusts, and marinades because of its lightly sweet flesh and tender steak-like texture. This makes it one of the few fish in the sea you can safely pair with bold red wines.
Blacken and grill the swordfish and you would be hard pressed to find a red wine that would be too strong for it. In this case, it was the Royal Crest that turned out to be just right, with the blackened, peppery crust playing off the sweet flavor of the fish, and the cozy herbaceous flavors of the wine bringing the whole taste experience in with a soft landing.
Sparkling wine | Smoked mussels & canned fish
Sparkling wine is a great way to tame some of the bold, funky flavors that come along with canned and/or smoked seafood. I am more than happy to take down an entire can of smoked Pacific blue mussels myself with nothing more than a toothpick, but for some people the flavors can be a little overpowering.
Sparkling wine quickly subdues these bold flavors with an onslaught of fine bubbles and bright citrus and stone-fruit flavors. Don't worry, all the smoky saltiness you want from the mussels will pop right back up, in a more refined, approachable form, shortly after you put down the glass of wine.
This sparking wine would also be my choice to pair with sardines, mackerel, and almost any other canned fish.