Grits are a Southern breakfast staple made from ground and dried corn. But when combined with delicious shrimp, they become nourishing and hearty enough — especially if you add bacon and lots of cheese — to eat anytime, including for lunch or dinner.
While shrimp and grits is regularly enjoyed throughout the South, and even the country, its origins can be traced to a specific place. It's a dish that has evolved from a comforting food prepared in humble home kitchens to one that now appears on the menus of some of the country's best restaurants.
The history of shrimp and grits
The story of shrimp and grits begins in the low-country region of coastal South Carolina. This dish as we know it today, originally called "shrimp and hominy" or "breakfast shrimp," started as a seasonal fisherman's favorite — a combination of shrimp cooked in bacon grease served over creamy grits — and likely emerged during the early 19th century. However, its roots go back even further: The concept of combining corn and shellfish was likely brought to the South by enslaved Africans.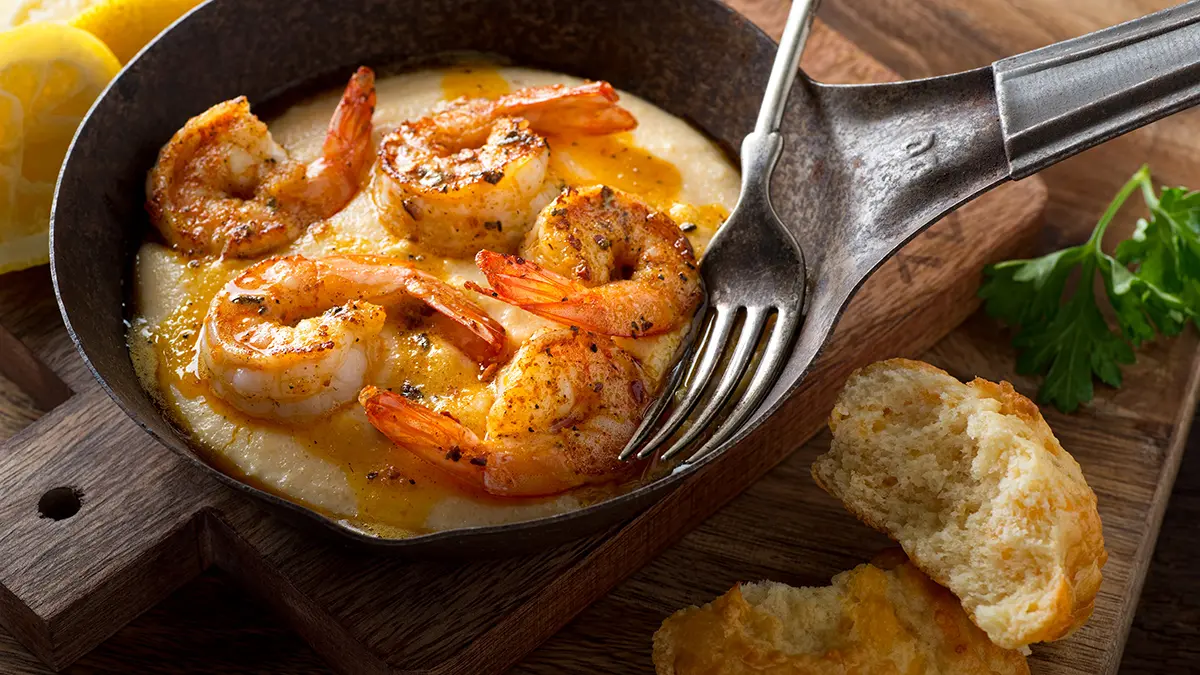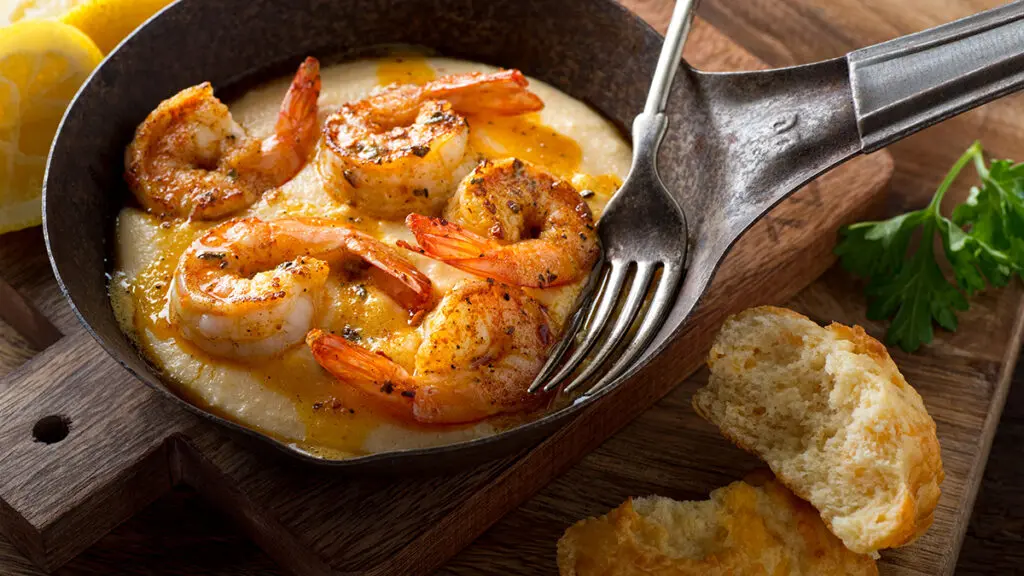 As time passed, the dish became a beloved Southern delicacy, appreciated for its harmonious blend of flavors and textures. According to celebrated author and chef Nathalie Dupree, the first formal recipe for shrimp and grits was published in the book Two Hundred Years of Charleston Cooking in 1930.
Still, according to Dupree, shrimp and grits didn't rocket to prominence until more than 50 years later. In her book Nathalie Dupree's Shrimp and Grits Cookbook," she credits legendary restaurant Crook's Corner in North Carolina with popularizing the dish after Craig Claiborne, a food critic at The New York Times, wrote about it glowingly in 1985, propelling it to iconic status in Southern cuisine.
Variations on shrimp and grits
Since then, the dish's popularity has spread across the country, resulting in many local adaptations and creative interpretations. In fact, Dupree's cookbook includes more than 80 different recipes for shrimp and grits featuring everything from lemongrass to citrus butter, and Mediterranean flavors like saffron and roasted red peppers.
Despite many evolutions of the dish, a rough framework remains. Making shrimp and grits typically involves sautéing shrimp in rendered pork fat, often from bacon or sausage. It usually includes a sautéed vegetable element, such as tomatoes, peppers, onions, or mushrooms, and it's all served on a bed of creamy grits enriched with butter and cheese.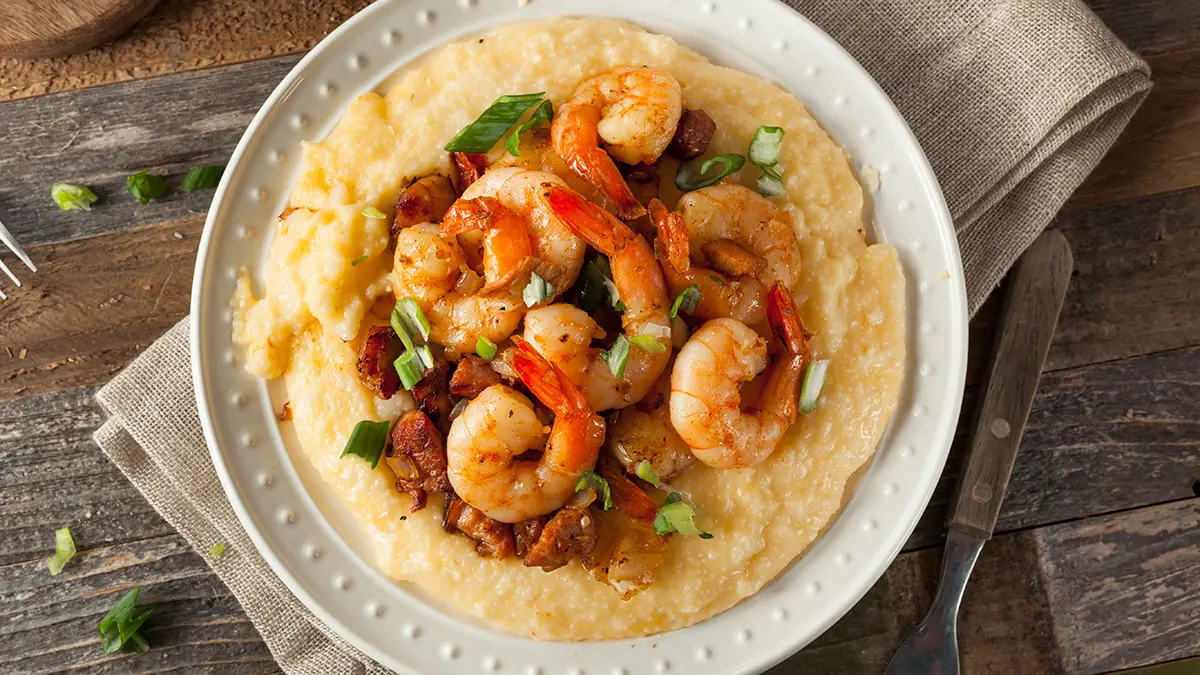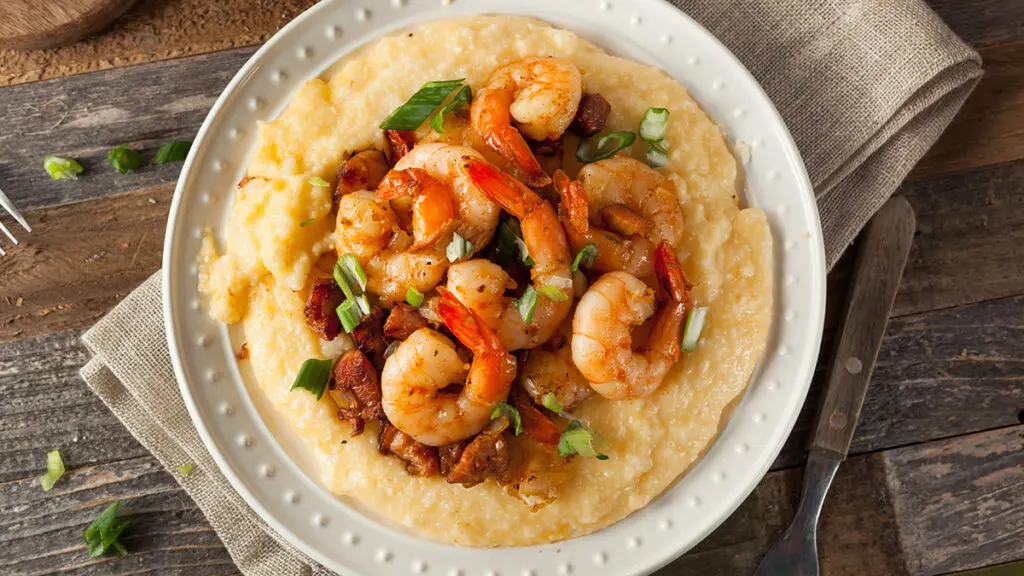 While traditional versions similar to the one at Crook's Corner, which features bacon, mushrooms, green onions, and garlic, exist throughout the Carolinas, you'll find intriguing riffs on the dish in many other places.
In New Orleans, for example, numerous restaurants serve a rendition featuring the city's famous barbecue shrimp, which are sautéed in a Worcestershire-infused spicy butter sauce. At Red Rooster, a restaurant in Harlem, celebrity chef Marcus Samuelsson offers his unique take featuring a tomato-okra stew, pork chorizo, and breadcrumbs.
Tips for preparing shrimp and grits
Putting a creative spin on this Southern classic is always welcomed, but there are some foundational tips you should follow to help you prepare the best dish possible.
Procure quality ingredients: Start with fresh, high-quality shrimp and stone-ground grits. The fresher the ingredients, the better the dish.
Don't be shy with your seasoning: Season with salt and black pepper during each step of the cooking process. Use a blend of spices that complements your chosen recipe; consider adding garlic, paprika, and a touch of cayenne for extra flavor.
Pay close attention to the grits' consistency: They should be creamy and smooth but not runny. Add a little extra butter or cheese if needed.
Don't overcook the shrimp: Cook your shrimp just until they turn pink and opaque. Overcooking will result in tough, rubbery shrimp.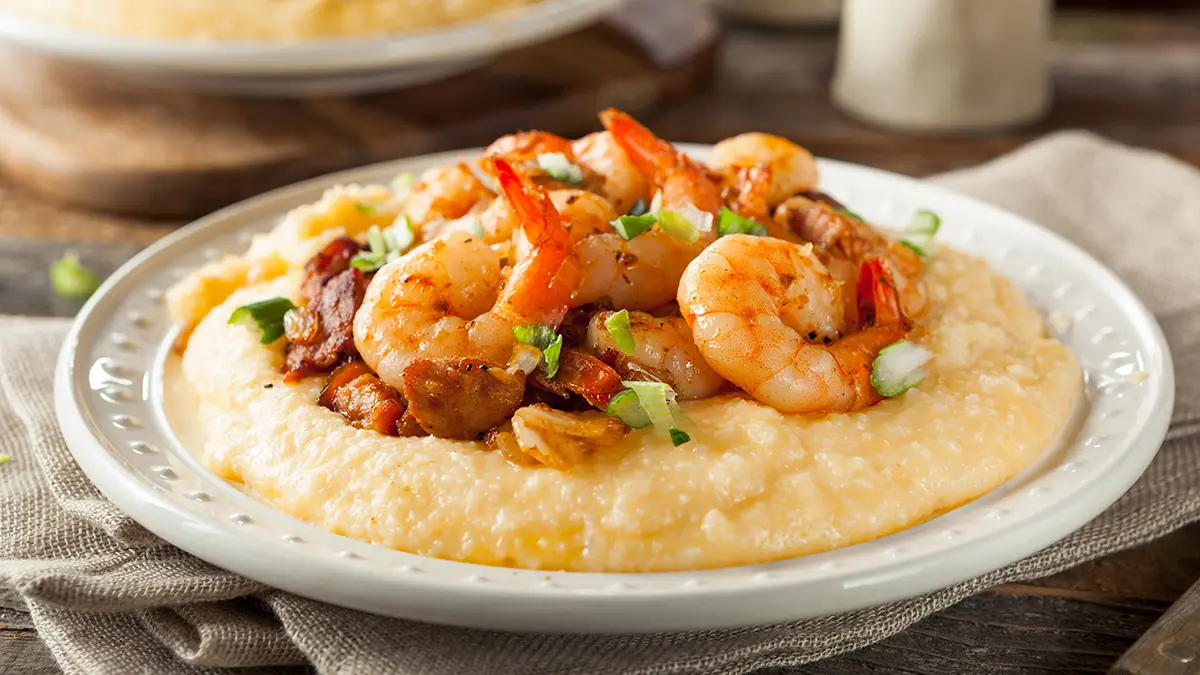 Classic Shrimp & Grits
From its humble beginnings as a simple fishermen's dish, shrimp and grits is more than just a meal — it's a symbol of the culinary heritage of South Carolina (and, one could argue, the entire South) that blends diverse flavors and ingredients. Whether savoring the classic low-country version or creating your own, shrimp and grits remains a timeless and beloved dish.
Ingredients:
1

cup

grits

1

cup

shredded cheddar cheese

4

tablespoons

butter

1

package (12 ounces)

Vital Choice Wild Artisan Blue Shrimp

(peeled, deveined)

½

teaspoon

salt

½

teaspoon

black pepper

1

tablespoon

olive oil

½

cup

white onion

(diced)

½

cup

green or red bell pepper

(diced)

2

garlic cloves

(minced)

1

cup

chicken broth

Hot sauce to taste
Instructions:
Prepare grits according to the package's directions. Add the cheese and butter after the grits have reached the proper consistency. Stir until thoroughly incorporated and then set aside.

Sprinkle shrimp with salt and pepper and then set aside.

In a large, cast-iron skillet, cook the bacon over medium heat for 8-10 minutes or until crisp. Set aside until cool enough to handle, and then crumble.

Pour olive oil into the skillet and combine it with the bacon drippings. Over medium heat, sauté onions and peppers for 5-10 minutes.

When the vegetables are tender, add the shrimp and garlic. Sauté for 2 minutes.

Stir in the chicken broth and hot sauce, and simmer until reduced by half.

To serve, spoon the shrimp and vegetables over about a cup of the cooked grits and then garnish with a strip of crumbled bacon.
---