In 1964, President Lyndon B. Johnson designated February as American Heart Month. In the years since, the Mediterranean Diet has become the eating pattern authorities typically cite as the one that best supports heart health.
So as yet another February rolls around, it's appropriate to take a closer look at the diet: its history, components, and ongoing research into its effects.
Spoiler alert: it's almost all good news. Evidence has accumulated that the diet's benefits include support for heart health and more. People who should consider it include pregnant women, and it may be an especially good idea for anyone who wants to avoid the dreaded three Ds: depression, dementia and diabetes.
As to what you should eat, here's more good news. Followed correctly, the diet favors seafood (which, was, and is, right at hand for people who live on the Mediterranean Sea, but we humbly suggest a more convenient source).
It's also quite flexible; you can adapt it to your needs.
And there are boatloads, buckets, and trawler lines of evidence that it's good for you. Lets review, and provide some specific meal ideas!
The Pioneer
In the late 1940s, a Minnesota nutrition scientist named Ancel Keys wondered why American men were having so many heart attacks in midlife. He launched the Seven Countries Study. It tracked the links between diet and measures of heart health like cholesterol levels in the blood,
His data came from the United States, Finland, Netherlands, Italy, Greece, the former Yugoslavia and Japan. The team found that diet really did have an affect on heart health. It also found that people who lived near the Mediterranean had lower levels of cardiovascular disease.
What did they eat? Vegetables and fruit, olive oil, legumes, whole grains, nuts, and lots of high omega-3 fish like sardines and cod.
No Sacrifice Required
Which is good news for seafood lovers! Imagine the menu. Grilled salmon. Lentil soup. Fish chowder. Eggplant dip. Grilled tuna. Sardines on toast.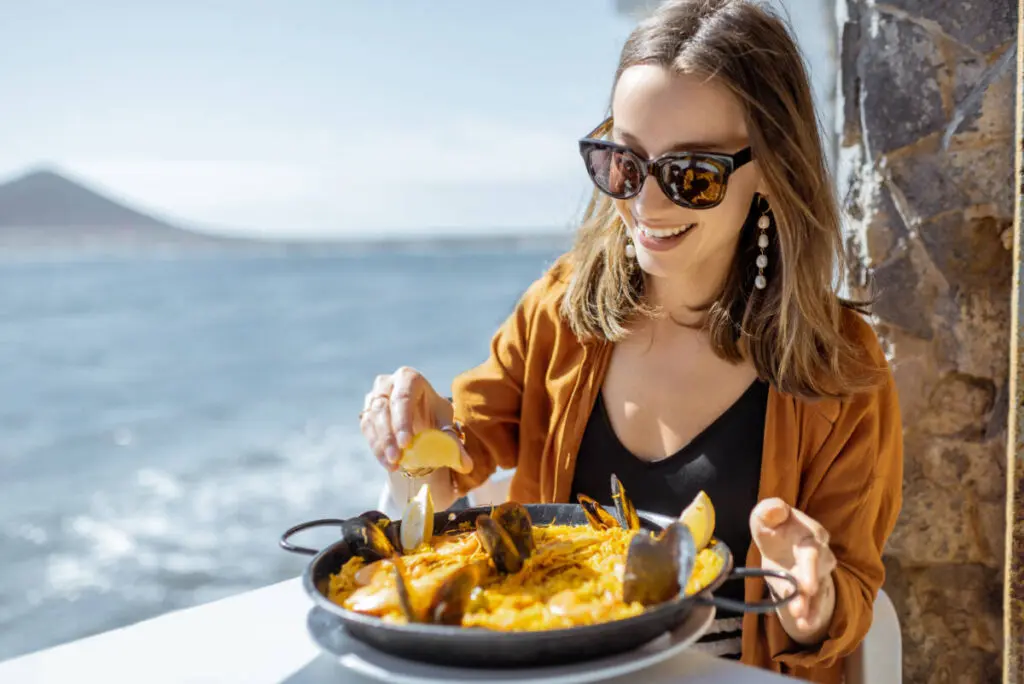 So this month, sally forth like a confident French potager (soup maker). Whip up a few liters of bouillabaisse, from the Mediterranean port city of Marseilles, France.
Or explore conservas, the rich Portuguese tradition of preserved seafood, often featured in Spain and Portugal's small-plate tapas.
Discover mackerel, loved in Japan but a neglected Cinderella-fish in the U.S.. Fool a child (or grown-up meat-head) by serving mackerel "balls" in a tomato sauce with a bit of cheese.
Dress up a whole-wheat or legume-based pasta with saffron and fennel in pasta con le sarde, from coastal Palermo, Sicily, a blend of sardines, anchovies, raisins, and pine nuts.
What else?
You can eat chicken and red meat on the Mediterranean diet—but you'll eat fish far more often. More of your meals will be entirely plant-based. You may have some dairy. but less than Americans typically eat.
The Benefits of the Mediterranean Diet
The Seven Countries Study includes 25- and 50-year followups. But the idea of eating like a Greek fisherman would not have gone mainstream if it hadn't impressed other research teams.
We tend to associate heart disease with men, but it causes about one in five deaths of women in the U.S. Fortunately, the Mediterranean diet has proven beneficial for women as well as men.
In a 2018 study of nearly 26,000 women, for example, those who stuck most closely to this approach had a 25 percent lower risk of cardiovascular disease over 12 years. A 2019 "critical review" concluded that "the available evidence is large, strong, and consistent" that the diet is linked to lower rates of both heart disease and stroke.
It won't cure existing disease or make your chances of heart disease zero. But it helps.
Weight, There's More
It also seems to help with weight control. In a 12-year study of more than 30,000 people living in Italy, for example, Mediterranean dieters were less likely to become overweight or obese over that period.
One reason this diet may help you stay slim is that you can eat enough fat to feel full. In a primary prevention trial including thousands of people with diabetes or other risk factors for heart disease, a Mediterranean diet supplemented with additional olive oil or nuts (and without any fat and calorie restrictions) reduced the rates of death from stroke by roughly 30 percent. Total fat intake was up to 42 percent of calories, but from high omega-3 fish, olive oil and nuts. The volunteers in this trial also had a lower risk of Type 2 diabetes than other people their age.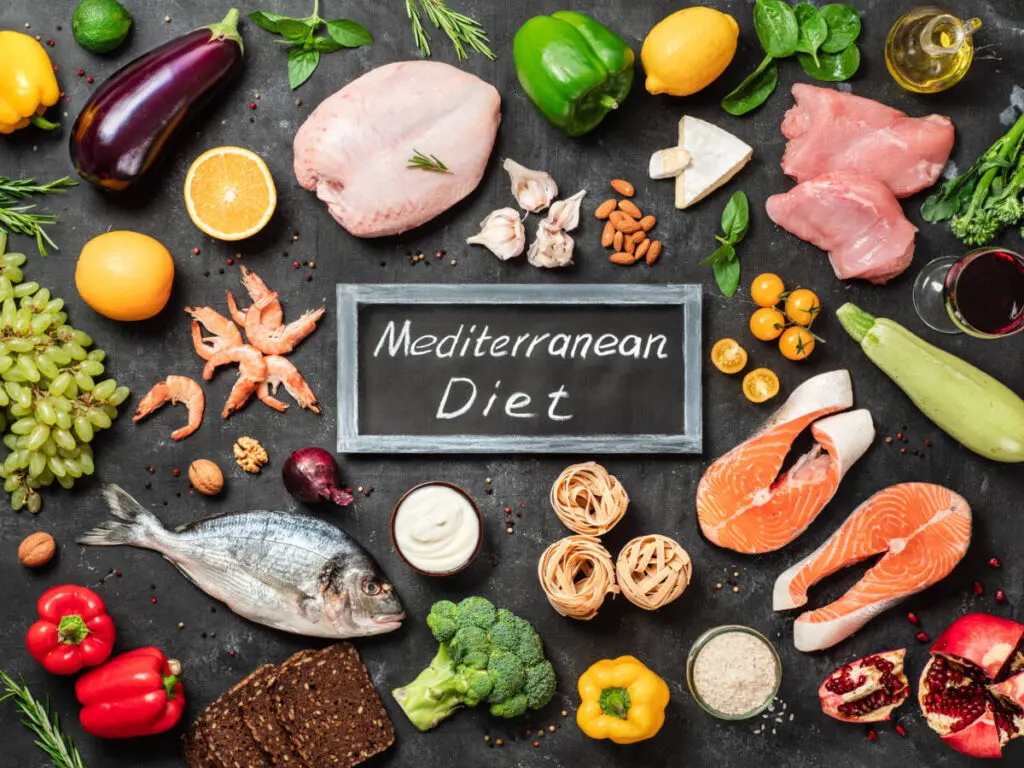 You might also try the Mediterranean diet if you're dedicated to enjoying a vigorous old age. People who eat this way may have longer telomeres, the biomarker of healthy aging, and may have a greater chance of staying mentally competent.
A study following nearly 11,000 women ages 57-61 found that they were most likely to live to 70 or older healthily–without any chronic diseases or declines in their mental health, cognition and physical functioning—if they followed the Mediterranean pattern. In fact, they were 46 percent more likely to achieve that goal. Switching to this regime may even help you feel sharper after two weeks, according to a 2021 review of clinical trials.
In the Mood with Seafood
What about mood? Much evidence links what we eat to our emotions. In a study of more than 49,000 Swedish women in their thirties and forties, volunteers who stuck most closely to the Mediterranean diet were less likely to have a depression over the follow up of 20 years, on average. This result was stronger with increasing age.
And remember, the Med Diet is flexible. If you thrive on low carb diets, cut back on the hummus and white bean soup and have more seafood. If you love carbs, go for a quinoa salad that feels like you're eating a lot of grain, but it's high in protein
The takeaway? If you try this style of eating, you can be confident that you're choosing the most scientifically-established diet. You'll also have a pick of much delicious food. A total win-win.
To get started, here's a classic Med Diet dish: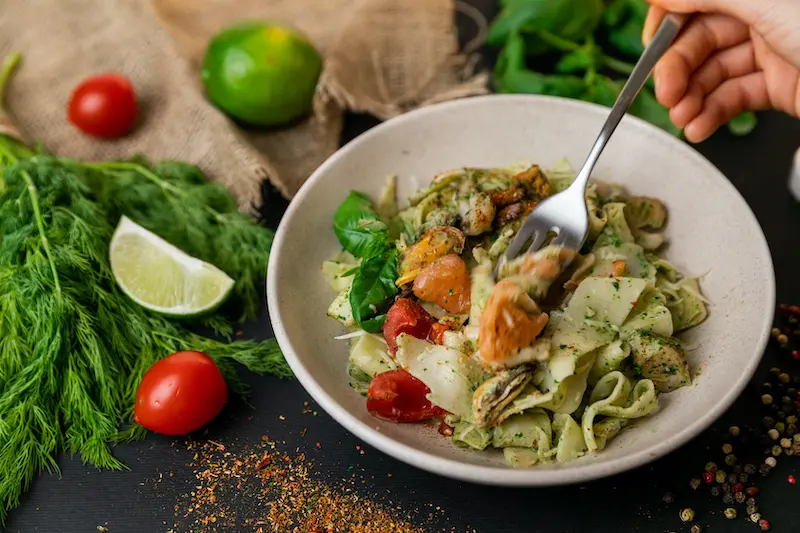 Wild Salmon Pesto Pasta Salad
This salad is best tossed together right before serving, so the pesto and flavors stay bright.
Ingredients:
1

can

Vital Choice traditional-style canned Alaska salmon (14.75 ounces)

(OR 2 cans or pouches Vital Choice skinless, boneless salmon (6 to 7.1 ounces each), drained and chunked)

8

ounces

small shell pasta (regular or gluten-free)

2 to 3

teaspoons

 garlic, finely minced

½

cup

prepared basil pesto

½

cup

high-quality light Italian salad dressing

1

zucchini, cut in 1/2-inch half-moon slices

1

pint

cherry tomatoes, halved

1

small red onion, thinly sliced

¾

cup

frozen peas, defrosted

Salt and pepper, to taste
Instructions:
Cook the pasta according to package directions and drain well. Let cool slightly then toss with the garlic, pesto and dressing. Set aside.

Meanwhile, put the zucchini in a covered microwavable container and cook on high for 2 minutes or until just tender and bright green.

Toss the blanched zucchini, tomatoes, onion and peas into the pasta and stir to combine. Gently fold in drained salmon; season to taste with salt and pepper. Serve immediately or chill before serving.
---