Celebrations are a time for feasting, and a Mardi Gras in New Orleans is the ultimate Southern smorgasbord.
It wouldn't be Mardi Gras, that traditional pre-Lenten cavalcade of indulgence, without a cold, refreshing hurricane (rum, lemon juice, and passion fruit syrup). Not to mention at least one thick slice of King Cake, typically ring-shaped, flavored with cinnamon and iced in the festival's signature green, yellow and purple. And be sure to fill up midday on red beans and rice.
But for your main meals, in New Orleans all eyes are on seafood.
I say hoagie, you say hero, we all say Po' boy!
Cheese pizza slices are traditional along the parade route, but you can embrace the local, traditional spirit by snagging (or making, as you watch a video of the festivities) a Po' Boy, a long chunk of crusty French bread overflowing with the seafood of your choice. This delightful sandwich also features traditional lettuce, pickle, tomato and mayonnaise (or, for Gallic authenticity, remoulade sauce), and extras like french fries. The Po' Boy tradition goes back to the 1930s.
Seafood Boil
Shrimp, sausage, corn and potatoes cooked in spiced and salted water make up your classic low-country boil—aka your chance to eat with your hands and throw husks on the table like a toddler. For Mardi Gras, the most featured crustacean is crayfish, locally known as a "mudbug." Tourists get instructions on how to "pinch the tail and suck the head" while making witty conversation. An easier option: our wild Dungeness crab sections in the shell.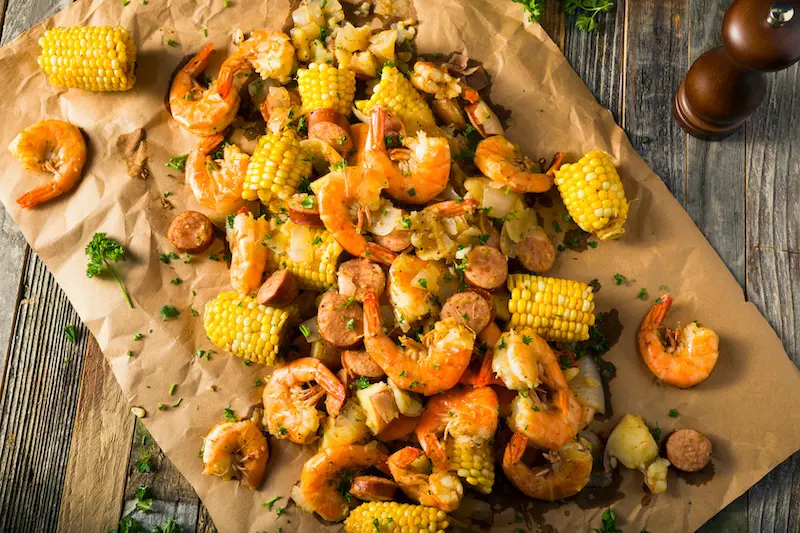 Jambalaya. We took a close look at this delight here. Make it red like a Creole, or brown like a Cajun, rich with tomato or not so much. Either way jambalaya is a Louisiana classic. In this rich rice stew, you might find crawfish, shrimp, and oysters and possibly a bit of alligator, turtle, or wild duck. Mix things up and try andouille sausage and lump crabmeat or lobster.
Shrimp Creole
Stick to ever-popular shrimp in a spicy tomato sauce served over rice. You're in luck if your cook has authentic sweet green "Creole tomatoes"grown in the rich soil south of Lake Pontchartrain, Louisiana.
New Orleans barbecue shrimp
No need for an actual barbecue. Cook up your shrimp in a skillet with butter, Worcestershire, beer, and herbs and spices, and serve with crusty French bread for sopping up the pungent sauce.
Fried seafood buffet
Shrimp, oyster, crawfish, and frog legs all show up breaded and deep-fried at a Cajun seafood buffet. Squirt lemon juice on everything, and prepare your plate with tartar sauce for dipping on the side. You'll also have a selection of etoufée and, gumbo (we explain how they differ from jambalaya here), stuffed shrimp, stuffed crab, french fries, and fried hush puppies to keep you full.
Cornbread crab cakes
This is a mashup of two Southern favorites, both of which are subject to endless invention. Cooks have their own ways of making cornbread and crab cakes their own. This recipe has sour cream, cilantro, and parsley to dress it up. In the end, however, any crab cake is all about the crab. Quality counts!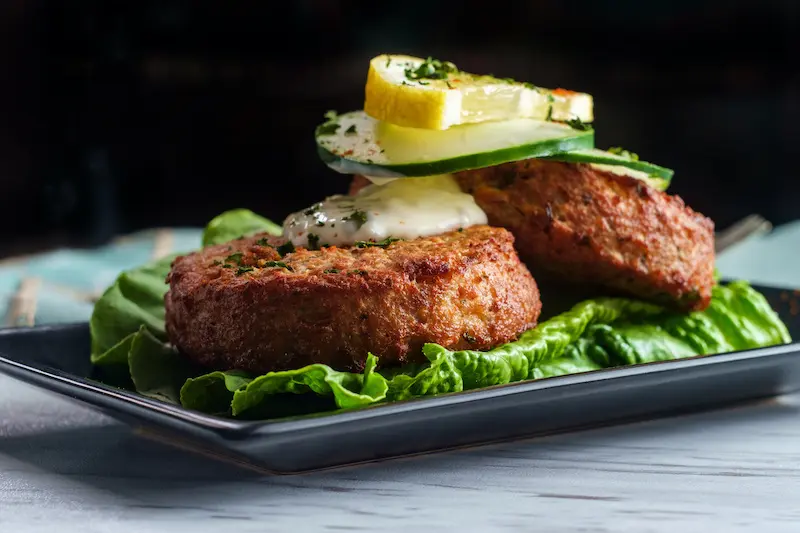 We can't forget the desserts; on top of King Cake, there's beignets dusted with powdered sugar and the Mobile, Alabama, tradition of throwing packaged moon pies from floats.
On a more serious note…
After you've stuffed yourself, you might take a moment for reflection. Mardi Gras—French for "Fat Tuesday"—falls on the day before Ash Wednesday, when the fasting season of Lent begins. Also called Shrove Tuesday, it's meant to be a day when Christians "shrive," or purify themselves through confession. Historically, on that day Christians were instructed to use up all the "fat" in the house like meat, eggs and cheese before the fast.
The occasion is also called "Carnival," which may derive from Latin "carnem levare," which means to take away or remove meat.
But there is no religious requirement to discard shrimp, oyster, or crab legs. So why not cook up and enjoy Mardi Gras seafoods whenever you feel like celebrating?