Revered as the most prized and sought-after of the salmon species, wild Pacific king salmon, embodying Alaska's bold flavors and global influences, boasts a layer of richness and a luxurious velvety texture, which shines in this expertly prepared dish.
The slightly vibrant coral-hued wild Pacific king salmon melts in your mouth; buttery, tender, and exceptionally flavorful. John Mulvaney, director of culinary operations for Holland America Lines, recommends leaving the skin on the fillet, searing it to utter perfection, golden brown and crispy. Fried capers pop in your mouth, a symphony of flavors to your taste buds.
Mulvaney serves the salmon with roasted honey carrots, which adds a "touch of sweetness and caramelization to this dish," he describes. The dill adds a bright, fresh, and slight citrus flavor, balances the richness of the salmon.
The chef recommends complementing the salmon alongside a bed of fragrant cilantro rice and adorn with lemon wedges. Along with the dill (and those fried capers, of course), "it's a true celebration of northern Alaska's cuisine," he says.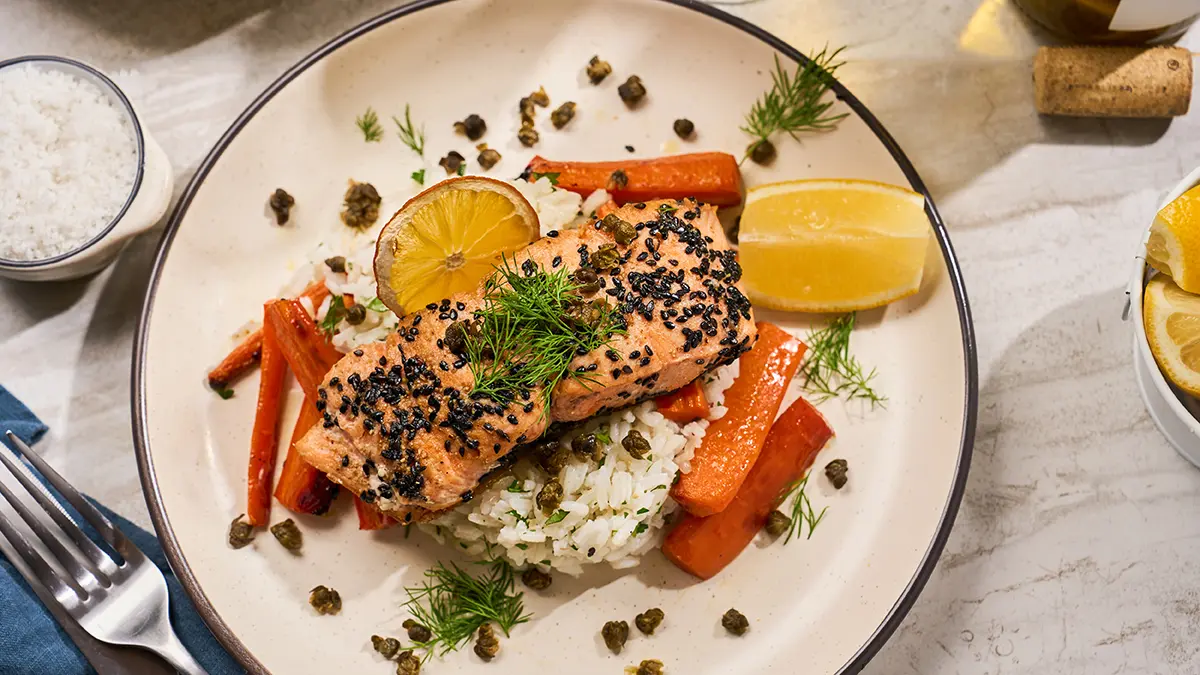 Seared King Salmon with Capers and Dill
Ingredients:
2

teaspoons

olive oil

(divided)

1

teaspoon

black sesame seeds

1

tablespoon

fresh dill

(minced)

1

tablespoon

nonpareil capers

(drained)

Salt and pepper

(to taste)

Lemon wedges
Instructions:
Remove fish portions from packaging, rinse gently, and pat dry with a paper towel. Rub both sides of fish with 1 teaspoon of olive oil, then season with salt, pepper, and black sesame seeds.

In a heavy skillet on medium-high, heat 1 teaspoon of olive oil until shimmering. Place fish skin-side up in the hot pan and cook undisturbed until golden brown, 2-3 minutes. Flip fish over and cook until skin is golden brown and crispy, 3-4 minutes.

Transfer salmon to a serving platter and allow to rest for 2-3 minutes. Garnish with capers, fresh dill, and lemon wedges. Serve with roasted carrots and basmati rice.
---
Vital Choice is proud to partner with Holland America as they expand their Global Fresh Fish Program to bring you wild-caught fish at home and at sea. Continue your world-class culinary journey from the cozy confines of home with this special collection of wild Alaska halibut, Pacific king salmon, and Chilean sea bass.