Some, if not all, of the best halibut comes from Alaska, where the massive flatfish dwell in the icy waters of the North Pacific.
Wild Alaskan Halibut boasts a mild, yet rich flavor that is sweet and slightly buttery. The fish's fresh flavor profile and flaky texture are two of its signature features. Holland America's Fleet Executive Chef, Daniel Hrgic, marinates the fillet in zesty lemon and premium olive oil, and then broils it to a perfect tenderness.
Rest the halibut on your choice of hearty quinoa or wild rice and top it with a generous spoonful of creamy and herbaceous lime, garlic, and tarragon aioli, which lends an acidic and luscious component to the broiled fish. Sauté the asparagus in compound butter until crispy and add to the plate to finish off the simple yet unforgettable presentation.
As a final touch, Chef Hrgic recommends adding vibrant sun-dried tomatoes, a beautiful complement to the halibut. We especially love this dish for a lunch or lighter dinner option.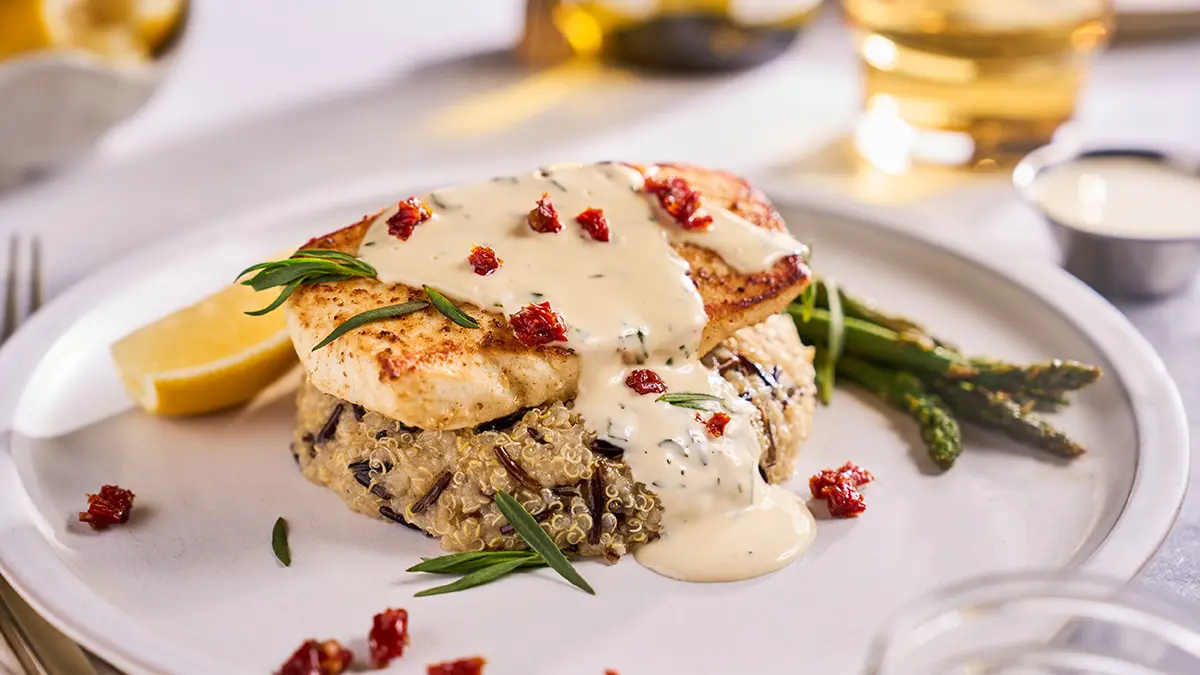 Broiled Halibut with Lime Tarragon Aioli
Ingredients:
2

portions Vital Choice wild Alaskan halibut

(thawed)

1

tablespoon

olive oil

1

teaspoon

lemon juice

2

tablespoons

mayonnaise

1

garlic clove

(mashed)

1

teaspoon

fresh lime juice

1

teaspoon

fresh tarragon leaves

(minced)

Salt and pepper

(to taste)
Instructions:
Remove fish portions from packaging, rinse gently, and pat dry with a paper towel.

In a small bowl, combine olive oil, lemon juice, salt, and pepper. Coat both sides of fish with olive oil mixture; cover and set aside for 30 minutes.

Make the aioli by combining the mayonnaise, garlic, lime juice, and tarragon in a small bowl.

Adjust the oven rack to top third of oven and preheat broiler for 5-10 minutes. Arrange fish portions in an oven-proof skillet, leaving space between them. Broil 4-6 minutes or until it reaches an internal temperature of 135℉.

Transfer to a serving platter and top each portion with a dollop of aioli. Serve with sautéed fresh asparagus and quinoa or wild rice.
---
Vital Choice is proud to partner with Holland America as they expand their Global Fresh Fish Program to bring you wild-caught fish at home and at sea. Continue your world-class culinary journey from the cozy confines of home with this special collection of wild Alaska halibut, Pacific king salmon, and Chilean sea bass.