Breakfast wasn't always the most important meal of the day. In fact, through the Middle Ages and right to the start of the 18th century, most people avoided eating in the morning if they weren't young, sick, or doing heavy labor and in need of the extra calories. All that changed, however, according to food historian Stephen James Schmidt, when "well-to-do Anglo-Americans began drinking coffee, tea, and hot chocolate at the start of the day" and wanted something to pair with their drink, to help them "break" their "fast" from the night before.
In its earliest incarnations, breakfast consisted of leftovers from the previous night, perhaps paired with some cheese and a piece of bread. But, soon, people began cooking in the morning as well — eggs, toast, and some kind of meat (usually pork).

Combine that with the dawn of the Industrial Revolution and the resulting spike in factory work and office jobs that needed filling, and many people also found they now needed something hearty, like meat, to eat before heading off to work. And breakfast as we know it was born!
Types of breakfast meat
Ham it up
Ham was affordable and readily available for people of all income levels, explains Jason Menke, director of consumer PR for the National Pork Board. Plus, let's be honest: It's delicious.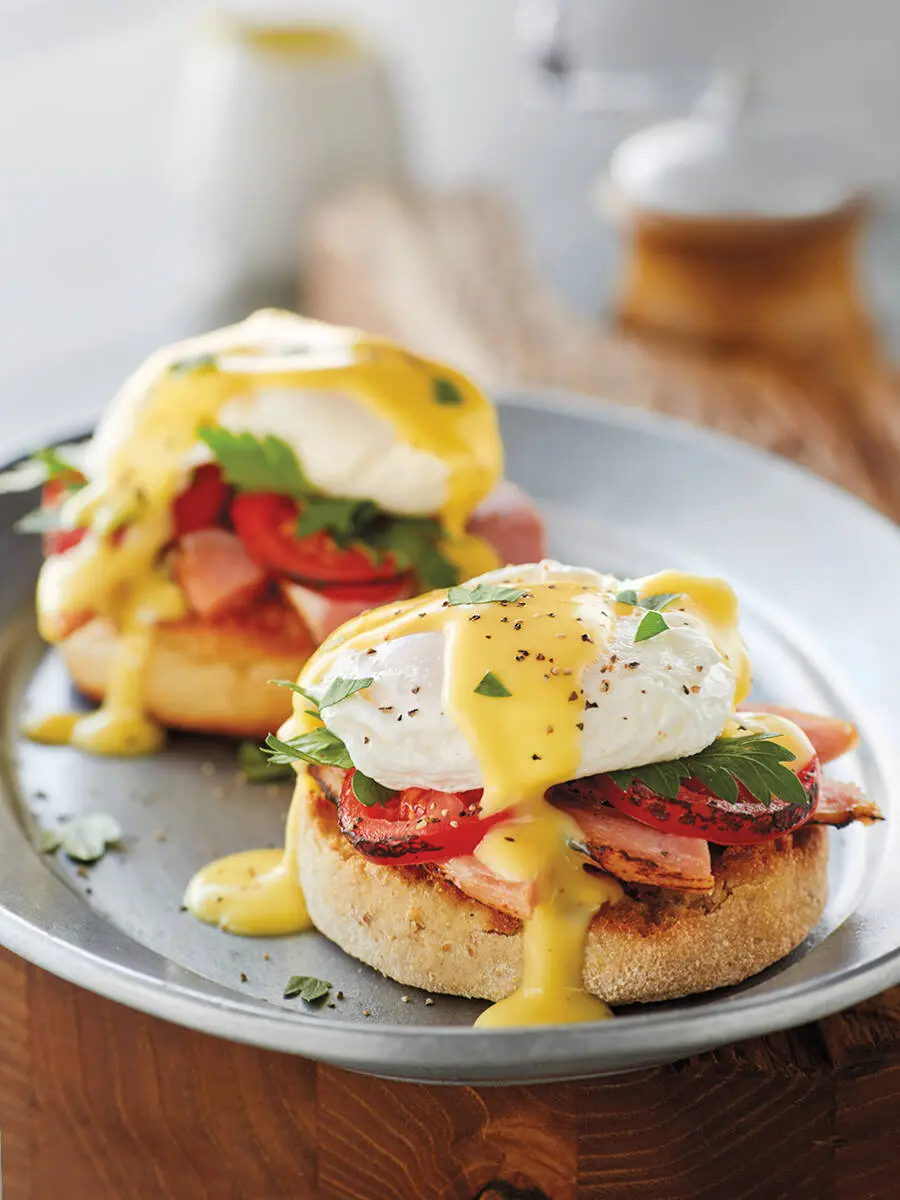 "You can cook virtually the entire animal from tail to snout," Menke says. "And unlike other proteins that all basically taste the same, different cuts of pork taste distinctly different, and they all pair well with spices for even more flavor variety."
While many versions of pork have become synonymous with breakfast, ham was likely the original all-purpose breakfast meat. This cut of pork, which comes from the hind leg of the pig and is then preserved with wet or dry blends of salt, has been a staple of the culinary world dating back to the Etruscan civilization of the 5th and 6th centuries B.C.
Thin slices of ham are also the original cold cut, and a current breakfast staple throughout Germany (schinken), Italy (prosciutto a fette), Sweden (skinka), and Turkey (jambon), where the meat is typically part of breakfast platters along with a selection of breads, jams, and cheeses.
Carve a slice: Perfect for the a.m. or anytime, try a bone-in spiral-sliced ham that's smoked twice over hardwoods, making it extra juicy. Serve it at breakfast for a large family gathering or use leftover slices from last night's dinner as an instant morning meal star. Looking for something a little more DIY than just reheating? Consider an eggs Benedict kit, which includes everything you need to make this breakfast favorite. Don't forget the bloody marys to wash them down.
Bacon me crazy
If there's a king of the breakfast meats, it has to be the almighty bacon. Ever since the ancient Chinese discovered around 1500 B.C. that thin, fatty slices of meat from a pig's belly, back, or sides ⁠could be preserved with salty dry rubs or liquid brines and then smoked for an added burst of flavor, bacon has reigned as one of humanity's most beloved (and top selling) cuts of meat. No surprise, then, that Americans pack away more than 2 billion pounds of the meat annually!
Types of bacon
If you've had your fill of frying up marbled old school U.S. of A-style bacon, try any of these other versions from across the globe.
Canadian bacon: It's prepared in the same way as its American counterpart but comes from the loin of the pig.
Back bacon: The U.K. name for the same Canadian cut.
Szalonna: Bacon doused with paprika. Popular in Hungary.
Rashers: Ham-like slices of pork belly commonly sold in Ireland.
---

---
On a (sausage) roll
Bacon's spicy next door neighbor is the equally popular sausage, believed to have originated circa 3,000 B.C. in Mesopotamia when a group of hungry Sumerians decided to stuff a bunch of ground meat, salt, and spices into a strip of pig intestine and then fry the whole thing up. Luckily, that experiment in using up leftovers from the night before caught on and sausages — both links and patties — have been a much-loved part of breakfast ever since.
Just how popular is the breakfast sausage? The National Hot Dog and Sausage Council estimates that more than 360 million pounds is consumed in the United States each year, totaling nearly $1.5 billion in annual sales.
Types of sausage
Most of the sausage sold in the U.S. is mild, flavored with maple and sage. Go south of the border or across the pond (or stay in America and head to Cincinnati ) to spice up your morning meal.
Blood sausage: Also called "black pudding," the U.K. version is a mixture of thickened pigs blood and oatmeal or barley, and has its rightful place on the traditional English breakfast plate.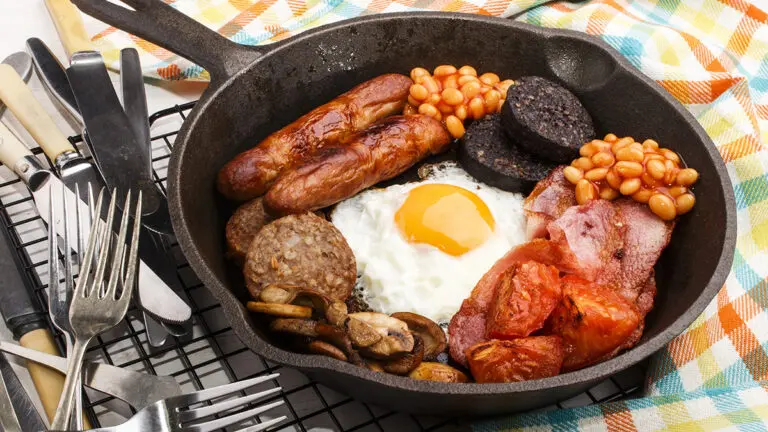 Chorizo: Spicier than its American counterpart, chorizo comes from Mexico, where it is made from ground pork and chiles. In contrast, Spanish-style chorizo is packed with paprika and garlic, and looks similar to salami.
Goetta: Originally devised in Germany by rural farm workers and now a breakfast item in Cincinnati, this loosely formed sausage is made from a combination of ground beef and pork, plus steel-cut oats, fresh onions, and spices including garlic, ginger, coriander, and cloves.
Order up: If you're not cooking and serving sausages whole, crumble them instead. Crumbled sausage is the key to dishes like biscuits and gravy, cheesy quiches, on-the-go breakfast sandwiches, cheddar and smoked summer sausage pinwheels, and hearty one-dish baked breakfast feasts like a sausage and cheese casserole.
Steak out
While steak and eggs seems like the type of classic meal, and breakfast pairing, that would date back centuries, the dish is actually less than 100 years old. Although legends surrounding its origin vary — some say it was first created by American soldiers visiting Australia during World War II while others claim it was created by a 1950s-era bodybuilder looking to ramp up his protein intake — one thing's for certain: By the time the 1960s rolled around and astronaut Alan Shepard requested the dish (his steak of choice was filet mignon) before his flight to become the first American in space, everyone was instantly familiar with the hearty pairing. (Steak and eggs have even since gone on to become the official NASA astronaut breakfast!)
A classic T-bone — which combines the umami flavor of a New York strip with the tenderness of a filet — cooked on a stovetop griddle is the traditional cut of beef for steak and eggs, but other cuts, including the bone-in ribeye and porterhouse, work equally well.
Quite a spread
From fresh baguettes to crisp buttered toast to flaky croissants, baked goods are synonymous with breakfast. And even when it comes to these baker-crafted delicacies, meat has found a way to make them better, in the form of spreads. Here in the U.S., we're most familiar with breakfast spreads like deviled ham, a blend of ground ham, mayonnaise, and spices that gets its hellish name from all those flavor-packed fiery spices. It can be used as a filling in omelets, layered into breakfast sandwiches, or spread on griddle cakes or biscuits, such as classic British crumpets.
But the breakfast meat spread options don't end there. In Quebec, French Canadians enjoy a pork paste called creton, which tends to resemble rillettes, with either sweet allspice and cinnamon or garlic and onion flavors, depending on the recipe. In Spain, the meaty spread of choice is pericana. Created in the Valencia region, it typically contains a vibrant blend of sautéed salt cod, sun-dried tomatoes, dried chili peppers, olive oil, and salt.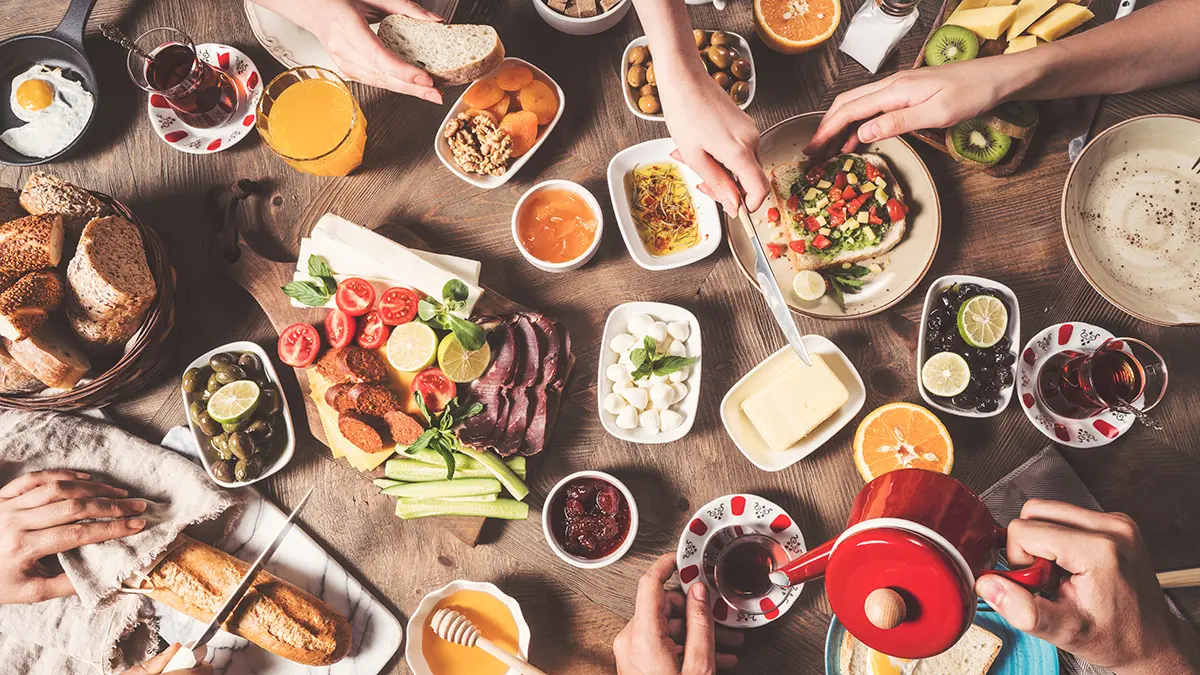 Romanians are known to start their day with salată de icre — a spreadable mixture of fish roe, lemon juice, and finely diced red onions, which, again, goes perfectly on toast. Not to be outdone, the Danes and French have their favorite breakfast spreads: dueling versions of liver pâté. In Denmark, the spread is known as leverpostej, while the French call their dish mousse de foie gras. Both show up at holiday meals and as fancy appetizers but also are valued at breakfast, at which they are typically paired with eggs or perfectly browned toast.
Something fishy going on
Breakfast isn't just about the "turf;" any list of breakfast meat essentials should also include some "surf." The most common breakfast meat without feet is, of course, lox. Although lox was first created by Scandinavian fishermen looking for ways to preserve their daily catch, it found its true home in Israel and the Middle East, where it was combined with a local favorite known as the bagel in one of food history's most perfect pairings (right after chocolate and peanut butter!).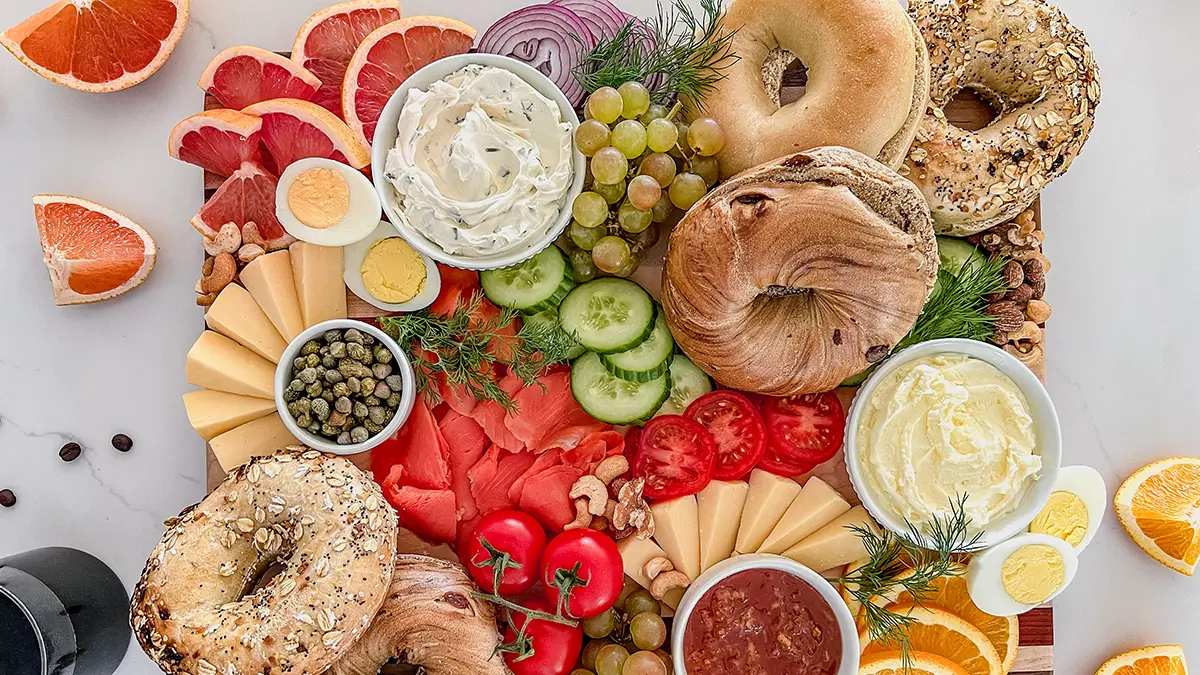 As popular as bagels and lox might be, salmon isn't the only seafood to garner a spot on the breakfast menu. Crab meat makes a delightful treat paired with scrambled eggs, while New Englanders love to swap fresh lobster into their eggs Benedict or scrambled hash. Need a little more international inspiration? In Jamaica, it's common to wake up to a dish called "Stamp and Go" — a simple fritter made with local salt fish. Meanwhile, in Italy many people add a secret ingredient to their homemade frittatas: fresh, locally caught jumbo shrimp, which perfectly complement the dish's classic blend of eggs, cream, onions, tomato, and cheese. Delizioso!