Picture this: a plump, tender lobster tail perfectly paired with a thick, juicy steak on a single plate. Few dining experiences are as decadent as surf and turf — an extravagant combination of seafood, usually shellfish, and red meat that offers a range of irresistibly delicious flavors and textures.
Whether you're slicing into succulent filet mignon paired with lobster at a top steakhouse or savoring a unique twist on this timeless pairing (how does a "reef and beef" burger sound?!), surf and turf continues to hold its place as a symbol of luxury and indulgence, uniting the best of both land and sea in a single meal.
What is surf and turf
At its core, surf and turf marries two distinct elements: Seafood, such as lobster, shrimp, or scallops, and a beef element, preferably a top-tier cut like filet mignon, ribeye, or New York strip. The steak preparation typically involves grilling or broiling, to achieve the ideal level of tenderness and flavor. This expertly cooked meat (ideally grass fed) complements the seafood, creating a harmony of flavors and textures on the plate.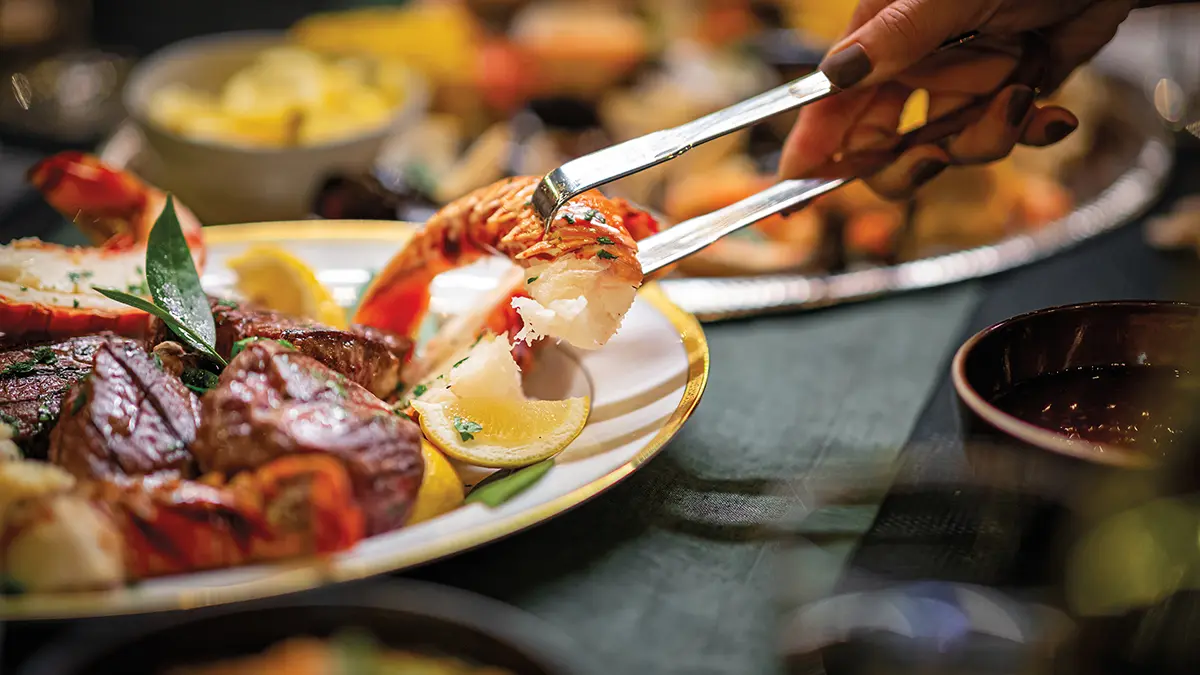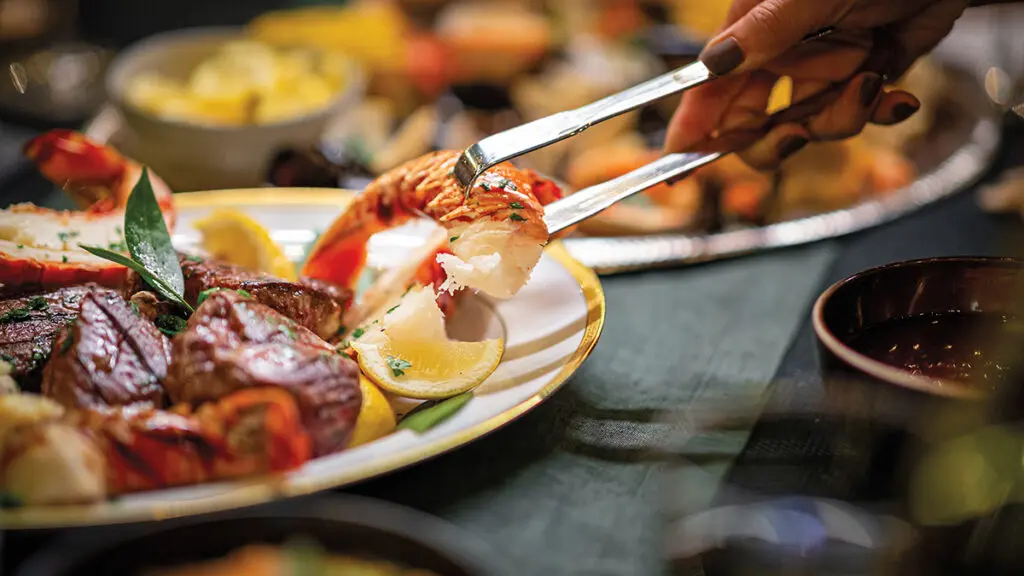 Exploring the origins of surf and turf
The earliest documented reference to the term "surf and turf" dates to 1961, when, according to the Oxford English Dictionary, the phrase appeared in the Los Angeles Times.
In late 19th-century America, the evolution of British-style chophouses, which had existed since the late 17th century, evolved into the steakhouses we know today. Uniting generous portions of lobster and steak on a single plate gained popularity within the lavish and boisterous lobster palaces that were popular during that era.
The book Savoring Gotham, a New York City food guide edited by culinary historian Andrew F. Smith, credits Thomas Shanley with opening New York City's first lobster palace. A menu from one of his namesake establishments from 1900 features lobster served in many different styles, along with steaks, chops, and more.
After falling out of fashion, the red meat and seafood pairing made a remarkable comeback in the 1960s. The dish appeared at the Century 21 Exposition — also known as the 1962 World's Fair — at the Eye of the Needle, a revolving restaurant crowning the Space Needle in Seattle.
---

---
The dish then debuted in Australia in 1965 at the Lithgow Hotel, according to The Lithgow Mercury, eventually becoming a beloved pub staple nationwide. Surf and turf was now undeniably an international sensation, making its origins now irrelevant.
International variations on surf and turf
Various gastronomic traditions of different cultures, such as Brazilian barbecue and churrasco, and Japanese hibachi, serve as evidence that the idea of pairing meat with seafood existed long before the 20th century.
One of the many allures of surf and turf lies in its adaptability to regional and international tastes. A favorite of mine is a Greek-style iteration: Shrimp and Beef Kebabs with a tzatziki sauce. Take wild artisan blue shrimp and one-inch cubes of grass-fed ribeye steaks and marinate them in separate bowls with olive oil, dill, oregano, lemon zest, and garlic cloves for two hours. Skewer the shrimp and steak on separate skewers, grilling them for 2 to 4 minutes and 3 to 5 minutes per side, respectively. For the tzatziki sauce, combine and mix Greek yogurt, cucumber, garlic cloves, lemon juice, salt, olive oil, and dill. Serve with grilled pita.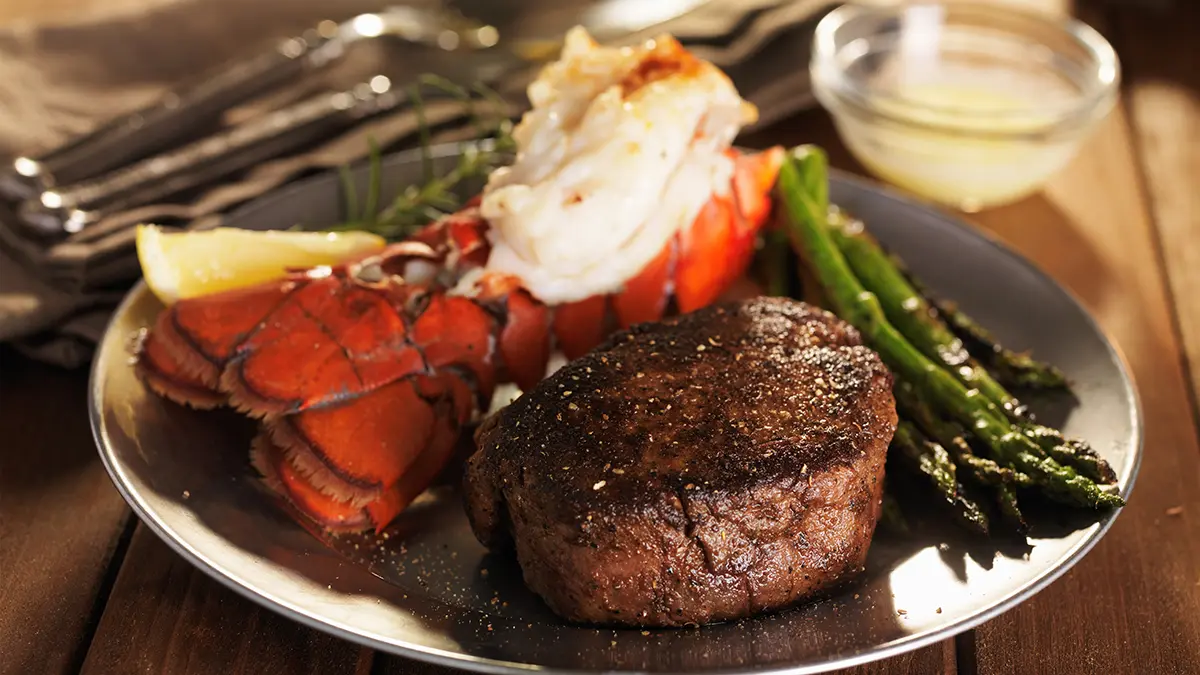 Classic Surf and Turf
Preparing your own version of this classic steakhouse meal is simple — don't be intimidated by the steps of this recipe! — and requires little hands-on cooking. And the best part is that it requires only six ingredients (and two of those are salt and pepper).
Still not convinced? Then simply order this delicious surf and turf duo already prepared.
Ingredients:
4

tablespoons

butter

Juice of one lemon

Salt and pepper
Instructions:
Preheat the oven to 450℉, then place a cast-iron skillet in your oven for 20 minutes.

Pat the filets with a paper towel to remove moisture and season liberally with salt and pepper.

At the same time, bring a pot of salted water to a boil.

Turn off the heat under the boiling water, and add the lobster meat to the pot and cook for about 1 minute. Using a slotted spoon, remove and set aside.

Transfer the hot skillet carefully from the oven to the stovetop using a thick oven mitt.

Coat the bottom of the skillet with a neutral oil, like safflower, and set the temperature to high heat.

Use tongs to place each filet in the pan for 30 seconds on each side.

Add butter to the pan with the steaks and place it back in the oven.

Cook steak for 2 minutes on each side for medium rare. Add 2 minutes for medium. A medium-well steak should take about 8 minutes in total. Remove the steaks and put them on a plate to rest.

Quickly transfer the lobster meat to the skillet, which should still be hot. The lobster is finished when it becomes tender and is opaque inside. Squeeze the lemon juice over the lobster meat.

Place each rested filet on a separate plate and garnish each with a quarter of the lobster meat, and season lightly with black pepper. Serve right away.