The delightful treat known as the chicharron, plural chicharrones, is a finger-food snack made of fried animal skin, usually pork. The term means "crackling" in Spanish, a reference to the sound made when the crunchy delicacy is broken…or eaten.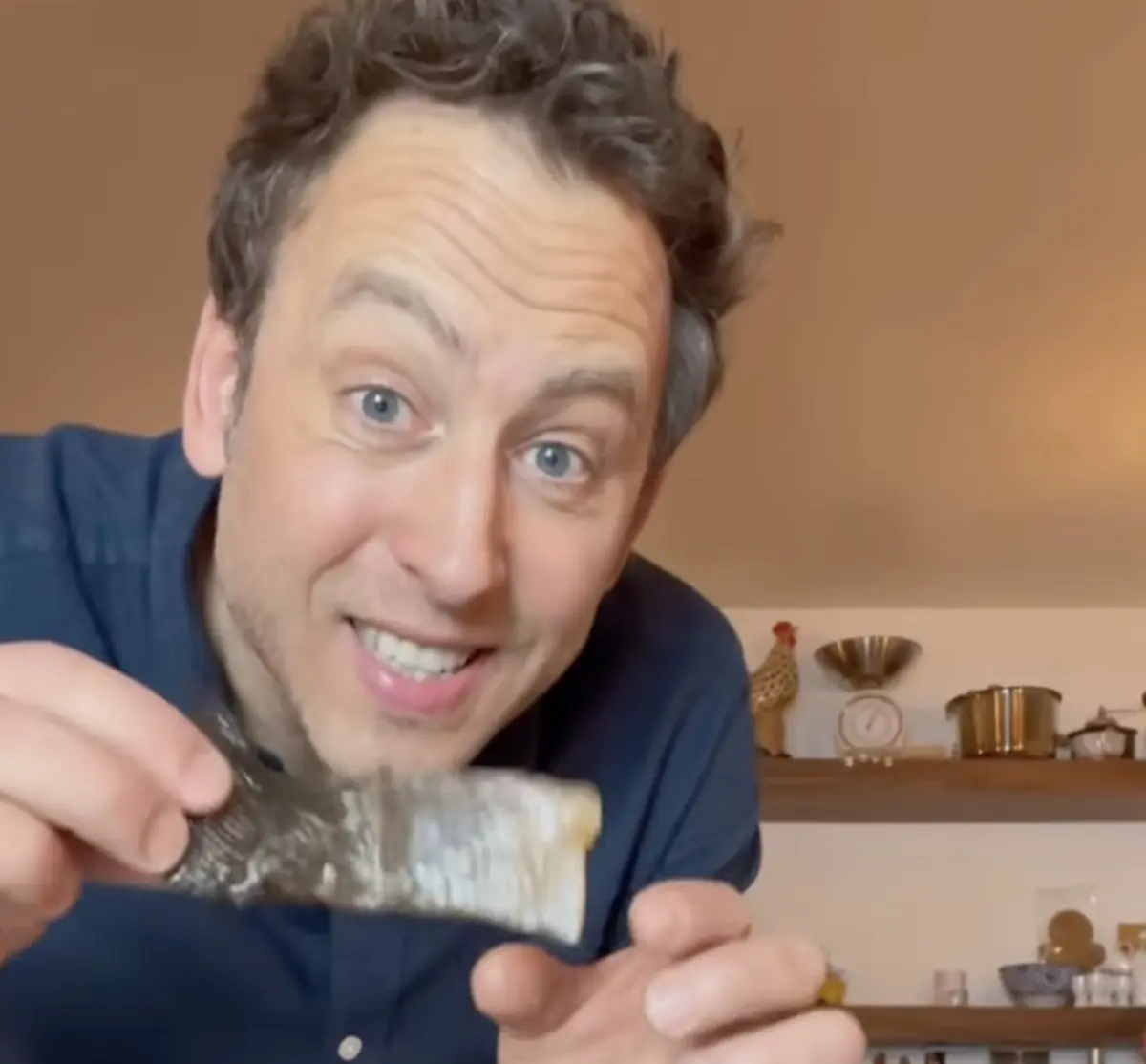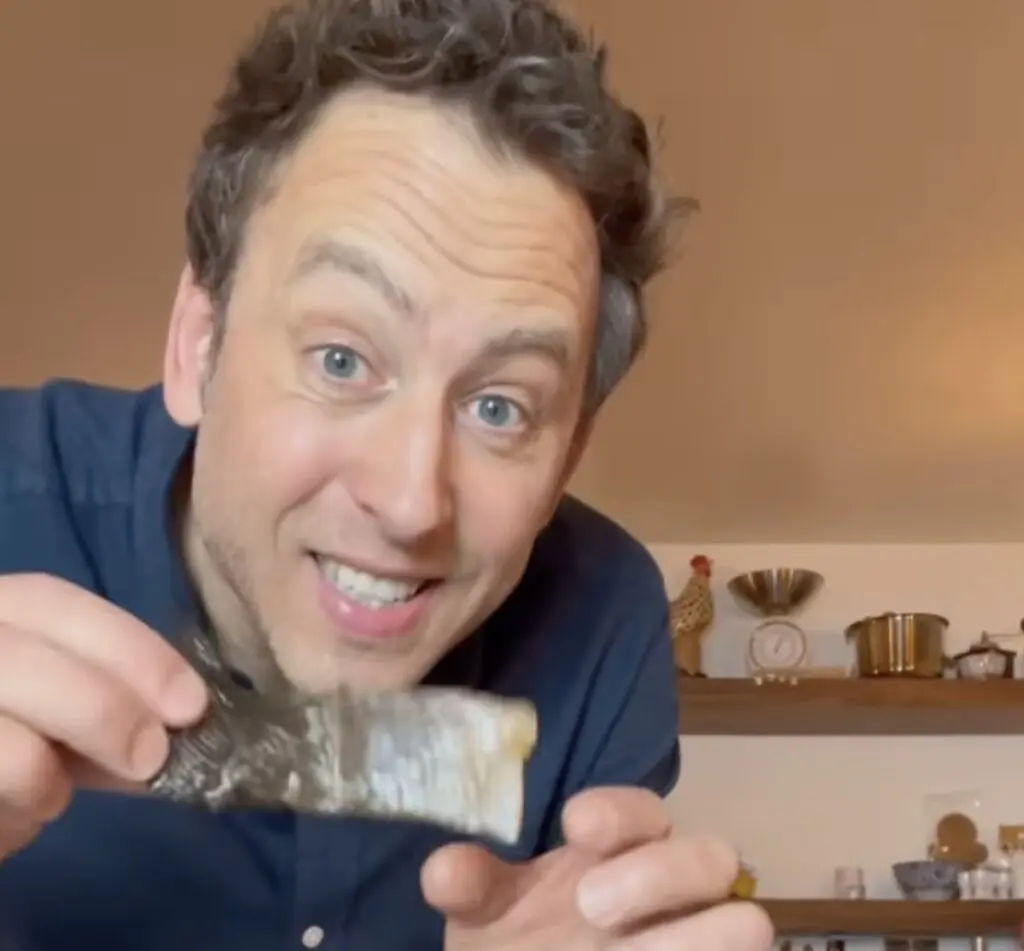 It is popular in Spain, Latin America, and places with a Latin American influence such as the Southwestern US.
Along with its roots in various international cultures, chicharrones have more recently become popular snacks among low-carb dieters. That's because these savory treats offer satisfying, potato-chip-like crunch minus carbohydrates and seed oils, which many low-carbers seek to limit.
So far, so good. Here's the twist.
There is no law, statute or regulation stating that a chicharron must be made of pork skin. To prove it, we here proudly present Luca Manfe (@lucamanfe on Instagram), a chef who has trained all over the world. He won the television competition MasterChef, offers cooking classes and has cookbooks.
As Luca demonstrates, crispy salmon skin can be eaten as is, or added to a truly sensory-overload of a salmon burger, replete with tastes and textures to make it truly unforgettable. Click to watch Luca demonstrate on Instagram, and enjoy!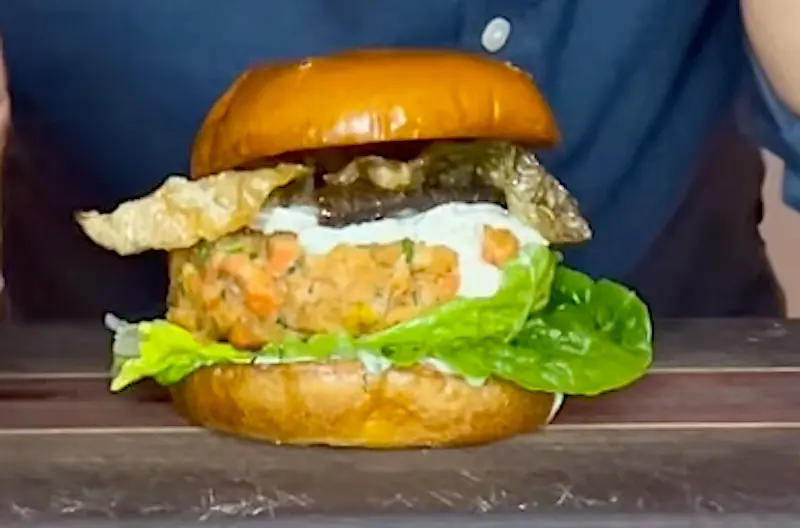 Salmon burger with fresh sockeye salmon, tartar sauce and salmon skin chicharrones
Ingredients:
4

brioche hamburger buns

4

salmon filets

(skin on)

1

medium size shallot

1

tablespoon

capers

(rinsed)

The zest of one lemon

¼

cup

fresh parsley

(chopped)

½

tablespoon

Dijon mustard

A few drops of hot sauce

½

cup

breadcrumbs

2

cups

mayo

½

cup

finely chopped dill pickles

2

tablespoons

finely chopped dill

1

tablespoon

lemon juice

1

teaspoon

honey

Lettuce

Frying oil

Extra virgin olive oil

Salt

Pepper
Instructions:
To make the salmon skin chicharrones remove the skin from the fillet. Make sure to remove any flesh left attached to the skin. Place the skin (outside part down) on a baking tray lined with parchment paper and dry in a static oven (no fan) at 150F (or lowest temperature) for at least 4 hours. You can open the oven around the 4 hours mark to check if the skin is dry enough. If it still has a lot of oil attached you can use a paper towel to dry it off. Keep in the oven until ready to fry. Fry at 350/375F. Drop the skin in the hot oil, it should puff up in a few seconds. If it doesn't puff right away, you may have to fry it twice.

Drain in a paper towel. Set aside.

To make the salmon burgers, cut 3 filets of salmon in small pieces, around a ¼ of an inch cubes and set aside in a bowl. The last filet can be chopped in bigger chunks and put in a food processor with the shallot (roughly chopped), capers, hot sauce, breadcrumbs and mustard. Run the food processor until you get a paste. Add the paste to the small diced salmon along with 1 cup of mayo, fresh parsley and lemon zest. Season with salt and pepper

Mix everything together and form 4 hamburgers.

For the tartar sauce, just mix 1 cup of mayo with the pickles, dill, lemon juice, honey, salt and pepper.

Toast the brioche buns in a pan or griddle with a drizzle of olive oi until golden brown. Set aside.

Cook to the hamburgers in a very hot cast iron or a griddle. Drizzle with some olive oil, add the burgers and cook on high heat a few minutes per side; then lower the heat and cover for a few more minutes to make sure the inside gets cooked and hot.

To serve, spread some tartar sauce on the bottom part of the bun, place a few leaves of lettuce per bun, then add the salmon burger, some more sauce and top with the crispy salmon skin.