Fish don't hold Olympic races. But if they did, it's a safe bet the beloved tuna would take home its fair share of medals. Even the smallest of tunas are lightening fast. But the Atlantic bluefin (44 mph) and the yellowfin (70 mph), both capable of sustained speeds over long distances, would be challenged by no more than a handful of other species spanning all of the world's oceans.
Marine biologists trace the source of tuna's speed to an elongated, muscular body. That's further enhanced by its streamlined dorsal and rear fins and powerful locomotive forked tail.
Equally important, however, is their respiratory system. Tuna are "obligate ram ventilators." That means they need to swim constantly in order for water to pass through their gills. This perpetual motion oxygenates blood and builds muscle via a critical protein called myoglobin that's saturated with iron and gives its flesh its characteristic pink-red hue.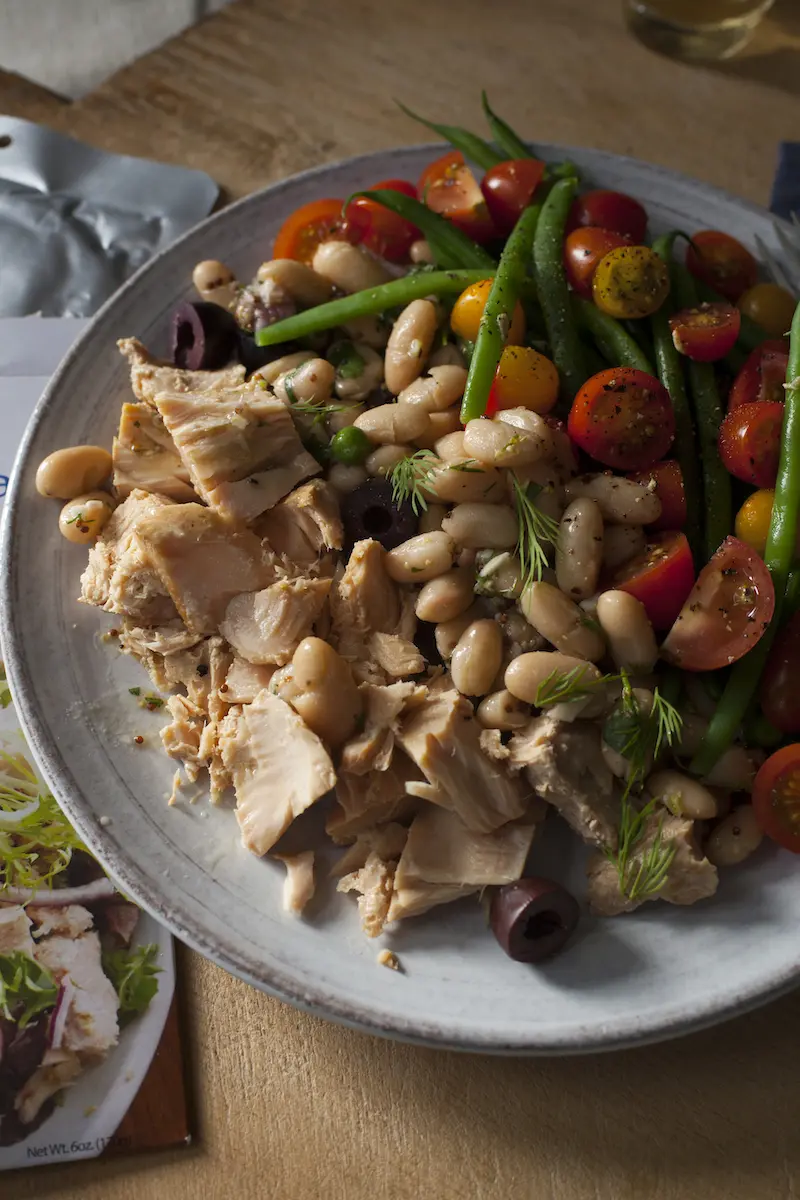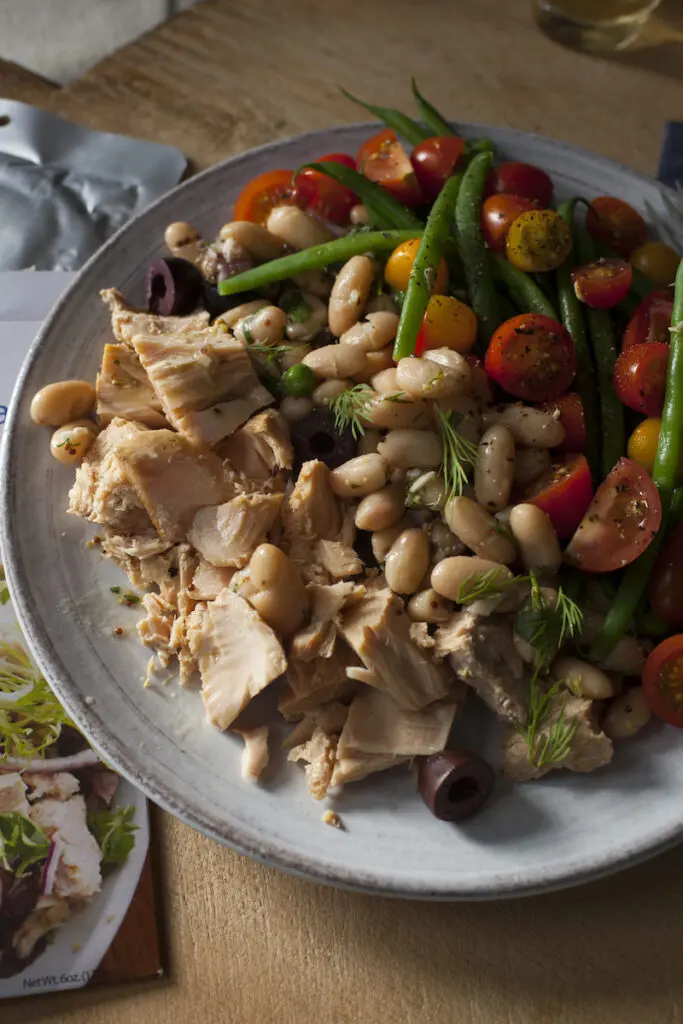 This means tuna possess an unusual skill among boney fish. They can actually generate heat and regulate body temperature, which explains why tuna thrive everywhere except for the polar seas and are highly migratory.
Right…But How Do They Taste?
The physiology lesson is relevant because it's the reason tuna is so tasty and nutritious—and such a valuable sushi commodity. All of that swimming and oxygenating results in a low fat, high protein "marbleized" flesh. It has a meaty texture and mild flavor profile that's so unexpectedly "non-fishy" that it figures in a variety of global cuisines, gently cooked but mostly eaten raw as sushi.
Nutritionists rate tuna as a "superfood" because it's low in calories but rich in proteins and omega-3 fatty acids (DHA and EPA), vitamins A, B2, B3, B6, B9, B12 and D, as well as iron, zinc, calcium, magnesium, sodium, potassium, selenium, iodine and phosphorus.
Researchers have found diets that include 4 ounces of tuna served two to three times per week are associated with weight loss, reduced inflammation and a variety of health benefits.
The single cautionary note for some tunas is high levels of mercury, so exceeding U.S. Food and Drug Administration (FDA) recommendations represents a potential health risk, particularly for pregnant women. But canned tunas classified as "light," such as skipjack or yellowfin, are a "Best Choice" and can be eaten two to three times per week.
Tuna Benefits Make it a Historic Favorite
Given tuna's gourmet taste and nearly unlimited range and fecundity, it's no surprise it has been fished by so many cultures over several millennia. And its gourmet taste and wide range explain how it can simultaneously thrill foodies and budget-conscious families back to antiquity.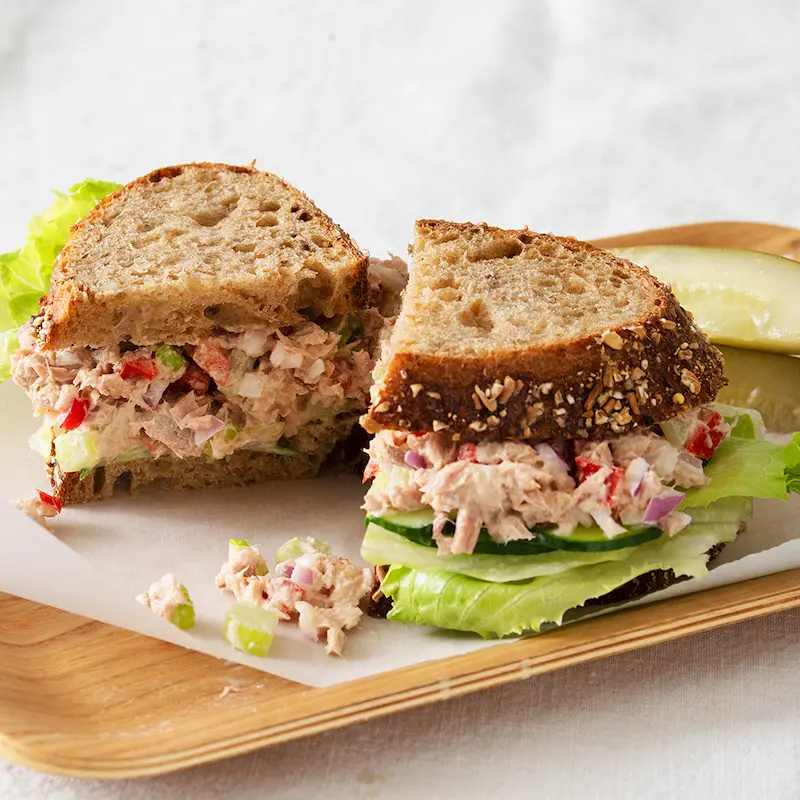 Some linguists say the word "tuna" originates with ancient Arabic (tun), Spanish (atun), Greek (thynnos) or Latin (thunnus). But it's still unclear. We do know that Phoenicians began fishing tuna in earnest somewhere around 1,500 B.C. They were followed by the Greeks and Romans, the latter of which were the first to preserve tuna in brine or oil.
Today, at least 70 countries fish tuna. A recent United Nations report listed it as the world's most consumed seafood and the second most wild-caught fish. A whopping seven million metric tons are harvested globally each year. Although that includes all species, the majority is comprised of "light tunas"—skipjack, albacore, and yellowfin—and are most often marketed in cans or pouches.
Packaging featuring a blue fish icon means the fish is Marine Stewardship Council (MSC) certified, an important distinction that promotes sustainability and regulates fishing methods that reduce bycatch, the unintended capture of other critical sea life.
One of the best aspects of tuna is its extreme simplicity and ease of preparation. Cooking time can literally be as little as two minutes. Branch out from "tuna fish" sandwiches (fascinating though their history may be) and explore tuna's "quick gourmet" virtues via this recipe!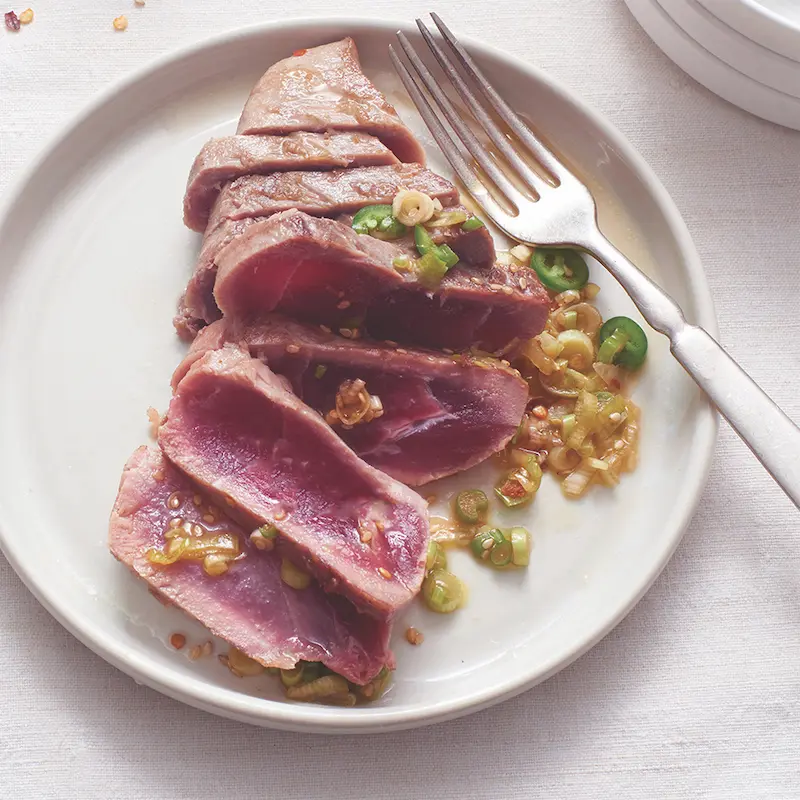 Classic Ahi Tuna Steaks
A gourmet-restaurant favorite, ahi tuna steaks are among the easiest and quickest seafood dishes to make at home – for a fraction of the cost!
Ingredients:
2

tablespoons

soy sauce

2

tablespoons

honey

1

tablespoon

rice vinegar

1

tablespoon

olive oil

¼

teaspoon

sesame oil

¼

teaspoon

grated ginger

1

garlic clove

(minced)

¼

teaspoon

red pepper flakes

Salt and pepper to taste
Instructions:
In a small bowl, whisk together the soy sauce, honey, rice vinegar, olive oil, sesame oil, ginger, garlic, red pepper flakes, salt, and pepper.

Place the Ahi Tuna steaks in a shallow dish and pour the marinade over them. Cover and refrigerate for at least 30 minutes or up to 1 hour.

Heat a non-stick pan over medium-high heat. Once hot, add the tuna steaks and sear for 1-2 minutes on each side, or until desired doneness is reached.

Serve the Ahi Tuna with a side of vegetables or rice and enjoy!