Emergencies don't always announce themselves.
It's early morning. You awaken to the chilly air still lingering from winter, but the blushing redbud tree outside your window teases springtime blossoms soon. Yawning, you grab your phone from its charger. Strangely, it shows only 3% battery, despite charging throughout the night. Wiggling the cord, you shrug and place it back on the charger base. Maybe the cable wasn't properly inserted.
As you walk toward the kitchen, the house seems particularly dark. You automatically flick the light switch in the hallway. Nothing happens. Now the uncharged phone makes sense, the power must have gone out during the night. No biggie, you'll just wait for the power company to get it together, should be a couple of hours max.
Unphased by the prospect of making breakfast without a working stove, you reach into the fridge and pull out a cold coffee and Nova Lox, the true breakfast of champions (well, at least champion Vikings!) and begin to go about your day.
But…how long will the power stay out? What will we do if it stays out for the rest of the day? Or even two days? A week? Or even a month? What will I do?
What will you do?
Put Seafood in your emergency plan
Power outages are just one potential emergency scenario. Pandemics, lockdowns, hurricanes, blizzards, droughts, earthquakes, international discord all have the power to disrupt daily living, whether for a few hours or potentially longer.
The question is not a matter of "if" but "when" these distant possibilities become present realities. The preparation you choose to make right now can mean the difference between experiencing a disruption as a slight inconvenience, or as a massive emergency. As rising fuel prices and supply chain issues become commonplace, preparing your emergency supplies is an important priority.
Far from being an unpleasant topic, planning for emergencies is actually a fantastic way to give yourself peace of mind when reading alarming headlines. With so much beyond our control, creating an emergency plan and food stash is a wonderful way to exert tangible positive energy that is an investment in your future.
Think of it as one less thing to worry about during a time in which staying calm, cool, and collected is crucial. Mental clarity and serenity are scarce commodities during emergencies, so making preparations now not only gives you peace of mind to enjoy at this moment, but also in the future.
The best seafood in a stormy situation
Now the fun part begins: it's time to shop for your nutritious and delicious emergency seafood pantry stash! At Vital Choice, we pride ourselves on shipping the freshest seafood possible. But did you know that our canned and jarred items are packed at their peak, too? That means that when you open them you're still getting the maximum flavor and benefit.
Let's start with one of the oldest and most honored preserved food traditions: smoked salmon! Of course, every bagel improves with lox on top, but do you know we have a canned version?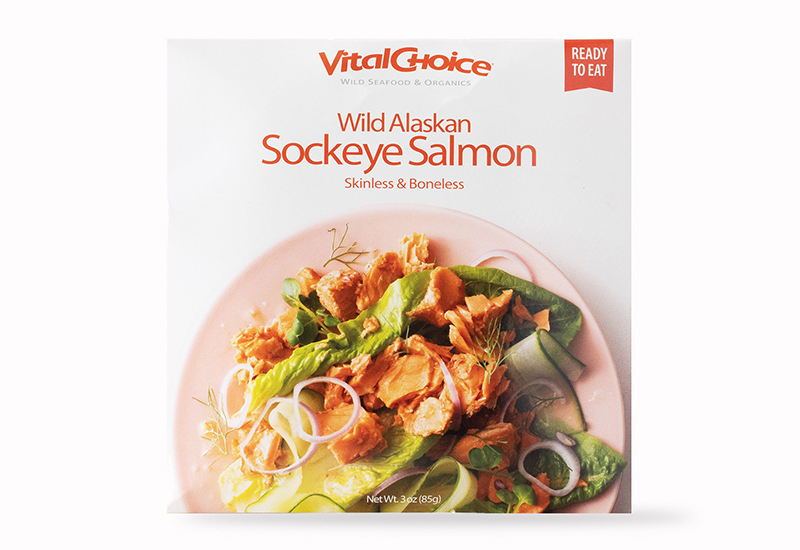 Or perhaps you prefer simple salmon in your emergency pantry, without the smoky touch. No problem! Vital Choice offers sustainable and shelf-stable salmon in a can or pouch, no can opener required.
But salmon isn't the only quick and easy canned or pouched option. Shrimp, mussels, sardines, anchovies, even a delicacy such as crab meat all contain vitamins, fats, and minerals that won't be available in your average emergency food bin.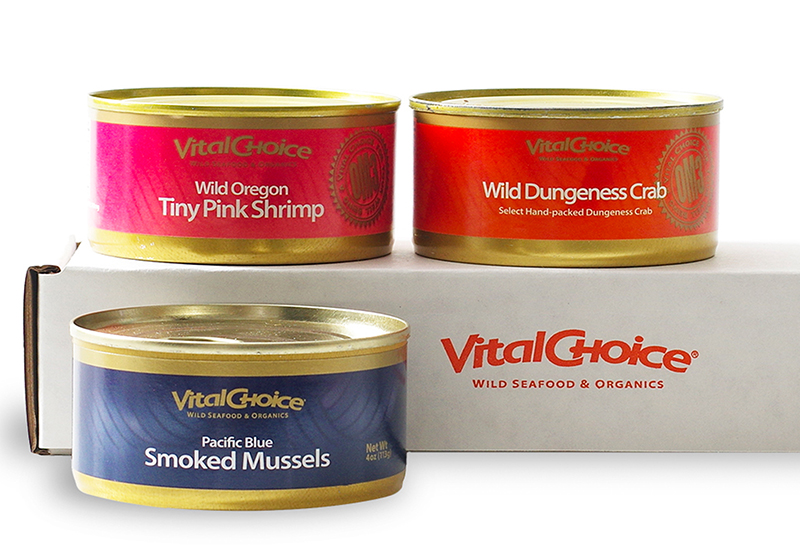 Plan ahead now. Your future self will thank you for your ready-and-waiting emergency seafood pantry, even if the only emergency ahead is the dreaded "What's For Dinner?" question before you've had a chance to get groceries.
By the way, salmon is always a good answer!