Calamari fritti invariably vanishes quickly when served as a restaurant appetizer. No wonder: a crisp fried crust coating a tasty, satisfyingly chewy ring of squidly goodness is an irresistible flavor-texture combo.
Yet few have the courage to make this dining-out favorite at home. Imagine if we never cooked a potato despite devouring commercial potato chips? This is the seafood equivalent.
Trust us, calamari is not scary, especially if you use one of the simple calamari recipes below. It retains its flavor while frozen and can be eaten grilled, seared, braised, and baked as well as battered and air-or deep-fried, as in the fritti we know and love.
To settle one dinner table debate, although some assert that calamari is not squid, the restaurant offering is indeed a squid. The word calamari entered English from 17th-century Italian, a plural of a medieval word meaning ink pot. Calamari is also the Italian word for squid. Since squid squirt ink, it all makes sense.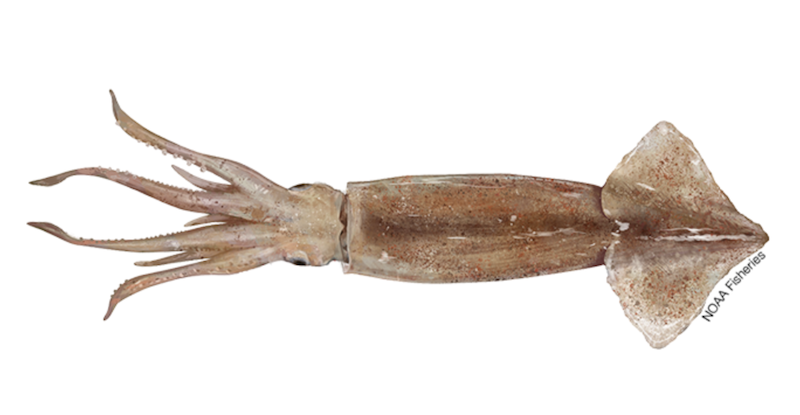 (Don't confuse squid with octopus, however. Octopi are richer and denser.)
Is it sustainable?
Our squid is the northern shortfin variety, which ranges Atlantic waters from Maine to Virginia. It is harvested using an "otter trawl," which may significantly reduce the unintended capture of other species.
According to the National Oceanic and Atmospheric Administration (NOAA), the responsible government agency, U.S. wild-caught shortfin squid "is a smart seafood choice because it is sustainably managed and responsibly harvested under U.S. regulations." In other words, it is not over-fished.
Indeed, there is even evidence that cephalopods (squid, octopus and cuttlefish), which are particularly adaptable, have been booming in response to shifting ocean temperatures and currents due to climate change.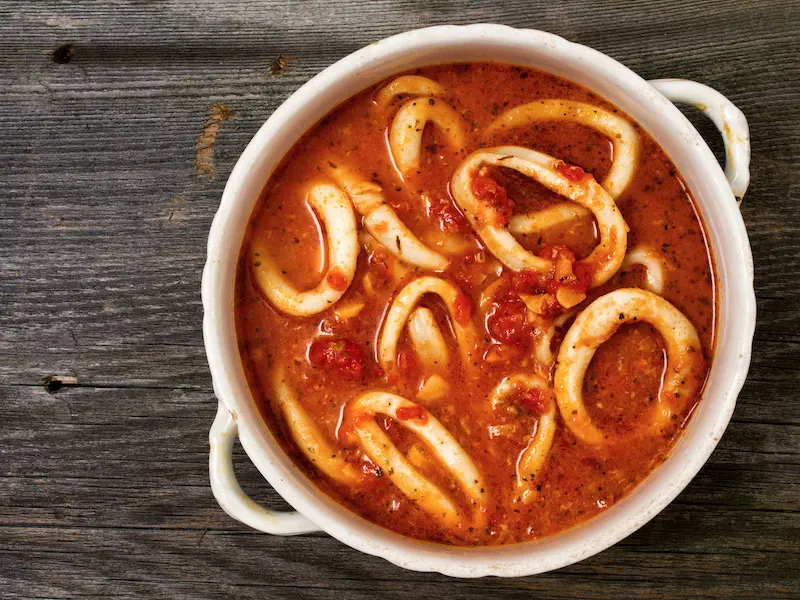 They are a mollusk, the family that in addition to cephalopods includes mussels, clams, oysters, and scallops— not a crustacean, the crab/lobster group. They eat crustaceans, fish—and, alas, squid, including their own species.
Is it smart and does it feel pain?
Pescaterians regularly get informed of the case that octopus is too smart to eat, and squid are sometimes lumped into the argument. It's tricky. There is indeed evidence that squids learn and have nerve cells linked to pain, but they don't seem to seek or value pain-relievers when injured, as octopi do.
And they're cannibals, which (winging it here!) suggests a lack of what we call empathy. Keep in mind that the squid we eat are small creatures with short lives, not the deep-ocean giants.
Is it good for you?
Squid is an excellent source of selenium, riboflavin, and vitamin B12. It does contain cholesterol, but that doesn't mean it will hurt your lipid profile, as we explain in more detail in our blog about shrimp.
How can I use it?
You can't really go wrong, unless you overcook. Squid needs to be cooked slow over low heat or fast over high.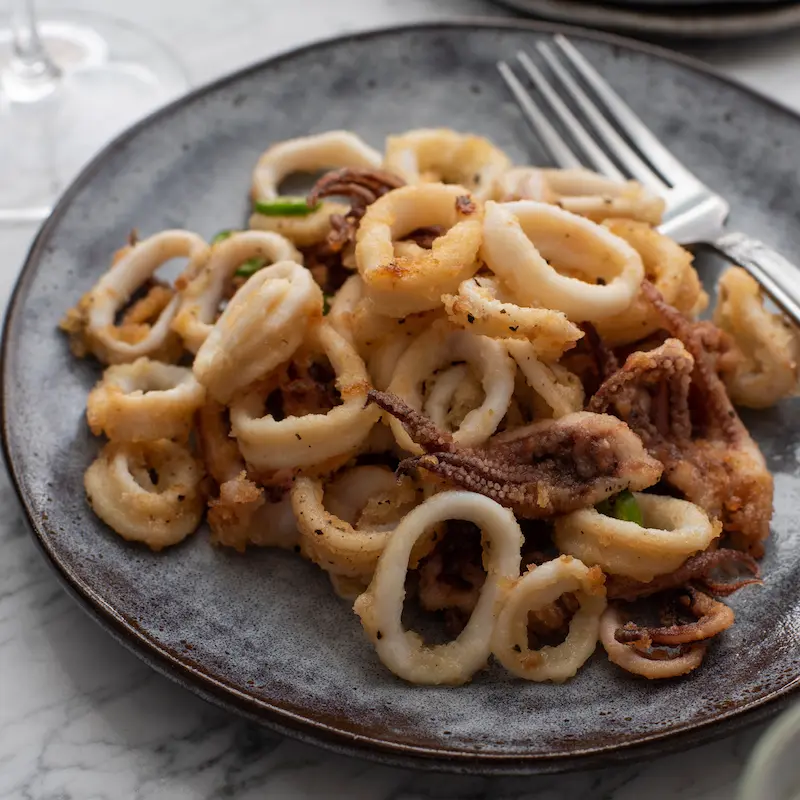 If you go for the fast approach, on your first venture, you might try a small batch to get the hang of it, and then cook the rest. The basic recipe (see below) for calamari fritti is simple. Don't cook more than two minutes. You don't need a special deep fryer, and your calamari can still be light and crispy. Air-fryers work, too. Some people soak the squid in milk or buttermilk for up to an hour in a refrigerator to help a coating stick.
To reproduce the "salt-and-pepper squid" you see on Chinese restaurant menus, you'll probably need other spices, as explained here.
The fried style can be gluten-free and keto if you use coconut flour.
You can make any number of sauces for dipping fried calamari. In an Italian restaurant it always comes with a marinara sauce, either sweet or spicy. The classic red cocktail sauce is a mix of ketchup, horseradish, Worcestershire and hot sauce. Basically, all the regular bottles.
But I don't eat fried food
Squid can carry lots of flavor, making crispness unecessary. It's sauteed in this recipe with lime, chiles and mint. Similarily, in a Venetian recipe served over polenta, the squid is fragrant with lemon zest, garlic, marjoram, mint, parsley and white wine.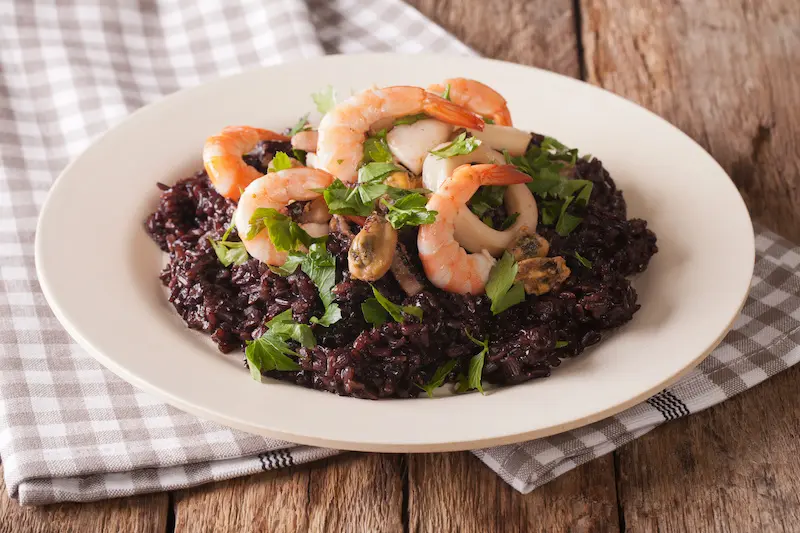 A cold squid salad might include fennel, sundried tomato, olives, and red onion. Cooks preparing a complicated Christmas Feast of Seven Fishes like to make this salad in advance, as it can improve with a day in the refrigerator.
How do I thaw it?
Keep it in the refrigerator overnight, run it under cold water, or put it in a icewater bath.
Once you get past your fear of overcooking, those rings of firm, sweet lean protein will become a go-to, rather than odd. Some new cooks are afraid of cooking pasta for similar reasons. They pass through the gates of fear, and enter the great shining pasta kingdom. Speaking of which, you can cook squid in a marinara sauce for about twenty minutes and serve it over pasta. You're in squid heaven.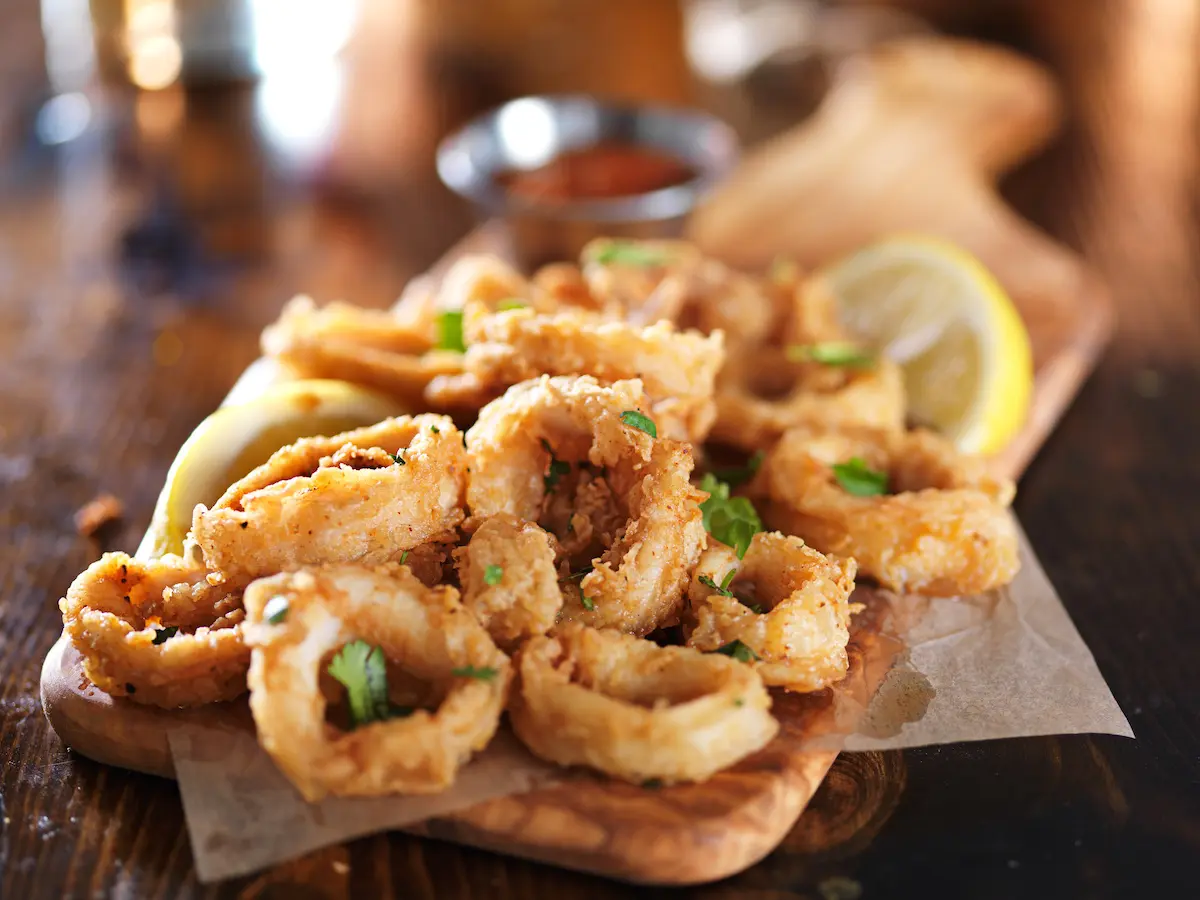 Fried (or Air-Fried) Calamari Rings
Whip these up at home with a pan of hot oil, or an air fryer. Either way, you will likely achieve a level of deliciousness that exceeds what your favorite restaurant can supply/
Ingredients:
1

pound

squid, thawed and cut into rings

1

cup

all-purpose flour

1

teaspoon

salt

½

teaspoon

garlic powder

¼

teaspoon

black pepper

1

cup

buttermilk

oil for frying – tallow or coconut oil are good choices

lemon wedges for serving
Instructions:
Rinse the squid rings under cold running water and pat them dry with paper towels. If you're using whole squid, cut off the tentacles and slice the body into rings.

In a bowl, combine the flour, salt, garlic powder, paprika, cayenne pepper, and black pepper. Mix well.

Pour the buttermilk into another bowl.

Dip the squid rings in the buttermilk and then dredge them in the flour mixture, shaking off any excess.

Heat the vegetable oil in a deep fryer or a heavy-bottomed pot to 375°F (190°C). (Skip this if air-frying.)

Working in batches, fry the squid rings for 1-2 minutes or until they are golden brown and crispy. Don't overcrowd the pot or the temperature of the oil will drop and the calamari won't cook evenly. If air-frying, spritz with a tablespoon of olive oil and air-fry 8 to 10 minutes in batches small enough that the rings don't touch.

Remove the fried calamari with a slotted spoon and drain them on paper towels to remove any excess oil.

Serve the fried calamari rings hot, with lemon wedges on the side.