When I saw shrimp cocktail on a menu as a child, I knew we were in a fancy restaurant. Though shrimp was the star of the show, dipping my bread in the leftover cocktail sauce was the best. Even as a kid, I loved the horseradish bite in a good cocktail sauce.
Now, after 25 years as a chef (and with 20/20 hindsight!), I know that the shrimp itself was almost always subpar: It was either overcooked, hadn't been properly stored, or smelled and tasted like refrigerator. The punchy, citrusy cocktail sauce I loved so much hid the flaws.
Happily, it's easy to make an outstanding shrimp cocktail — one that stars both excellent shrimp and terrific cocktail sauce. And no, we're not going to buy a jarred cocktail sauce and precooked shrimp! We're going to make that sauce and gently poach (not boil!) the shrimp. Before we poach, though, we'll dry-brine the shrimp with a little kosher salt in the fridge for about an hour. That will give it great texture and deep flavor.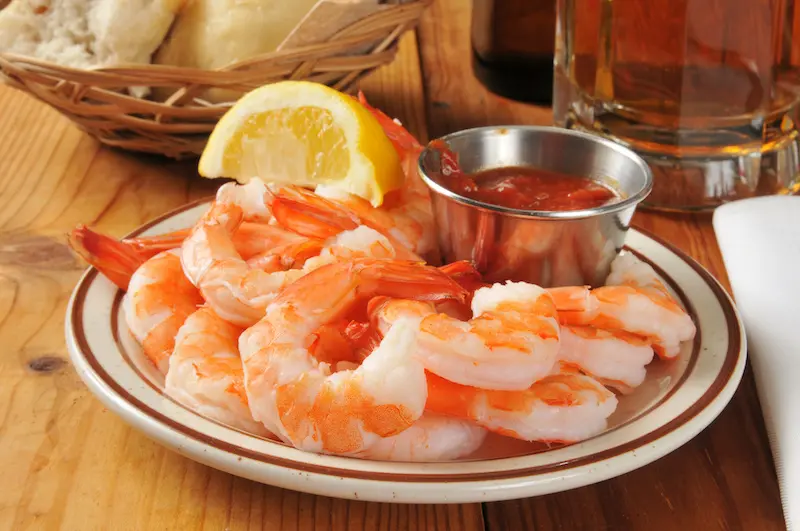 The care we take will ensure that our cocktail steals the show at a celebratory meal or is the most desirable dish at a holiday party this season.
Shrimp Selection is Key
Let's start with selecting the right seafood, as all shrimp are not created equal. There is a great resource that chefs use to help you check sustainability and to see what's in the market: Seafood Watch Guide.
When you select sustainable seafood, especially shrimp, you are choosing seafood with less impact on the environment and/or that is caught using safer fishing practices. Remember, most shrimp are frozen on the boat when they are caught, so frozen shrimp is no less desirable than fresh. Basic principles: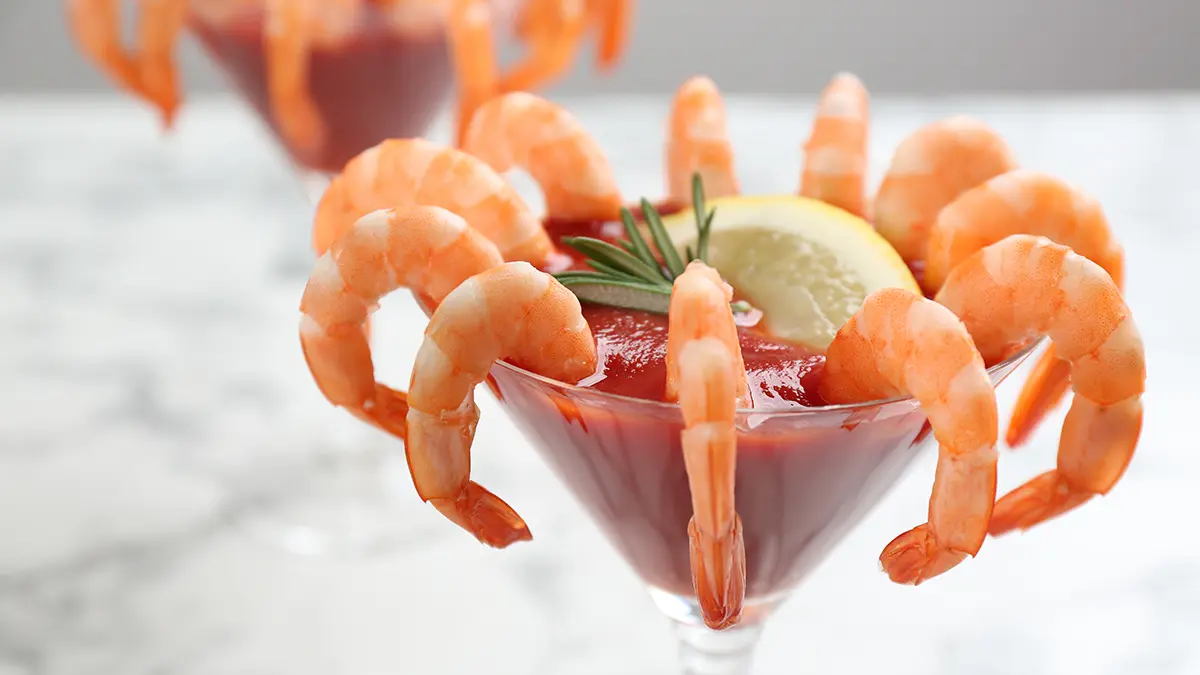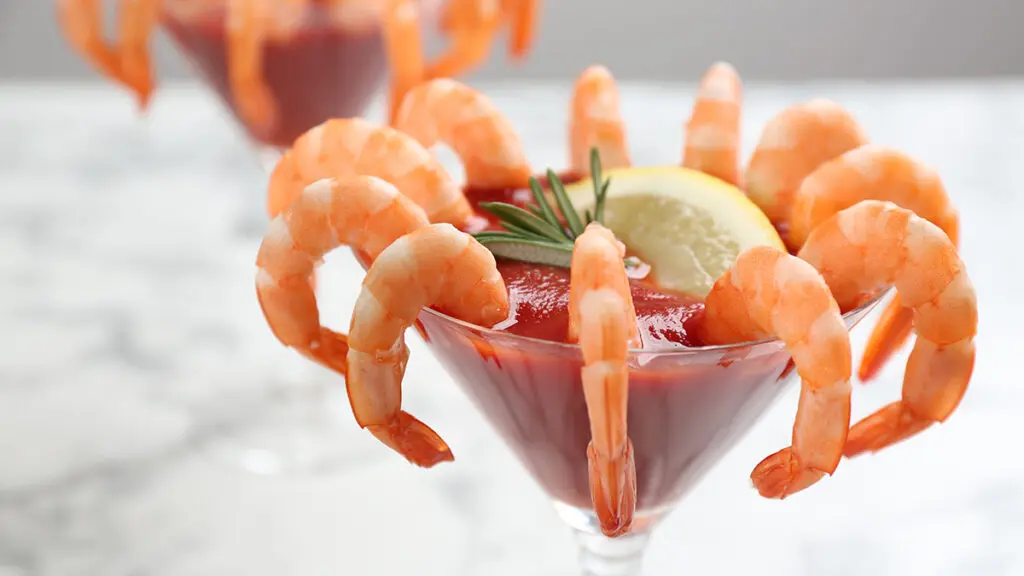 If you are buying fresh (or thawed shrimp) from a store, it is most likely previously frozen and then thawed to sell "fresh."
In the supermarket, look for wild shrimp from the U.S. rather than farmed shrimp from Southeast Asia.
Shrimp size is based on the number of shrimp per pound: 20/26 means there are 20 to 26 shrimp to the pound. Best for cocktails are generally 20 to 28 count.
Buy raw shrimp that are still in the shell.
Avoid any slimy or soft shrimp, or shrimp that smells like ammonia.
You can decide if you peel or do not peel the shrimp. You will want to take the vein out, the vein is just the intestine and waste, but it can also contain sand and may be a little bitter. There is a lot of flavor in the shells so when you clean the shrimp, do not throw those away! If you do leave the shell on, you can serve them as peel-and-eat style — let your guests do the work.
If you are going to peel the shrimp, make an incision in the back of the shrimp with scissors to remove the vein. Once the shell is split by the scissors, it's easy to peel away each side. Leave the tail connected, though: It makes a nicer presentation and keeps the shrimp intact.
Gently, Gently…
Now it's time to cook the shrimp. We start by making a court bouillon — that's just a fancy French way of saying poaching liquid. The key is poaching the shrimp, or cooking it slowly in flavored liquid. Note: We are not boiling the shrimp! You can flavor your liquid in many ways, but the base recipe is some aromatic vegetables (carrot, onion, and celery), a good amount of acidity, and some fresh herbs. Add enough kosher salt that it reminds you of sea water.
You will want to have a sauce to dip your perfectly cooked crustaceans in, and there are many to choose from, but my favorite is the classic cocktail. (Just please DO NOT buy bottled cocktail sauce — it is bland and filled with ingredients you don't need.)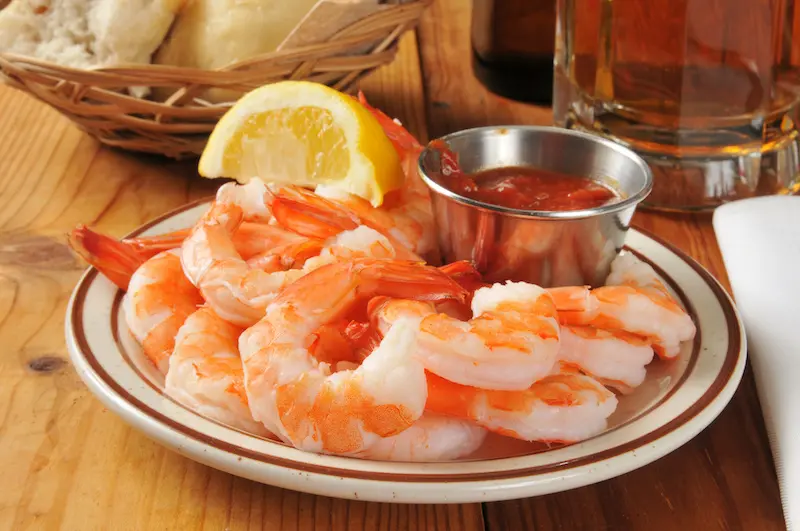 The Ultimate Shrimp Cocktail
This version of the old classic will forever recalibrate your view of what shrimp cocktail can be.
Ingredients:
Basic Cocktail Sauce
3

tablespoons

prepared horseradish (hot)

½

cup

catsup

4

teaspoons

lemon juice

1 ½

teaspoons

Worcestershire sauce

to taste

salt and pepperr
Instructions:
Mix all cocktail sauce ingredients well in a small bowl and add salt and pepper to taste. Store in  refrigerator until needed.

Season the shrimp lightly with kosher salt and place in the fridge for 1 hour before cooking — this will act as a dry brine to firm up the texture.

Bring the liquid to a boil, then turn down to about 170 degrees F. Meanwhile, remove the shrimp from the fridge and place a single layer in a large dish or baking pan or bowl.

Pour the hot water over the shrimp, making sure they are covered by the liquid, and place a lid on the pan; slightly agitate the shrimp, and allow to sit for 3 to 4 minutes, shaking occasionally.

When they are just cooked, cut one in half to check for doneness, then pour a quart of ice cubes into the liquid. This will stop the cooking process and cool the liquid while keeping all the flavor.

Once the shrimp are cool, remove and pat dry with paper towels. Store in an airtight container with paper towel on the bottom. You can save the liquid if you like and use again.

Before serving, I like to lightly toss the shrimp with salt and pepper and a squeeze of lemon.

Serve with lemon wedges and your freshly made cocktail sauce.
---