It will sound too easy to be true, but you can make crispy seafood with only a little bit of oil.
If you own an air fryer, that is.
What's an air fryer?
It's understandable if you don't know. Unlike many kitchen appliances that have been around for decades, the air fryer has been on the market only since 2010, when it debuted at the consumer electronics fair in Berlin. Now some 40 percent of American homes have one.
Briefly, an air fryer is a countertop convection oven that aims to produce the results of deep frying but without the need for a pan filled with oil.
Its top section includes a heating mechanism and a fan. You spritz a fryer-style basket with oil and place your food inside. When you turn on the device, hot air rushes all around the food and also radiates on it, as in a toaster.
Because the hot air moves so rapidly and the radiant heat is so strong, you'll get a crispy surface with only a fraction of the oil content.
A word about thawing
Here at Vital Choice, we advocate buying frozen seafood rather than so-called "fresh fish," which is actually frozen fish that your supermarket has thawed for you.
You may read that your seafood can go right from the freezer to the air fryer, and while that's true, you probably won't like the results, according to various foodie sources.
Thawing is better.
So, What Air Fryer Fish Can I Make?
People make frozen chicken wings, roasted vegetables, and cookies in air-fryers. Anything you'd like to be crispy.
And since many Americans love their seafood crispy, an air fryer comes in handy when you're cooking seafood.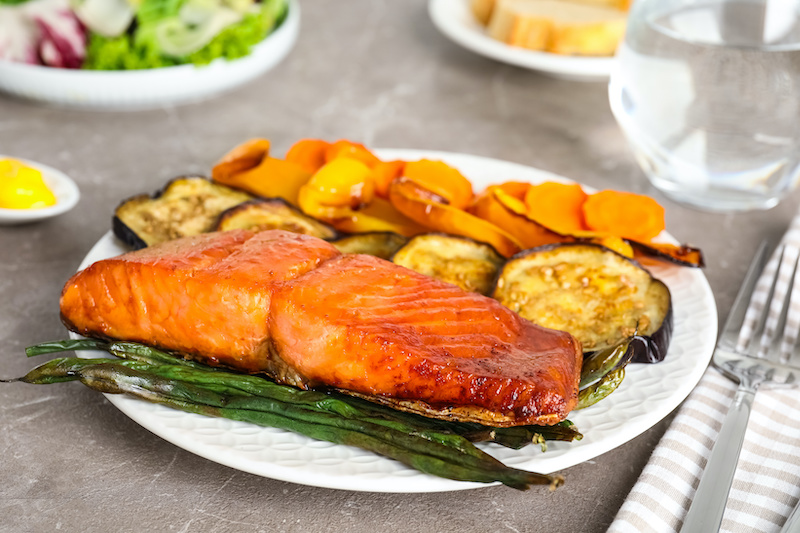 There are any number of scenarios where air-fried seafood brings elegance and great taste to your table in minutes.
.
Your grandkids are visiting
The best way to tempt children to eat fish is to make it breaded, crispy, and rectangular. You can buy frozen fish sticks, but they are so easy to make your own. Simply cut a thawed filet of halibut, cod, or really any white fish into three-quarter inch-wide strips.
Prepare three shallow dishes: one with flour, one with beaten egg, and one with breadcrumbs. You'll dip each fish piece in each dish, in that order.
Substitutions: Your sticks will be even crispier if you use panko or crushed cornflakes. Low on eggs or a child is allergic? Use melted butter or olive oil instead. Switch to gluten-free rice flour and cornflakes for the gluten-sensitive.
Your sticks will take no more than 8 to 10 minutes in an air fryer at 400 degrees.
You Dream of Healthy Fish and Chips
Because even thick batter is a bit runny, it can drip off the fish, leaving a pool below your air fryer basket. The trick here is to dredge your fish in flour after the batter-dip to fix the coating in place. Next, spritz the surface generously with oil. The coating will still turn crispy while keeping the fish meat tender and juicy.
Traditionally you'd use cod, cut no less than one-and-a-half-inches thick. The thickness will determine the cooking time and temperature.
Air Fryer Fish Tacos!
Consider mahi-mahi for tacos. You also might go for a spicy mix, including chili powder, cumin, oregano, paprika, cayenne, garlic powder, and onion powder.
A simple approach: Lay the fish in the basket, spritz with oil, spread the spices generously over the fish, and spritz again before air frying for 8 to 10 minutes at 400 degrees.
You can serve the fish in soft tortillas or crispy taco shells, with a basic mayonnaise slaw made from cabbage and carrots. Just make sure you have lime or lemon at hand for the grown-ups. Another option is to coat your fish in panko or cornflakes if you want some crunch.
When it comes to interesting slaws, use your imagination. If your family is adventurous, try mixing cabbage with cilantro and lime or pineapple and a bit of jalapeño. Just keep sour cream at hand!
You Crave Quick, Crisped Scallops
This couldn't be easier. Season your scallops with salt and pepper and paprika for color or toss them in a Cajun-style mix you have at hand. Sea scallops will need about 3 minutes on each side at 400 degrees. Toss with melted butter before serving.
You Need a "Wow" Appetizer
Thai-style bang bang shrimp will seem complex to your guests but it's straightforward.
Coat your shrimp by dredging it in cornstarch, followed by buttermilk and panko crumbs. You'll need 5 minutes on each side for the shrimp.
Cover it in your bang bang sauce: a mix of mayonnaise, sriracha sauce, and sweet chili sauce. But you can get creative here too—use any sweet, spicy mix you fancy, perhaps with sour cream.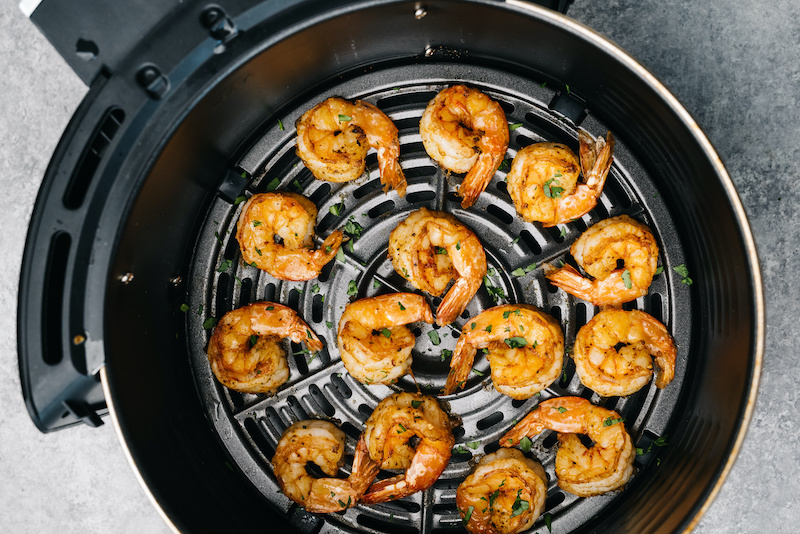 Love coconut shrimp? Dredge large shrimp in a seasoned flour mix (salt and pepper are fine), then whisked eggs, followed by unsweetened shredded coconut. Press the coconut into the shrimp to make it stick. You might need four minutes on the first side and less on the second but test a few pieces to get it right. Once served, diners can apply the bang bang sauce, or mix honey, sriracha and lime to taste.
Sweet, sour, savory and crunchy…what's not to like?