Even ardent seafoodies are often at sea when it comes to lingcod. Many of them, and many who aren't necessarily so ardent, have never had it.
Let's fix that.
A Pacific Northwest secret, much beloved by wild seafood aficionados, it could be your new favorite. Like halibut, lingcod is wonderfully dense, a fitting centerpiece for a substantial meal. Yet you can sear or grill it in under 10 minutes and bake it in 20.
Sweet and firm, mild and moist, with large flakes, it's a prized lean protein known for its versatility. Lingcod stands up to pan-roasting, deep-frying, baking, grilling, steaming, braising, searing, and more.
If the family likes tacos, let lingcod be their protein. Or try it with a spicy rub or baked with a pesto dressing.
So why don't you know about it?
A homely fish by any other name would be as sweet…
Lingcod's odd (and, perhaps, off-putting) name isn't the least bit accurate. Lingcod is not a ling, a kind of cod found in deep northern waters near Iceland, the British Isles, and Scandinavia. It was probably misnamed as such by European settlers in the Pacific Northwest.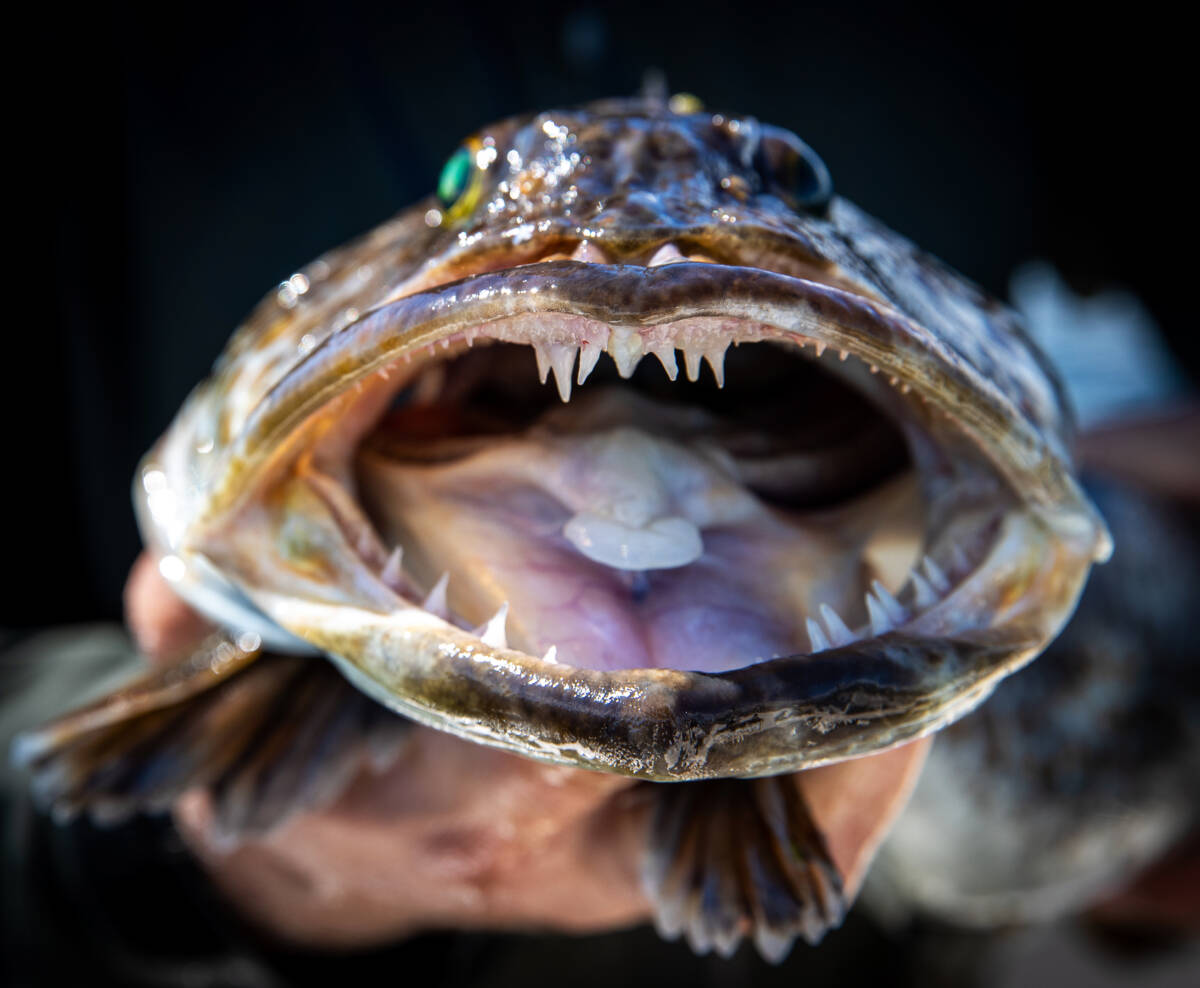 In the early 1900s, it was often called "cultus cod" — an insult, as cultus means bad or ordinary in Chinook, the local language.
In fact, lingcod isn't even a kind of cod. But it's sometimes called blue cod, green cod, buffalo cod, or white cod; and buckethead, for its big head.
So, it's a fish with a PR problem: strange name, odd-colored flesh (more on that in a bit), a tad on the ugly side. But the fish scales of justice demand that we look past such superficialities and learn more about this delightful-tasting fish.
Lingcod facts
The official name is Ophiodon elongatus. It's a variety of Pacific greenling, a type of fish characterized by small scales, long dorsal fins, and strong teeth.
Appreciate the lingcod for the unique fellow that he is: the only living member of its genus (another member went extinct). Fortunately, lingcod are not endangered.
Adults live on the sea floor, well camouflaged and surrounded by kelp and eelgrass. Hiding in holes to avoid sharks, they feed on crabs and octopuses, as well as other fish. They can be big, up to 60 inches and 80 pounds. But they typically come to market at around 10 pounds.
Hanging from a hook, the fish looks a bit prehistoric and scary, given its formidable teeth and big eyes on that big head. The skin varies from dark gray to greenish with copper spots.
Most remarkably, lingcod has been called "a fish of many colors" because its raw flesh sometimes has a bright blue-green tint.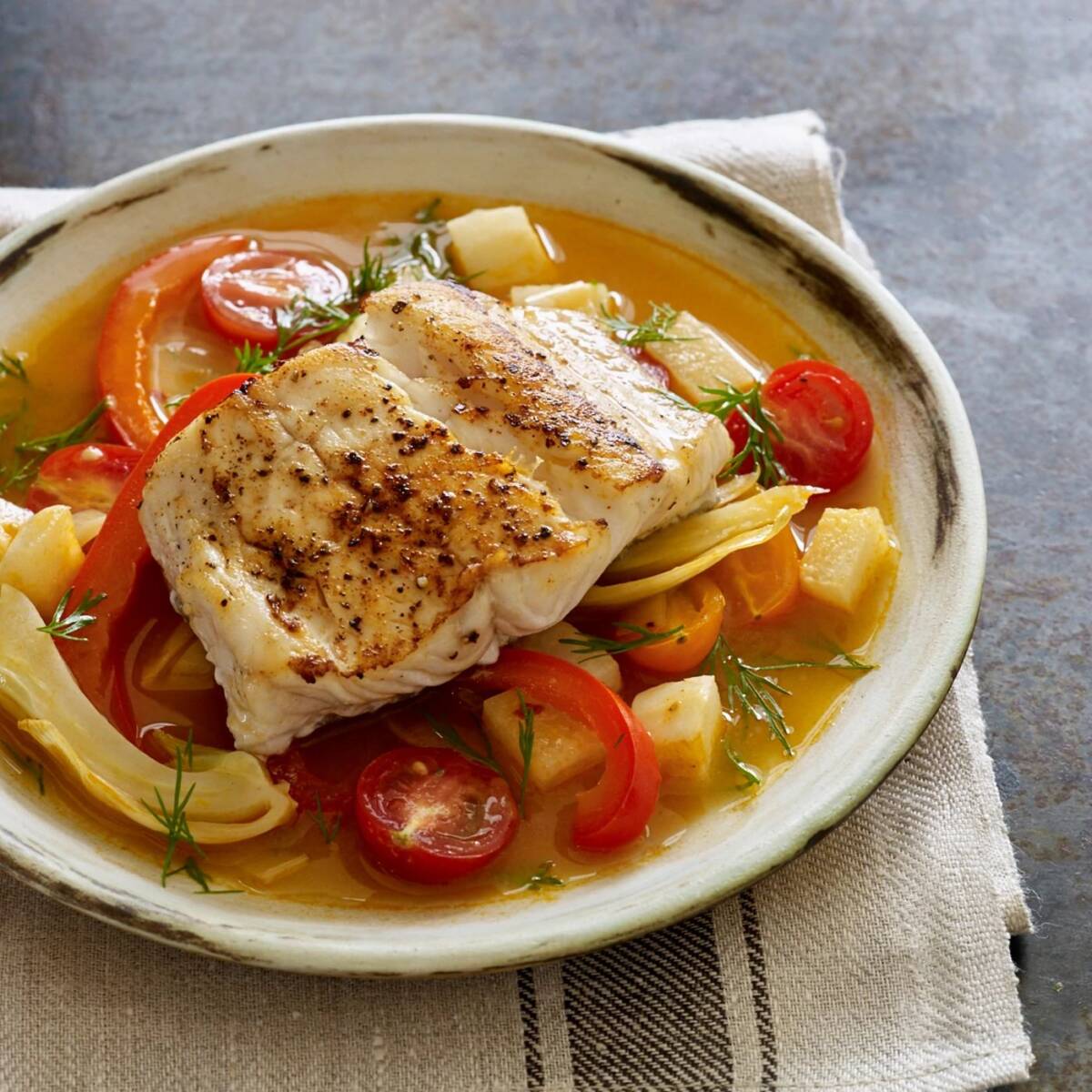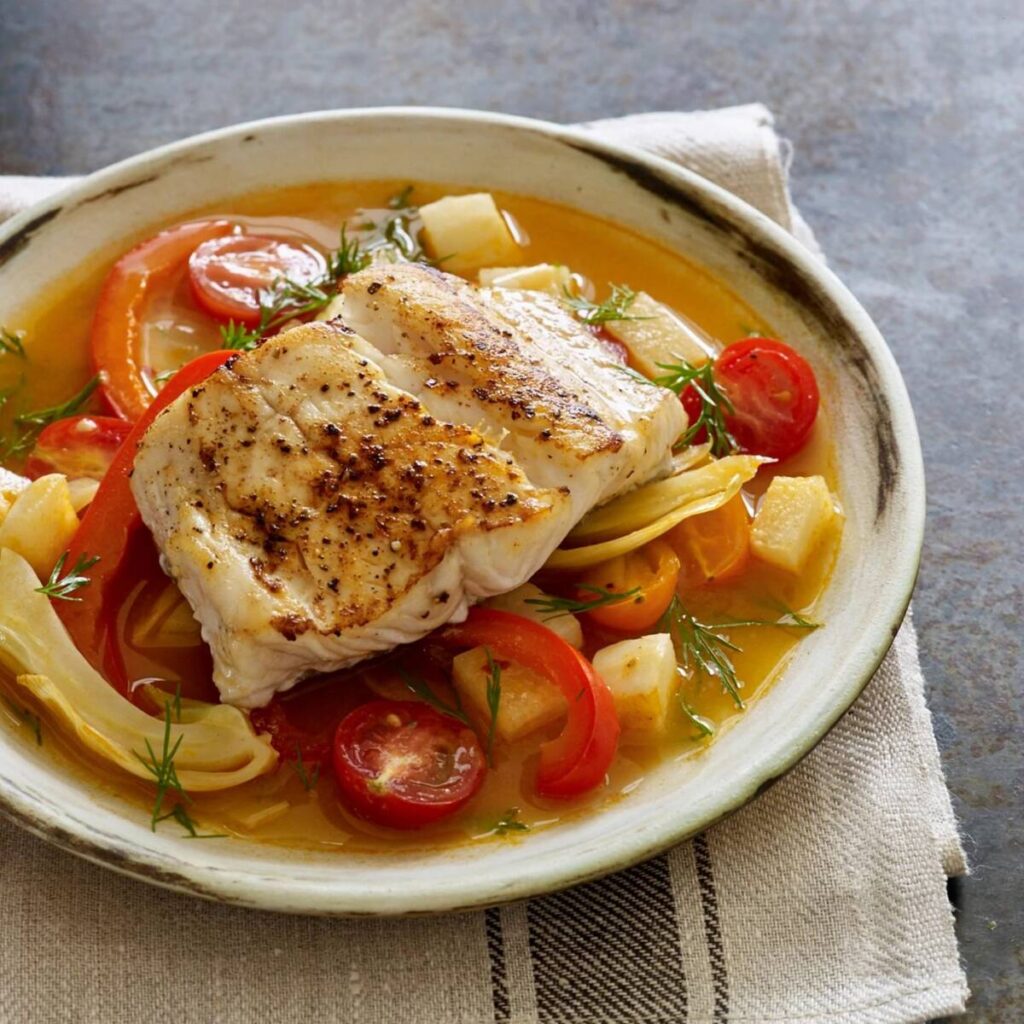 According to Seattle-based chef Becky Selengut, long-time locals say the flesh of blue-green lingcod (sometimes called "smurf cod") is the tastiest you can find. It's not clear why the flesh color varies, but the answer may be that the colorful flesh comes from a diet higher in chlorophyll. Lingcod eat small crustaceans who eat green algae.
But all resolves in the cooking! The cooked meat is snow-white.
Is lingcod an eco-friendly choice?
Yes, indeed!
The National Oceanic and Atmospheric Administration (NOAA), a U.S. government agency, says that "U.S. wild-caught lingcod is a smart seafood choice because it is sustainably managed and responsibly harvested under U.S. regulation."
Northern Pacific population levels are above targets, and fishing levels have been maintained to promote growth further south. The state of Alaska manages a lingcod fishery in both state and federal waters there.
Lingcod in the kitchen
You can see the Monterey Bay Aquarium Executive Chef Matt Beaudin prepare a meal of wild California lingcod here. Beaudin sears fillets with the skin on and serves them with duck ravioli in a cream sauce.
In her bible of fish cookery, Good Fish, Selengut offers a bouillabaisse made from lingcod and mussels with bottled clam juice; a paella with lingcod, clams, and spot prawns; lingcod with chickpeas and pickled apricots; and a tomato-orange-olive stovetop version with oven potatoes.
As a rule, any dish that typically features firm, white-fleshed fish such as wild Pacific cod or halibut is fair game for use of this delicious, neglected fish.
---