Poke bowls might just be mainland America's favorite new fast-casual food. It's not surprising. Poke, in a bowl or otherwise, is fresh, nutritious, and endlessly adaptable — perfect for eating again and again.
But like sushi, tofu, and yogurt, poke is an ancient dish, enjoyed for centuries in its homeland long before Americans got the memo.
Poke is a traditional Hawaiian seafood dish and a mainstay in everyday cuisine for islanders. And while modern authentic Hawaiian poke draws from a number of traditions — including related dishes from the Philippines and Japan — it always features fresh, raw seafood as the base.
It's a must-try for seafood lovers. That's especially true if you're already a fan of other raw seafood dishes like sushi or ceviche.
Poke's Origins
The name poke (pronounced poh-kay) actually comes from the Hawaiian word for "cut pieces." You'll sometimes see it written on the mainland as poké to help the uninitiated with pronunciation.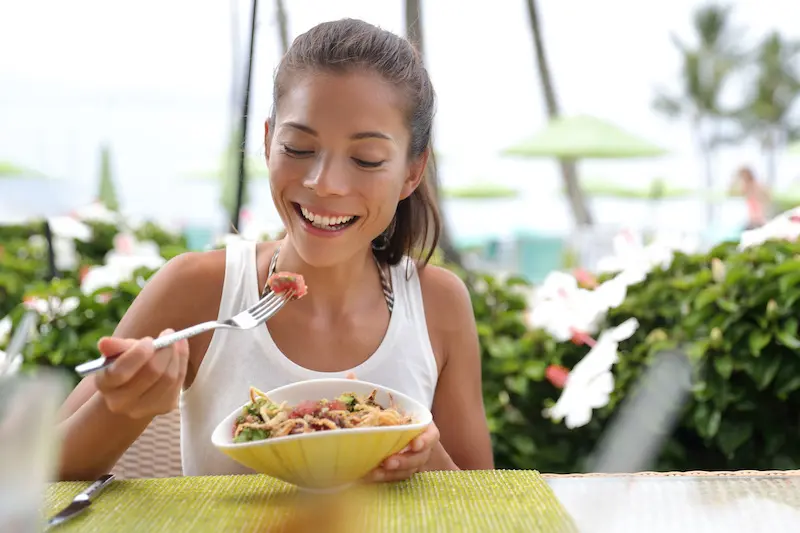 It's hard to pinpoint just when the ancestral poke recipe was invented. The dish is thought to trace back to reef fishermen cutting off bits of raw fish for a snack, sometimes rubbing them in sea salt. (Humans have lived on the Hawaiian Islands for about 1,500 years.) The tradition even made its way to Europe. William Ellis, Captain Cook's surgeon, noted in the late 18th century:
"Raw fish was and still is considered delicious. Europeans who have learned how to enjoy reef fishing occasionally follow the Hawaiian example of taking a bite from the back of a small fish for refreshment on the reef and have been surprised at how good the taste is."
The original, centuries-old poke recipe combines a number of staples from traditional Hawaiian cuisine. The seafood base is reef fish, commonly cured he'e (octopus) or aku (skipjack tuna). It is always freshly caught, cut into bite-size chunks, and briefly marinated.
The dish is topped with sweet Maui onions (grown on the namesake island); inamona, a condiment made of roasted kukui (candlenuts) and limu (seaweed).
The key is its freshness, right out of the ocean.
Poke's present form — typically ahi tuna with strong East Asian influences like soy sauce or shoyu, sesame oil, and green onion — is relatively recent. It gained popularity around the 1970s. All the variations on the original dish reflect the islands' history of traders and immigrants bringing new ingredients to the pot.
The popularity of ahi tuna over the traditional reef fish came in the late 19th century. That's when Japanese immigrants arrived in Hawaii to work on sugarcane and pineapple plantations. They and immigrants from China and the Philippines brought sesame oil, soy sauce, shoyu, and more. Traders from mainland North America brought the native salmon.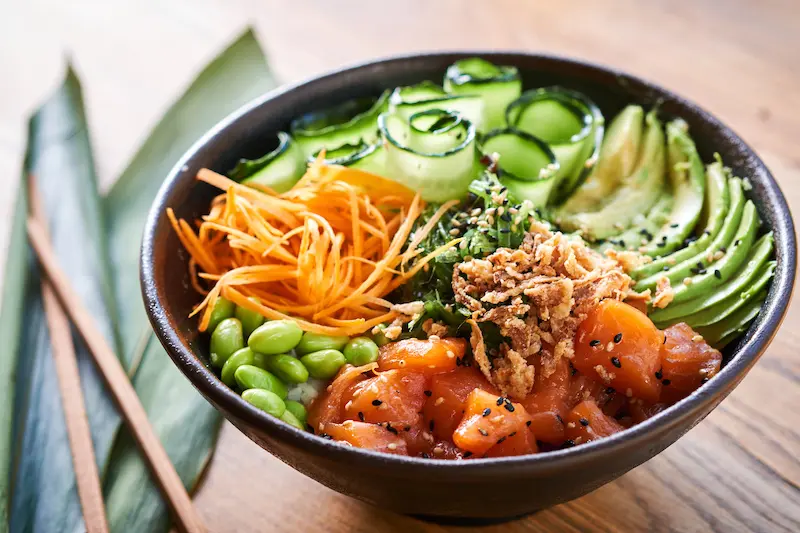 Today the general concept behind poke is the same as it's always been: Keep it simple, and let the flavors of the ocean come through.
It's usually sold from chilled glass counters at poke shops or grocery store deli counters. You may find dozens of flavors on offer. Poke is most commonly eaten as an appetizer, snack, or side, so you're pretty much guaranteed it'll show up at any Hawaiian potluck or family gathering. It's as common as potato salad at a Midwestern backyard barbecue.
Poke on the Mainland
Poke has exploded in popularity on the U.S. mainland over the past decade, particularly in the form of the poke bowl — poke served over rice to make a meal. It's a successful theme for casual restaurants, often with a build-your-own-bowl setup, and there the poke often isn't marinated but kept plain, so diners can choose their sauce.
If there's any standard poke bowl, it's a take on the Hawaiian classic with heavy Japanese influences: chilled raw ahi tuna over hot rice, with toppings like soy sauce or shoyu and a sprinkle of green onions and sesame seeds.
Other ingredients you might find on an American sushi menu are common, too — think fresh avocado, cilantro, and sauces like spicy mayo, sriracha, or teriyaki.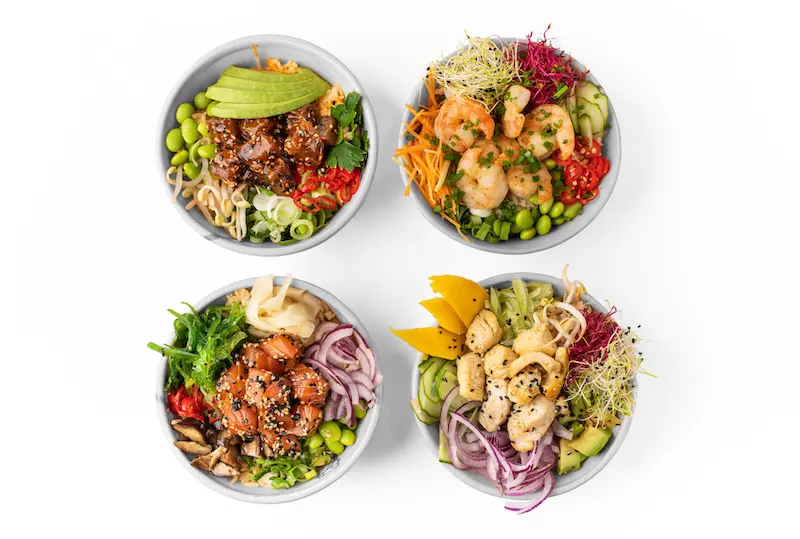 Of course, variations abound, even in Hawaii. You might find miso poke or kimchi poke, poke nachos served on wonton chips — if you can think of it, it probably exists somewhere. Mainlanders might even stray from the theme (too far, according to some), swapping the fish for chicken or tofu, the rice for quinoa or lettuce, or adding any number of different vegetables or even fruits into the mix.
(Our take? Sorry, at some point your poke bowl is just a bowl.)
Regardless, people love poke. It's endlessly tasty, with cool, succulent fish bursting with savory flavor complementing the warm rice. And when you stick with the native ahi base, it's an excellent source of lean protein and a good source of vitamin D.
Poke at Home
Want to try making poke in your own kitchen? You're in luck: The simplicity of the traditional recipe makes it super easy to make. The simplest version is to cut sashimi-grade tuna steak into bite-size chunks and marinate it in a mix of soy sauce and sesame oil (I like to add ginger, too) for one to two hours. Top with green onions, toasted sesame seeds, and spicy crushed red pepper flakes, if you like extra heat. To make it a bowl, serve it over white rice or your favorite grain.
To add more traditional flavors to the mix, make your own inamona substitute by finely chopping macadamia nuts. You can add seaweed flavor by topping it with furikake, a Japanese condiment of sesame, seaweed, sugar, and salt that Americans should be able to find in any Asian grocery.
Or skip the grocery store altogether and order Vital Choice's ahi tuna poke kit. It comes with cubed yellowfin ahi tuna and all the flavors you need for seasoning: black and white sesame seeds, a seaweed blend, Hawaiian sea salt, dried scallions, and dried chilies, all in one. Salmon lovers will want to try the poke kit with wild sockeye, too. (FYI, once the poke seasoning blend has won you over, you can order it on its own so you can sprinkle it over your ramen, rice, grilled seafood, and more).
---