If you tell your guests you've made a French dish, they'll be impressed — except, perhaps, if you're in France. We all tend to think of French cooking as complex, but in fact, it's often quite simple and approachable. The real secret is to insist on only the best ingredients.
With high-quality seafood, several classic French fish dishes are both easy to master and delicious.
Creamy Without Cream: Bourride and Brandade
If you love garlic but don't want cream, you must try bourride. This French fish recipe from the Mediterranean port city of Sète in Languedoc-Roussillon, a region close to Spain, relies on aioli. The rich condiment is similar to mayonnaise but made with garlic and olive oil (rather than soy oil typical of American jarred mayo), and it's typically less thick.
In a traditional version, you'll stick with your favorite white fish, like sea bass. But as with saffron-based bouillabaisse, in modern versions you can include scallops, mussels, or any other type of shellfish.
Aioli is Easy
It's well worth learning to make aioli, since you can use it for any number of purposes. And it's easy. Whir young, peeled garlic cloves with sea salt in a food processor and add your olive oil ever-so-slowly, in a thin, steady stream, while the machine is still cranking. When the sauce is thick and white, turn off the machine. Voilà! Yes, that's it.
Some recipes call for mustard, lemon, and raw eggs, which gives you a sauce more like mayonnaise. That's fine, too, and will be more familiar to Americans. Your choice. Either way, put out aioli with a plate of cut vegetables (aka crudités), and you'll be sophisticated.
The French have other ways to make things creamy without cream. Whether you're trying to eat low-fat or you have a dairy-free guest or family member to feed, consider brandade. In France, it's called brandade de morue (cod).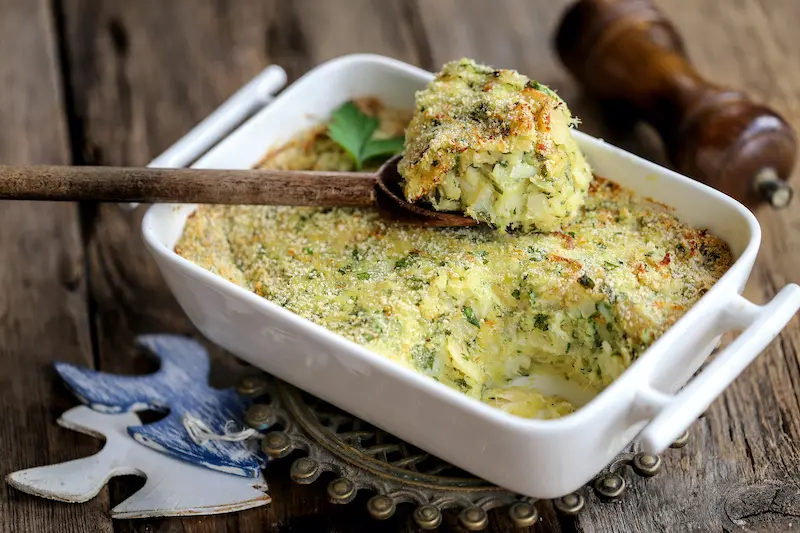 This cod-potato mixture tastes rich and melts in the mouth but doesn't need to include eggs, cream, milk, or cheese. Traditional cooks use cured, salted cod, which is especially popular in Portugal. However, you can cure fresh cod yourself and control the salt — an excellent use of Vital Choice's cod in bits and pieces.
Here's a rough outline: Coat your cod in any spices you fancy and a thick-grained salt like sea salt or kosher salt, wrap it in plastic, and refrigerate for a few hours.
You'll rinse the cod before you poach it in a seasoned mix of white wine and water.
In between, you'll boil potatoes and garlic cloves, drain, then mash the cooked cloves directly into the peeled potatoes.
The final step is to add the drained fish directly to your potato mixture and season to taste with olive oil, lemon zest, salt, parsley, and perhaps chives. Serve with toasted bread.
Food You Eat With Your Hands: Moules
Humans of any age loosen up when they get to pick up their food with their fingers. Moules à la marinière is a classic French fish dish that couldn't be easier. Cook shallots, garlic, and herbs (parsley, thyme, and bay leaves) in butter and add white wine or cider. Next you'll add mussels in the shell, cooking them until they open up. Or you can serve our wild Alaskan spot prawns this way.
Make it Meunière
Sole meunière (roughly translated as "in the manner of the miller's wife")is another quiet classic. Sole pleases many who are wary of fish — a plus with guests — but the technique can be applied to any firm white fish, particularly cod.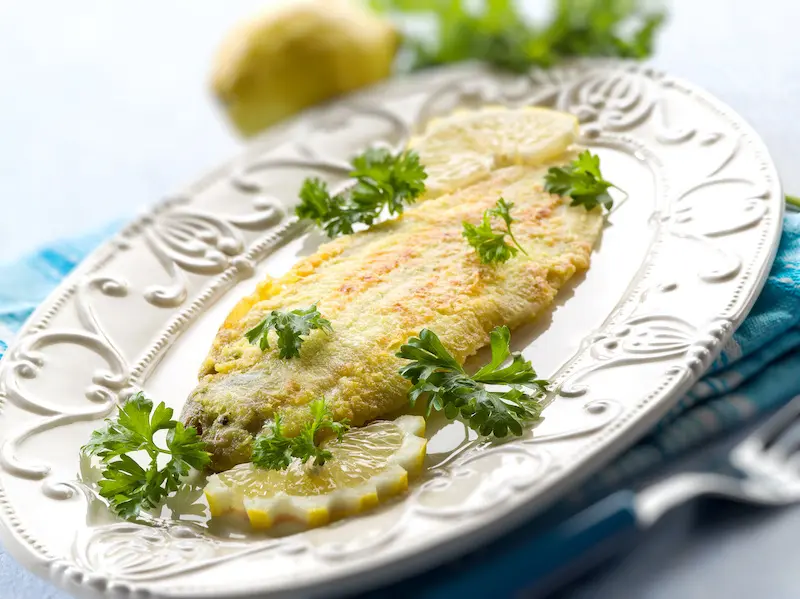 Again, it's so simple! Dredge your fillets in plain flour and pan-fry in butter. When the fish is almost ready, add lemon juice to the pan. You'll serve the fish seasoned with salt, pepper, and chopped parsley.
Make it a Salade
In the summer, especially, people relish a hearty salad for a main course or lunch. Salade Niçoise comes from Nice, the Riviera city near Italy and Monaco. It began as a raw salad that included anchovies packed in olive oil, and began appearing on menus in the late 1880s.
The great chef Auguste Escoffier made things fancier, writing in his 1903 Le Guide Culinaire: Take equal quantities of diced French beans, diced potato, and quarters of tomatoes. Decorate with capers, olives, and anchovy fillets. Dressing: oil and vinegar.
Another chef of the same period, Henri Heyraud, is credited with including artichokes and red peppers in his anchovy salade, but no potato or beans. He was from Nice; Escoffier came from a town nearby.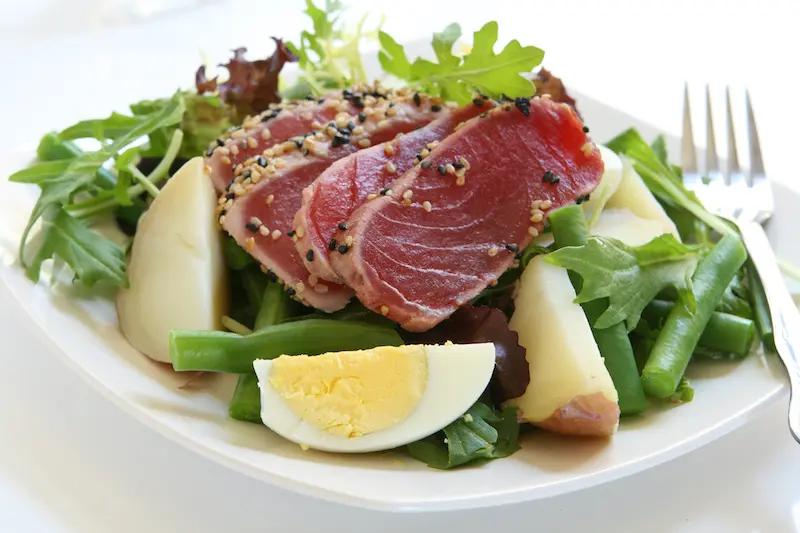 When did boiled eggs and tuna enter the bowl? That's unclear, but it's really your choice. Slices of lightly seared, sustainably caught tuna fillets are elegant, of course, and there's much to be said for a fine canned tuna.
It's also up to you whether you add mustard to your dressing. But to call your salad a Niçoise respectably, most people say you do need to include black olives and at least anchovies or tuna.
Wow Them with Bisque
While this dish cannot be considered easy, it can be your centerpiece in an otherwise simple meal and make the whole evening impressive. It involves lightly boiling seafood — lobster, scallops, mussels, and squid are all good options — generating your own strained seafood stock, mixing it and the seafood with a tomato-based vegetable medley, adding cream, and putting it all in a blender.
Make all of these French classics once, and you'll be that much closer to considering yourself a French seafood chef in training.
Add Lobster Thermidor, and your seafood will be officially magnifique!