Grilling seafood can be intimidating. Delicate fish is easy to overcook. Softer-fleshed seafood may actually break apart upon handling. No one wants to say goodbye to a fish as it drops into the coals!
All of which may help explain why grilling seafood on cedar planks is having a culinary moment.
Cedar planks:
impart a unique smoky flavor to the fish
help keep it moist and tender
prevent fall-apart disasters
and can impress jaded friends and family with their unique sophisticated-yet-natural flair.
Let's take a closer look at the process of grilling seafood using cedar planks, with a focus on grilling salmon.
Choosing the right cedar planks
Before you begin, choose the right cedar planks. You can find cedar planks created for grilling use at most grocery stores or online. They come in a variety of sizes and thicknesses. The thinnest are about ½-inch thick and suitable for one use. Thicker planks will last longer and can be used multiple times. Just wash them in hot water (no soap) and store in the freezer until the next use.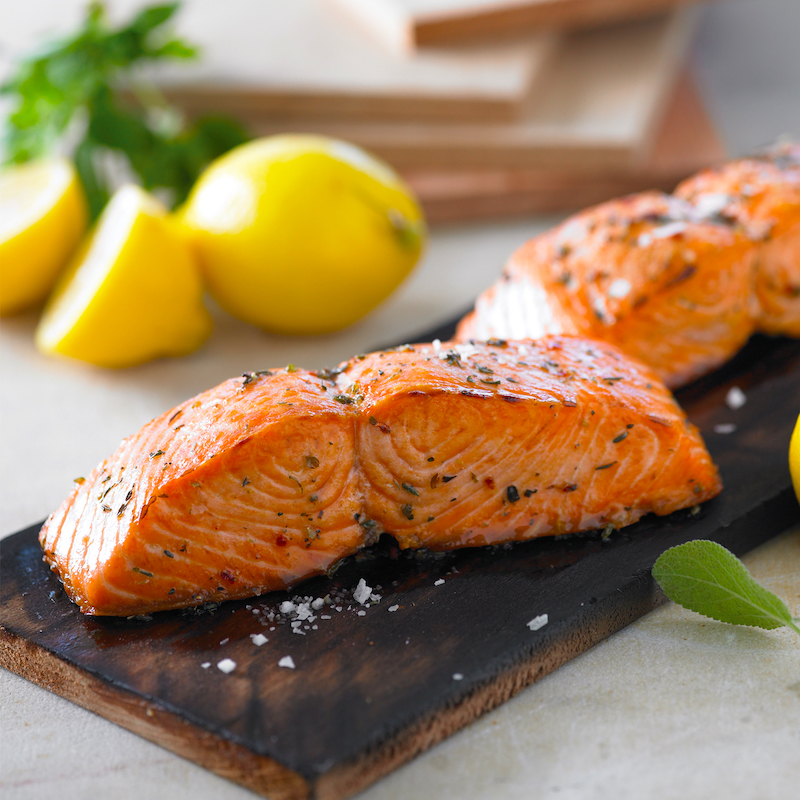 Never use a plank of mysterious provenance: Cedar used for shingling houses may have chemical additives, which you do not want permeating your delicious, healthy seafood.
If you are confident that you have a raw, untreated board, you may find it's cheaper to make your own cooking plank by sawing it to the right size. General rule: plank should be at least 1 inch wider and longer than the seafood you'll put on it. It's okay to put several fillets on one plank.
Preparing the cedar planks
Once you have your cedar planks, it's important to prepare them before you cook on them. Soak the planks — whether they're new or reused — in water. Put a dish or glass atop them so they sink. Soak for at least an hour or up to 24 hours before using them. This will prevent the planks from catching fire on the grill and will also infuse the fish with moisture and flavor. Win-win.
While the planks are soaking, prepare your salmon. Rinse the fish and pat it dry with a paper towel. Season the salmon with your favorite spices and herbs, such as salt, pepper, garlic, and dill.
Grilling the salmon on cedar planks
When the cedar planks are ready, it's time to start grilling the salmon. Preheat your grill to medium-high (around 375 to 400 degrees Fahrenheit). Once the grill is hot, place the cedar planks on it and close the lid. Allow the planks to heat up for a few minutes, until they start to smoke and crackle.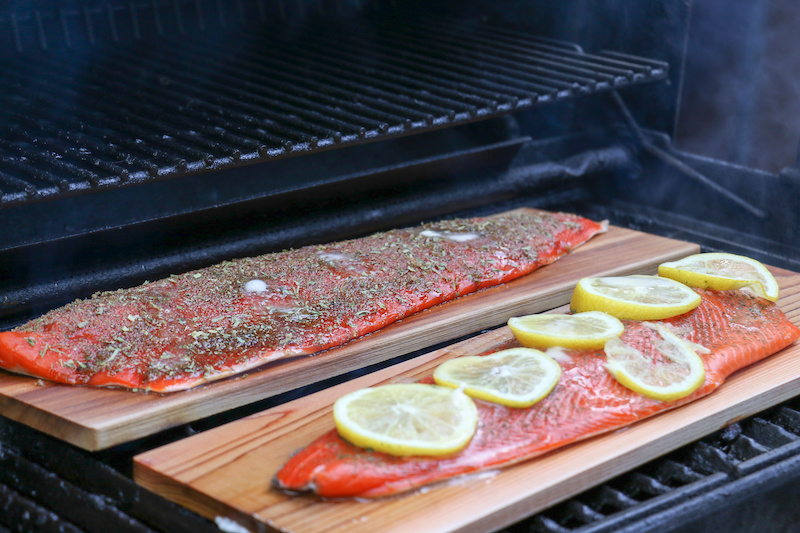 You may need to experiment to find the best kind of heat to use with your planked seafood. Some hints: Don't put the planks directly over the flame, where they will tend to burn more quickly (especially if you could manage only a short soaking time). With a gas grill, it may work better to run the back burner strip on high and put the cedar planks closer to the front. With coals, you may choose to shovel them to one side and put the cedar planks on the other.
In any case, carefully place the fully thawed, seasoned salmon on the cedar planks, skin side down. Close the lid. Let the heat inside rise to 400-450 F. Then adjust the flame to keep it in that range.
Let the fish cook for 10 to 15 minutes, or until it reaches your desired level of doneness. The cedar planks will infuse the fish with a smoky flavor and help to keep it moist and tender.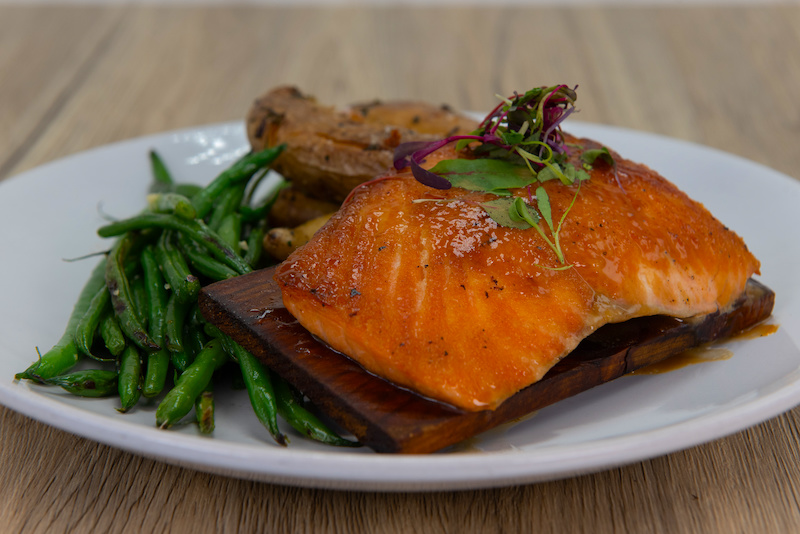 Tips for grilling salmon on cedar planks
A few tips to keep in mind:
Crack the lid every few minutes to keep an eye on the cedar planks. If they start to catch fire, lightly spritz them with water from a spray bottle.
For your presoak, you can skip water and try soaking the planks in wine, beer, or other liquids to infuse the fish with stronger flavor.
When grilling salmon on cedar planks, it's best to cook the fish with the skin on and the skin side down. This helps protect the fish from the heat and prevent it from sticking to the plank. On the other hand, this prevents some of the cedar oils from entering the salmon flesh, possibly robbing it of some flavor. Try both methods to see which you prefer.
No need to stick to salmon (there are plenty of other fish in the sea!). Try grilling shrimp, scallops, and halibut on cedar planks. The same process applies — just adjust the cooking time based on the size and thickness of the fish. Even veggies such as sliced squash, bell peppers, and asparagus spears can be cooked on a plank.
Even if the plank is getting quite charred, you can still get more use from it. Break or chop it into chips to throw on your next barbecue to get the last of that lovely, smoky flavor.