Have you ever been to a restaurant and loved a dish so much that you wanted to eat it again the moment you got home? Well, behold! This recipe for Tuna Steaks with Spicy HoneyBell Sauce is such a dish, and you don't need a chef to make it.
The dish is a bold juxtaposition of flavors and looks toward Asian influences, using soy sauce in the base and sesame seed for the tuna's coating. Look for excellent quality sushi or sashimi-grade tuna such as bluefin or ahi tuna, which are best enjoyed rare. The tuna is quickly seared in sesame and peanut oil which gives a lot of flavor to the sesame coating of the tuna. And that quick sear protects the moist and supple interior of the fish.
The HoneyBell oranges owe their incredible sweetness and extreme juiciness to the fact that they are a hybrid between a tangerine and a grapefruit. Adding the rind to the sauce also gives a fresh hint of HoneyBell zest.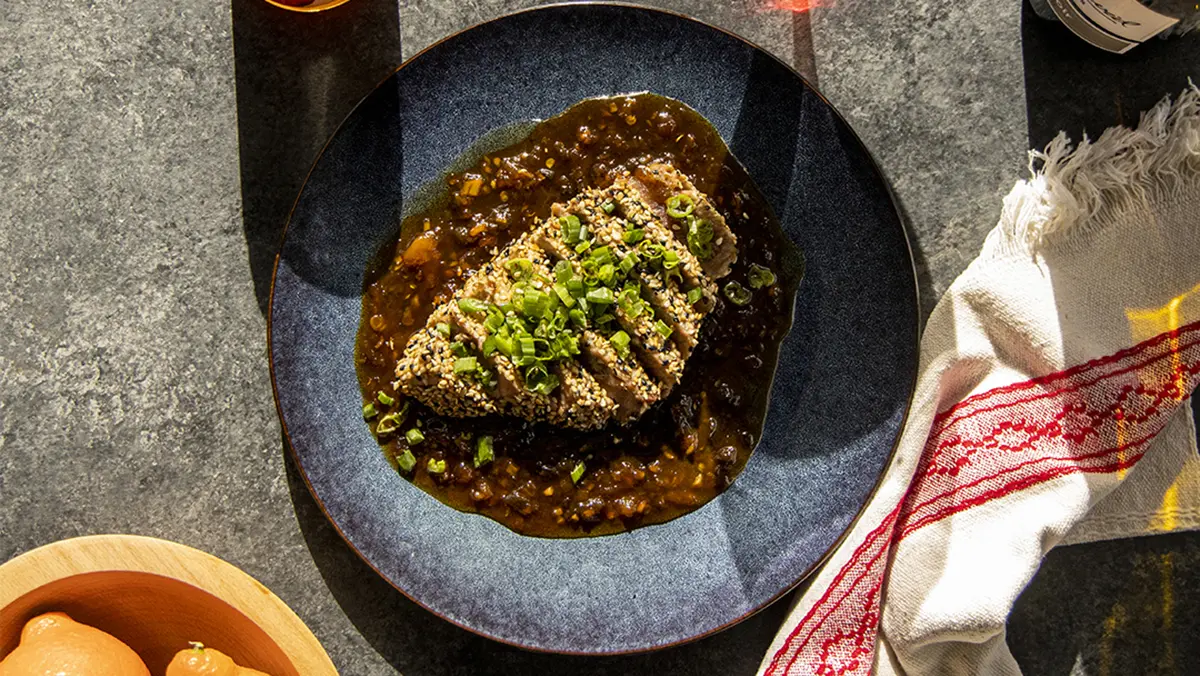 Tuna Steaks with Spicy HoneyBell Sauce
Ingredients:
4

Vital Choice Wild Ahi Tuna Steaks

(5 ounces each)

3

tablespoons

sesame oil

(divided)

3

tablespoons

peanut oil

(divided)

6

scallions

(thinly sliced, white (green parts reserved for garnish))

1

tablespoon

fresh ginger

(peeled and grated)

1

jalapeño or serrano chili

(stemmed and finely chopped (seeding optional))

1

cup

HoneyBell orange juice

Orange rind

(from 1 orange)

½

cup

peach jam

⅓

cup

soy sauce

½

cup

sesame seeds

1

teaspoon

freshly ground black pepper

¾

teaspoon

kosher salt
Instructions:
In a medium saucepan set over medium heat, add 2 tablespoons of the sesame oil and 2 tablespoons of the peanut oil and heat until shimmering.

Add the scallions, ginger and chile and cook, stirring occasionally, until completely softened and fragrant, about 3-4 minutes.

Add the HoneyBell juice, HoneyBell rind, jam and soy sauce, and using a whisk or a spatula, stir to incorporate.

Simmer until the mixture takes on a light syrup consistency, about 10 minutes. Remove from the heat.

Place the sesame seeds, ground black pepper and salt on a plate and using your fingers, toss to combine.

Working with one tuna steak at a time, place the tuna steaks in the mixture, pressing gently and turning so that all sides are entirely covered in the mixture. Set aside.

In a large skillet or cast-iron pan, add the remaining tablespoon of peanut oil and the remaining tablespoon of sesame oil, and heat over medium-high heat until shimmering.

Add the tuna steaks and sear until browned on each side, about 1 minute per side.

Remove from the pan and set on a chopping board.

Meanwhile, spoon a generous amount of the Spicy HoneyBell Sauce onto each plate, or platter if serving family style.

Using a sharp knife, thinly slice the tuna and place on top of the sauce.

Garnish with the reserved scallions and serve immediately.
---