Sea bass is a versatile and chameleon-like fish with a texture that's tender and flaky, and flavor that's buttery and mild, similar to cod. There are countless ways to cook sea bass, so we chose five techniques that are easy to execute and will wow your dinner guests — and the amount of equipment and cleanup is minimal for each.
When cooking sea bass, or any fish, the most important thing to remember is to keep your fish cold and dry while you store it. I like to salt the fish about an hour before I cook it. Salting the fish draws excess moisture to the surface so you get better color when you roast or sear the fish. It also helps firm up the flesh, which makes it easier to handle when you are cooking it.
5 ways to cook sea bass
1. Salt baked
I learned the salt-baked technique working in French restaurants, and it's a great one to use when I need to cook for a small group. It looks fancy, your guests will be impressed, and it's quite easy to set up. A big plus is no pan is involved. A bigger plus? You avoid stinking up your house.
Prepare a whole fillet of sea bass (2- to 2.5-pound piece) and pat dry, or use a whole fish on the smaller side (5 to 6 pounds). Take a half-sheet tray and place a half-inch of kosher salt where the fish will be placed. Place a couple of herb sprigs and lemon slices on the salt, and then lay the fish on top of it. In a small bowl, combine 2 cups kosher salt and a little water to just create a damp sand texture. Take this salt and pack it on the fish fillet until the fish is covered.
Place in the oven at 350 degrees and bake for 30 minutes.
Remove from the oven and let rest for 10 minutes. Then, gently remove the salt crust — it should come off in pieces — and brush any excess salt off the fish.
Serve with boiled potatoes and a simple chimichurri sauce or herb puree.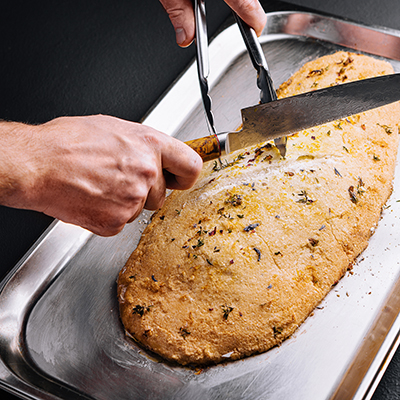 ---
2. Pan roasted
This technique is how we might cook sea bass in a restaurant: started in a pan and then finished in the oven in that same pan. This is an effective way to cook and allows you to add some of the garnish right to the pan before finishing in the oven.
Gather your ingredients and prep them before getting started.
Portion the fish into 6-ounce fillets and pat them dry. Season with salt and pepper before cooking.
For the garnish, per person, have: two to three baby potatoes, split in half and boiled until tender, four 6-by-1-inch pieces of rendered bacon, four pieces blanched asparagus, and 2 ounces cooked mixed mushrooms.
Heat a sauté pan and add some olive oil. Place the fish in the pan (do not overcrowd) and allow to cook undisturbed for 3 to 5 minutes. Add the garnish to the pan without moving the fish and place the pan in the oven for an additional 5 to 6 minutes. Remove from the oven; take the fish out of the pan and place on a plate. Add a touch of butter to the garnish, and swirl the pan to glaze everything, and then add a squeeze of lemon and some chopped parsley.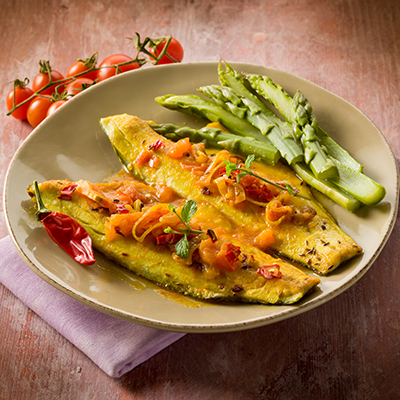 ---
3. Braise "bouillabaisse" style
This is one of my favorites when it comes to cooking fish, especially sea bass. I love this flavor profile, and you can adjust to make it more spicy or garlicky, depending on your taste. You can make the broth ahead of time and keep it in the freezer in pint containers. If you have fish bones, add them to the base and blend with all the ingredients for a stronger and thicker broth.
Start by making a tomato-fennel broth: Sweat a small, thinly sliced onion with seven garlic cloves and then add half a head of thinly sliced fennel and 1 teaspoon fennel seeds. Allow this to cook for 10 minutes, to soften all the ingredients, and then deglaze with a half cup Pernod and half cup white wine. Reduce the liquid and add three chopped Roma tomatoes, 2 tablespoons dried shrimp or seafood base, and 1 quart cold water. Cook for 20 minutes and adjust the seasoning. Blend the whole mixture and strain.
Take four 6-ounce portions of sea bass and season with salt, pepper, lemon zest, and dried fennel seeds. Marinate for 30 minutes to 1 hour.
Warm the sauce in a shallow saucepan, and place the fillets in the sauce and baste a couple of times. Cook over medium heat for 15 to 20 minutes and check for doneness. Finish the sauce with some chopped parsley and a squeeze of fresh lemon.
Serve in a bowl with some of the cooking sauce, a toasted baguette, and garlic aioli.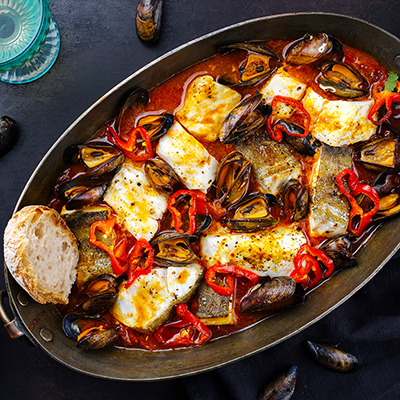 ---
4. Broil
This is another pan-less version that frees you up to make side dishes while the fish is cooking. The marinade can sit for up to two days to really deepen the flavor.
Make a cure of salt, sugar, Korean chili flakes, soy sauce, rice vinegar, garlic puree, and a little white miso; mix well to make a paste. Coat the fish with this cure, place in the refrigerator overnight, and then remove the next day an hour before cooking. Wipe the excess marinade off the fish and place the fillets on a roasting pan over a bunch of sliced scallions. Set the oven to the high broil setting. Cook for 7 to 9 minutes until the fish is just cooked.
Serve with white rice and cucumber salad.
---
5. Pan fried
This is a great way to create the texture of fried fish but with a little lighter feel due to the fact only one side is breaded. It also reminds me of the buttery flavor of cracker-crusted mackerel I used to eat as a kid.
Cut the sea bass fillets into 4-ounce pieces and pat dry. Season with salt 1 hour before preparing.
Make a breading station of flour, egg wash, and panko breadcrumbs. Dip one side of the fish into the flour to lightly dust, then the egg mix, and finally the panko, and reserve on a parchment-lined tray. Place a sauté pan on medium heat to preheat. When the pan is hot, add a couple of spoons of neutral oil (vegetable, canola, grapeseed) and carefully place the fish, breaded sign down, into the pan and cook over medium heat until lightly golden, about 7 minutes. Add a tablespoon of butter and begin basting the fish to place the cooking fat on the top side of the fish in the pan. Once the breaded side is browned and crispy, gently flip the fish for 1 more minute and then remove to a plate before serving.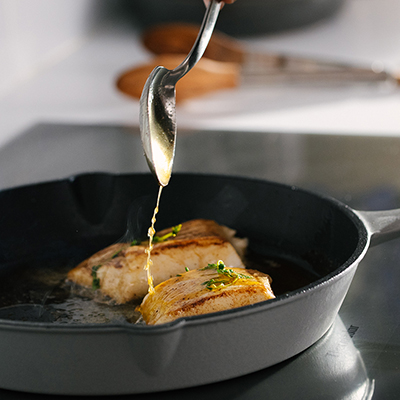 ---