(Cover photo: Katie Chase katherinechasephotography, CC0, via Wikimedia Commons)
We've all heard or read by now that blueberries are a "superfood." But let's take a closer look at what that means, and delve into some blueberry recipes to make this superfood truly work for you. Blueberries are delicious and surprisingly versatile, of course, but seeking out three qualities in your blueberries — frozen, wild, organic — can help you optimize their many benefits.
Go Wild
Blueberries are packed with antioxidants, soluble fiber, and nutrients like vitamin C, vitamin K, and the mineral manganese.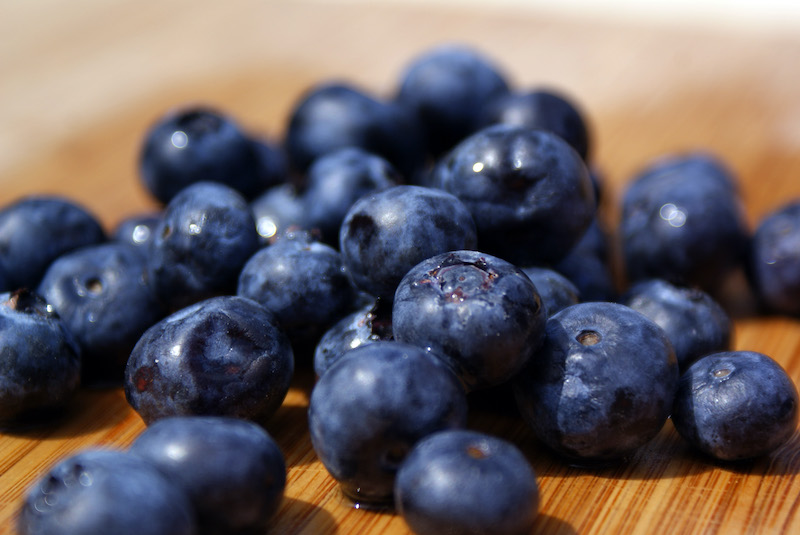 Wild, frozen organic blueberries, like the ones sold by Vital Choice, appear to be the optimal choice. The big, fat berries sold in supermarkets have been crossbred so they can survive long-distance shipping.
Wild blueberries, a native species, are smaller, and they're loaded with anthocyanin, the potent antioxidant that makes blueberry skin so deeply blue. When you eat a cup of cute little wild berries, you're eating a larger percentage of the berry's "skin," and that's where those anthocyanins are more abundant.
As With Fish, Frozen Blueberries are Best
A wild frozen blueberry is typically picked ripe then washed and frozen within a day, locking in its taste and nutrition. Conversely, an ordinary cultivated supermarket berry is picked unripe and then may travel and sit in the store for two weeks or more, slowly losing its nutrition and delicious taste.
Go Organic
Conventionally grown blueberries — that is, those that are not certified organic — are high on the independent nonprofit Environmental Working Group's list of produce doused with chemicals to avoid.
So we've covered the health virtues, let's get to taste and versatility. Frozen berries are easier to serve than you might think, and they will make you and your guests smile.
Add Nutrition and Flavor to Smoothies
Piña colada lovers might try mixing pineapple and coconut milk with their blueberries.
Need a breakfast that will hold you for hours? Try mixing blueberries with ripe avocado, a milk or nondairy beverage of your choice, and protein powder.
Flavor sophisticates (especially fans of Indian or Thai food) will no doubt enjoy blueberries with coconut milk and basil, ginger, cardamom, and lemon.
Blueberry Recipe: Healthy Dessert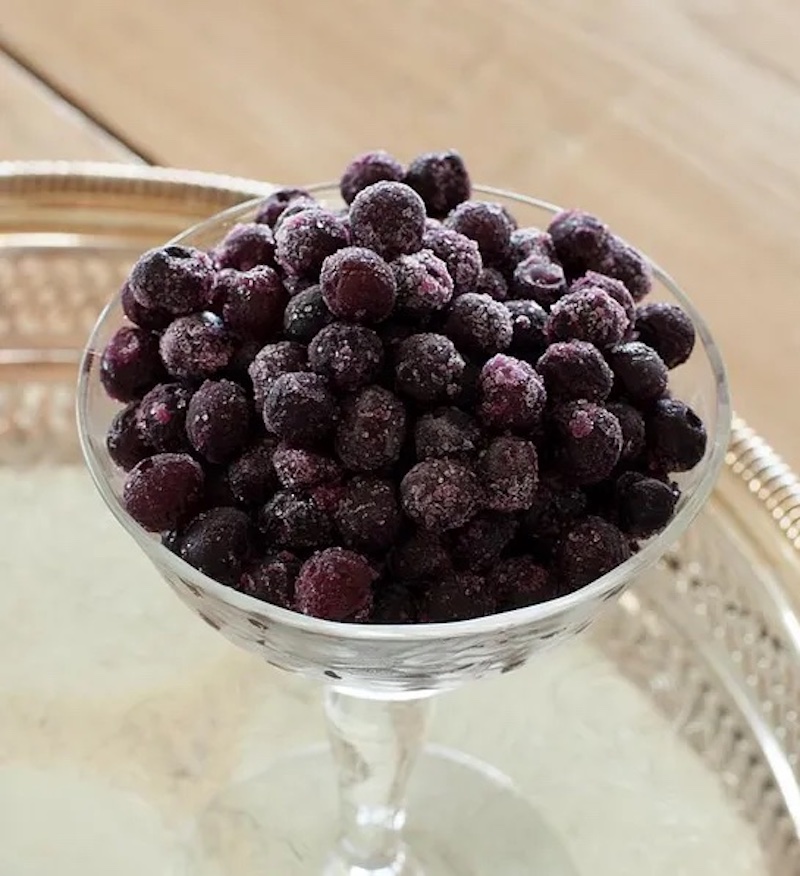 Put sliced ripe frozen bananas in the food processor with blueberries and lemon juice — easy homemade sorbet!
Make your own blueberry pie and add tapioca for a classic, firm filling that's lighter and more flavorful than one made with cornstarch.
Mix up your own blueberry sauce for vanilla ice cream, and you'll make dessert special.
Purple Party Drinks
Cocktail? Mocktail?Put blueberries with maple syrup in a bourbon smash (or ginger ale for those not having alcohol).
Impress your date with an inventive margarita sweetened with agave and hibiscus- infused simple syrup and blueberries.
Add blueberries to your sangria, sparkling lemonade, or sweetened prosecco.
Blueberries and Fish? Of Course!
Blueberries and seafood go together beautifully, the dash of purple adding visual interest.
Cider or balsamic vinegar or white wine gives blueberries the necessary punch in a dressing for grilled or baked salmon modeled on Italian agrodolce.
Pair cod with a brilliant mango and blueberry salsa.
I'll Have Blue Winter with Blueberries
Stock up in the summer, when you might use blueberries often, knowing it's fine if you don't use them up by autumn. Frozen berries add a classy dash of flavor year-round.
Mix them with lime juice and sauce spicy pork roast or pork chops for a vivid sweet-and-spicy surprise.
Top butternut squash soup with a zesty orange-blueberry relish.
Amuse your guests by floating blueberries in hot cider and eggnog.
Variety for Vegetarians
Combine baked butternut squash with walnuts, couscous, and blueberries for a multicolored nutritional powerhouse.
Add color and flavor to a parmesan risotto rich with mushrooms and a dash of white wine.
What else could you do? Be bold! Think of blueberries as your purple palette, ready to enhance your cooking and nourish both body and soul.