It's summer! If you live along the coast of South Carolina or Georgia, a party will almost certainly include a seafood dish cooked in a very particular way. It might be called low-country boil, a Tidewater boil, or Frogmore, or Beaufort stew.
Regardless of the name, this tasty meal is sure to include unshelled shrimp, corn on the cob, smoked sausage, and small potatoes — all boiled together in seasoned water.
Note that the dish isn't actually a stew with the cooking liquid yielding a rich sauce. Instead, the liquid is strained off after it has suffused the ingredients with pungent spice.
It's an easy, delicious way to cook a great deal of food for a large crowd. The fact that the complementary flavors mix and mingle makes everything taste all the more delightful.
Even if you're a Yankee.
Casual culinary fun
Note that the low-country boil is not a posh affair, and that's part of its charm.
Once cooked, the shrimp and fixings arrive on big steaming platters set down on a newspaper-lined picnic table. You'll probably eat with your fingers, possibly while standing up. And you'll plunk the shrimp shells and corncobs right on the paper.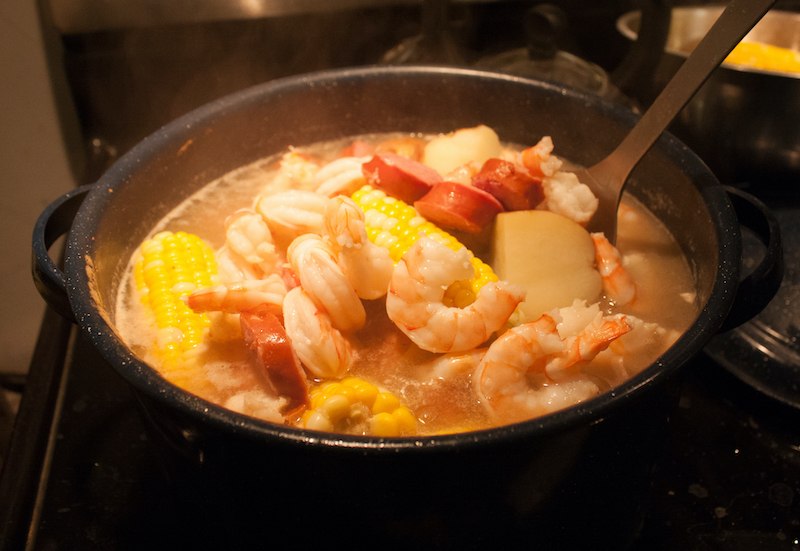 It's a bit messy, and lots of fun. Children are always welcome, and they love it!
Even the clean-up is a breeze. In some spots in South Carolina, parks provide long wooden tables with a hole in the center and a trash can underneath, notes chef Steven Satterfield of Atlanta.
Clean-up doesn't get much easier than that.
Low-country boil basics
Traditionally, you'd cook the meal in a big pot over a propane burner. The classic approach is to season the water first, bring it to a boil, and then begin adding ingredients, taking special care not to overcook your shrimp or other seafood. Beyond shrimp, you might add crab, crawfish, or scallops.
Depending on your family and regional background, your seasoning might lean toward bay leaves and allspice. Or get hotter with white pepper, cayenne, mustard, cloves, coriander, and celery seeds.
Some people put beer in the liquid. People also fiercely debate whether it's okay to add sweet onions.
Don't worry so much about getting the right proportions for each ingredient. More important is not overcooking. You might, for example, cook your potatoes first and take them out, as, depending on their size, they might require two or three times the cooking time of the seafood.
Why Frogmore stew?
To be clear, Frogmore stew doesn't contain any frogs. Frogmore is a tiny town on St. Helena Island, off the coast of South Carolina. Here amid the saltwater marshes, the Gullah people, descendants of West and Central Africans, have preserved a language with African roots. Their traditions include sweetgrass basket-weaving, storytelling, and much more.
In the 1960s, a local fish entrepreneur cooked up a boil for 100 of his fellow National Guardsmen and called it Frogmore stew. The meal became a centerpiece of South Carolina politics, with state dignitaries sponsoring feasts to attract votes.
The county and a larger town nearby are called Beaufort; hence the alternative name Beaufort Stew.
A good idea invented by…many
The basic concept of a boil was too good not to be invented by many. It isn't unique to the area or even the South.
Up north, Native Americans may have added corn to the first clambakes and lobster boils. New England cooks have been known to plunk potatoes and corn in a lobster boil to ensure everyone is fed. Middle-class inlanders once traveled to the eastern seaboard for what was called "shore dinners," which centered on steamed or boiled shellfish and potatoes.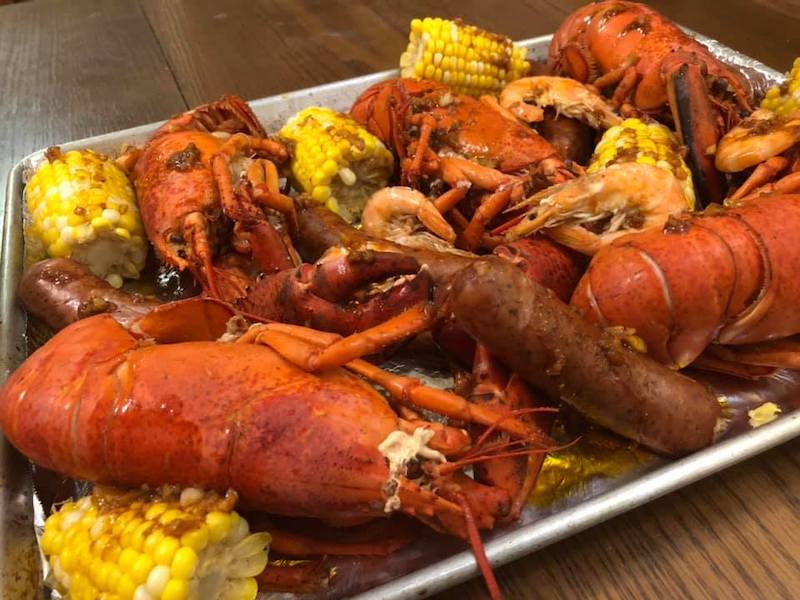 In the Great Lakes region, local lake trout or whitefish rule the boil, along with potatoes, but no corn.
In fact, the Great Lakes boils have become crowd-attracting spectacles. For more than 60 years, since it began as a fundraiser for a local baseball team, a big fish boil in Port Wing, Wisconsin, ends the summer on Labor Day. The trout cooks in caldrons over wood fires, culminating in the "overboil." That's when the cook throws extra kerosene on the fire, causing the pot to bubble up and spill over, delighting children.
In Door County, Wisconsin, diners can see flames shooting some 15 feet into the air to end a fish boil based on whitefish from Lake Michigan cooked with their bones. At the table, while you're deboning, you also get to enjoy coleslaw and rye bread, plus cherry pie.
Meanwhile, down south…
For the spiciest boil, visit Louisiana, where crawfish rules the spring, and shrimp and crab the summer.
If your heart — and stomach — belongs to the coastal South, you might explore Whitney Otawka's The Saltwater Table. The book contains 125 recipes she created while living on Cumberland Island, a remote barrier island left undeveloped as a national seashore off the coast of Georgia. Alongside her original takes like shrimp poached with beer, citrus, and bay leaves, you'll find instructions for traditional regional meals. These include an oyster roast to a fish fry to a seasoned low-country boil.
If you can't wait long enough to get that book, here's a recipe for a classic seafood boil. Keep in mind, however, that half the thrill is improvisation, so don't be afraid to go off the script.
---