Wine and chocolate parings are a great way to entertain a large group of friends or to spend an intimate evening with your spouse or significant other. While it may seem like enjoying wine and chocolate together is a no-brainer, pairing these two is more of an art than most people realize. You can't just grab a magnum of cheap wine and any random box of assorted chocolates from a pharmacy and call it a night.
If you're looking to get the most out of this experience, keep reading for the three rules to creating wine and chocolate pairings, as well as the best wines to pair with that box of assorted chocolates.
Rule No. 1
Wines with a sweeter or more ripe fruit profile pair well with a wide range of chocolates and fillings.
Royal Crest and truffles
The Harry & David Royal Crest is a good example of a wine that can pair with a diverse range of chocolates. The overall sweetness levels of chocolate are too high for many dry table wines, leaving a flat taste in your mouth on the finish. Wine with a riper fruit profile, such as the Royal Crest, often matches or exceeds the level of sweetness in the chocolate, producing a pleasurable volley of flavors back and forth on your palate.
It is this sweetness, as well as the viscous velvety texture, that enable this wine to pair just as well with under 50% cacao sweet milk chocolate as it does with over 70% dark chocolate. The selection of truffles in the Signature Truffle box is a fantastic way to start exploring the different combinations of this classic pairing, as it has just the right amount of variety without overwhelming you with too many flavors, fillings, and types of chocolate.
For a full tasting with a larger group of people, select the signature truffle trio. There are enough here if you want to stay with truffles, or the premium chocolate collection. If you want to switch it up a bit, add two more bottles of non-dessert wine — one white and one red — to unlock all the possible flavor combinations.
Rule No. 2
Select a characteristic in the wine you want augment or enhance with the chocolate.
Sauvignon blanc and white chocolate
A good rule of thumb to creating wine and chocolate pairings is to choose which flavor profile in the wine you are looking to influence or change, and then decide on a chocolate that will best augment those qualities.
The characteristic I chose to focus on is the fresh, crisp finish of Harry & David Sauvignon Blanc, which I felt would be enhanced by the soft creaminess of white chocolate. I chose the Belgian chocolate artisan truffles for this tasting, as they come with the most diverse range of white chocolate options with which to pair the sauv blanc.
Overall, I found that white chocolate adds a silky persistence and length to the finish of the wine, while enabling more flavors to emerge on the finish long after you've put down the glass. My two favorites were the coffee-filled white chocolate and the diced pecan and caramel-filled white chocolate truffles, for their combination of complexity and balance.
Rule No. 3
Pair the ingredients and/or flavors present in the chocolate with flavors prominent in the wine.
Pinot noir with chocolate covered berries/fruit-filled chocolates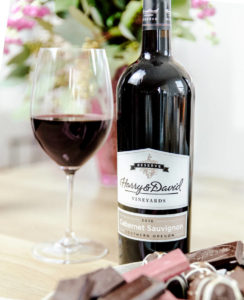 One of the reasons chocolate is so popular is its wide range of potential flavors. For example, some types of dark chocolate can be bitter while still tasting like red fruits, while creamy milk chocolate can somehow taste like nuts when there are none present. This can make finding the right wine and chocolate pairing difficult if you haven't already tasted the chocolate you are serving or sending to someone.
A clever way to avoid any of these potential problems is to include some chocolate covered berries and fruit-filled chocolates and truffles with wines that offer similar flavors to the fruit. With that is mind, I paired the Harry & David Pinot Noir with chocolate covered cherries, as well as some raspberry-filled truffles, and it was one of the best pairings of the whole tasting. The raspberry flavors already present blast off like a rocket ship when they hook up with the raspberry filling in the truffle, making for quite an extraordinary flavor experience.
Photos by Abby Guido at Beijos Events.