In the light of what Proust wrote with so mild a stimulus, it is the world's loss that he did not have a heartier appetite. On a dozen Gardiner's Island oysters, a bowl of clam chowder, a peck of steamers, some bay scallops…he might have written a masterpiece. A. J. Liebling
Whether scallops might have elevated A la recherche du temps perdu to loftier heights might seem a stretch. But premium wild scallop Weathervane scallops (Patinopecten caurinus) are indeed in their own class…
…and who's to say their delightful flavor, texture and nutrition profile, featured in scallop recipes like the ones below, couldn't help your creative dreams come true?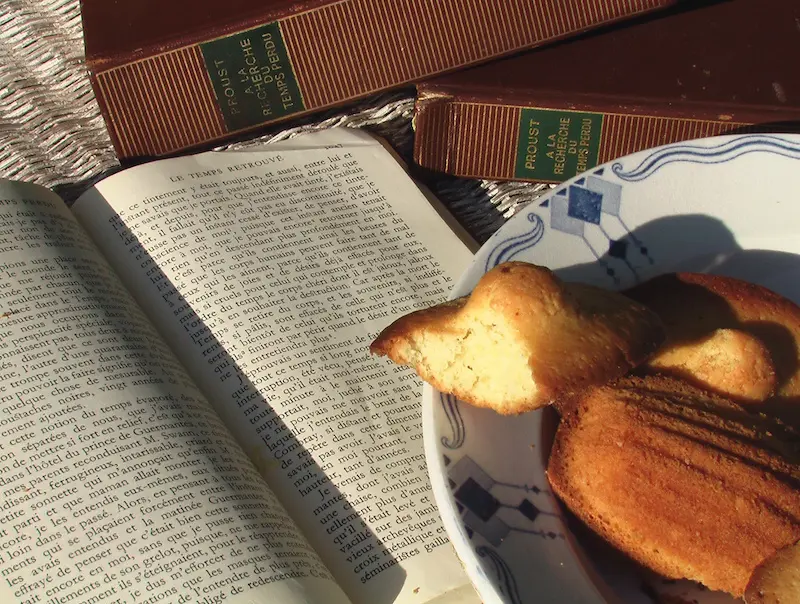 This may be because, like good prose, they come to you with nothing added—just the pure tender yet firm, buttery meat. Because they are a bit sweet, scallops please even fussy children or adults who think they don't like seafood.
And that's just the beginning…
A Cinderella seafood
The settlers who first come to the shores of today's New England had endless choice of ocean bounty. Incredibly, they considered scallops as perhaps too sweet—not as desirable as cod, oysters or clams.
But as many Vital Choice columns note, disregarded seafoods often become highly prized over time (lobster comprising the classic example).
By the 1800s, scallops began to win appreciation. An early recipe for sauteed scallops appeared in 1846 in "Miss Beecher's Domestic Receipt Book." In coastal communities especially, scallops were fried, boiled, steamed, stuffed, and pickled and by the 20th century enjoyed full acceptance.
Fried scallops became a favorite at seaside shacks and other casual dining spots by the shore. At the same time, scallops won pride of place in high-end restaurants nationwide, in dishes like Coquille St. Jacques—scallops in the shell with butter and cream, served under a crust of breadcrumbs and cheese.
Ina Garten, host of the Food Network program Barefoot Contessa, makes her version of this classic the day before a dinner party, heating it in the oven as guests arrive. She includes a bit of curry in her rich sauce. The best way to serve these may be in individual dishes, one per guest.
An easy party dish starts with a pressure cooker, frozen scallops and bowtie pasta. Your sauce is a crowd-pleasing mix of heavy cream and parmesan (add broccoli for a dash of nutrition!).
Sustainable fishing
Your eco-conscious diners will applaud as well. Scallops are an excellent source of lean protein you can enjoy while helping to maintain a healthy ocean. Harvested with towed dredges, our Alaskan Weathervane scallops have won the Best Choice label from the Monterey Bay Aquarium Seafood Watch program, which has set the global bar for sustainable fishing since 1999.
Alaska, a model for eco-safe fishing around the globe, mandates in its state constitution that all fisheries support continued abundance.
Or if you'd like something different, consider our Patagonian scallops, wild-harvested from the icy-cold waters of the Argentine Continental Shelf using an "otter trawl," which significantly reduces the unintended capture of other species. Quick-frozen without added chemicals or water, these sweet, petite scallops have been certified by the Marine Stewardship Council as an eco-friendly choice. The Council has certified our wild Atlantic sea scallops as well.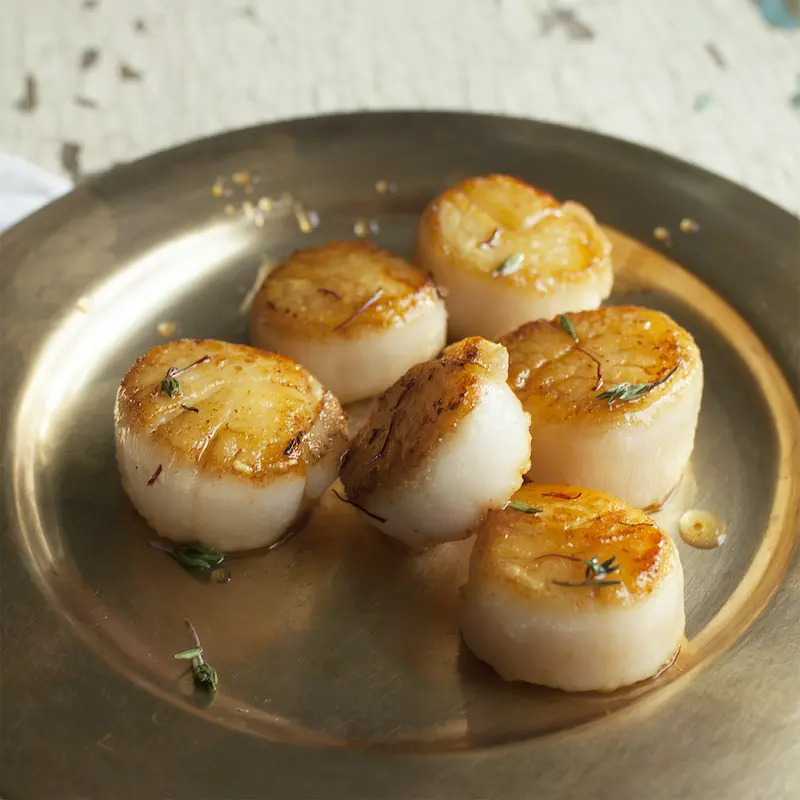 With our flash-frozen scallops, there's no need to soak them in milk, as some advise to remove a fishy odor. Our fresh-frozen scallops won't have any odor. You can cook scallops frozen, or thaw first in the refrigerator, wrapping them first in a paper towel.
Keep it simple and elegant
Scallops are the perfect food for impressing without fuss. Pat them dry before cooking, and scallops are delicious simply seared and caramelized; Becky Selengut, author of Good Fish, demonstrates how in this video.
Worried about overcooking your scallops? Make a scallop crudo, the Italian variation on raw fish. Selengut dresses hers in orange juice, red pepper, fresh mint, sea salt and pumpkin seeds or pistachios for crunch.
Another longtime favorite from her kitchen is seared scallops with carrot cream and marjoram. "There is something about the earthy sweetness of carrots paired with the delicate pine notes of marjoram that really works. The addition of sweet, briny scallops to that already solid combination blows this dish right out of the water," she says.
As Proust, fortified this delightful bivalve, might observe, time spent eating the delightful scallop is seldom forgotten.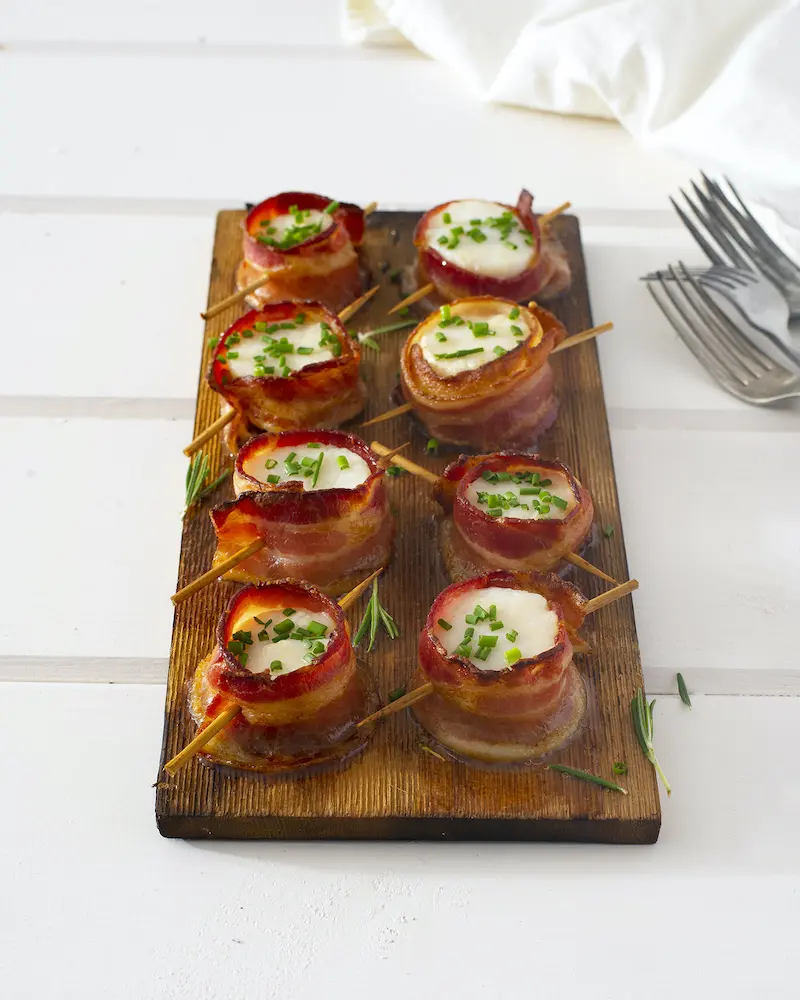 Bacon-Wrapped Sea Scallops on Grilling Planks
The unmistakable smoky flavor of bacon wrapped around tender scallops then grilled to perfection on our cedar or alder wood grilling planks.
Ingredients:
1-2

planks

cedar or alder

10

Wild Atlantic Sea Scallops

10

Strips

thinly sliced bacon

10

skewers

1-2

tbsp

extra-virgin olive oil

pinch

sea salt

pinch

freshly ground black pepper

1-2

cut chives for garnish
Instructions:
Soak the wood planks ahead of time, totally submerged for at least one hour if not longer. After soaking, pat dry and coat one side with oil.

Start your grill, and heat to a medium-high temp.

Rinse scallops and pat dry with paper towel.

If you'd like extra crispy bacon, pre-cook in your oven until slightly crisped, and cool a little before wrapping scallops. Carefully wrap each scallop securing with skewer and place on plank. Drizzle with a little olive oil and season with salt and pepper.

Once the grill is ready, place planks directly on grill and cook for approximately 18-20 mins, letting the wood smoke infuse the scallops and further crisp bacon. Garnish with a nice cutting of chives and serve right away
---