Is there anyone who doesn't like guacamole? It's such a fun and flavorful dish, with the scooping and the spices! And who doesn't love Italian food? [Cue crickets.] What if we combined the two? That's what this recipe is all about: Mexico's beloved guacamole (or guac to the uninitiated) and Italy's humble puttanesca. These two classic dishes come together to create a totally unique guacamole recipe.
Tangy capers and black olives with earthy oregano combined with zesty cilantro and spicy red pepper flakes mix together to support the robust Copper River King Salmon. It's a dish you'll want to eat with chips or crackers or maybe just a spoon.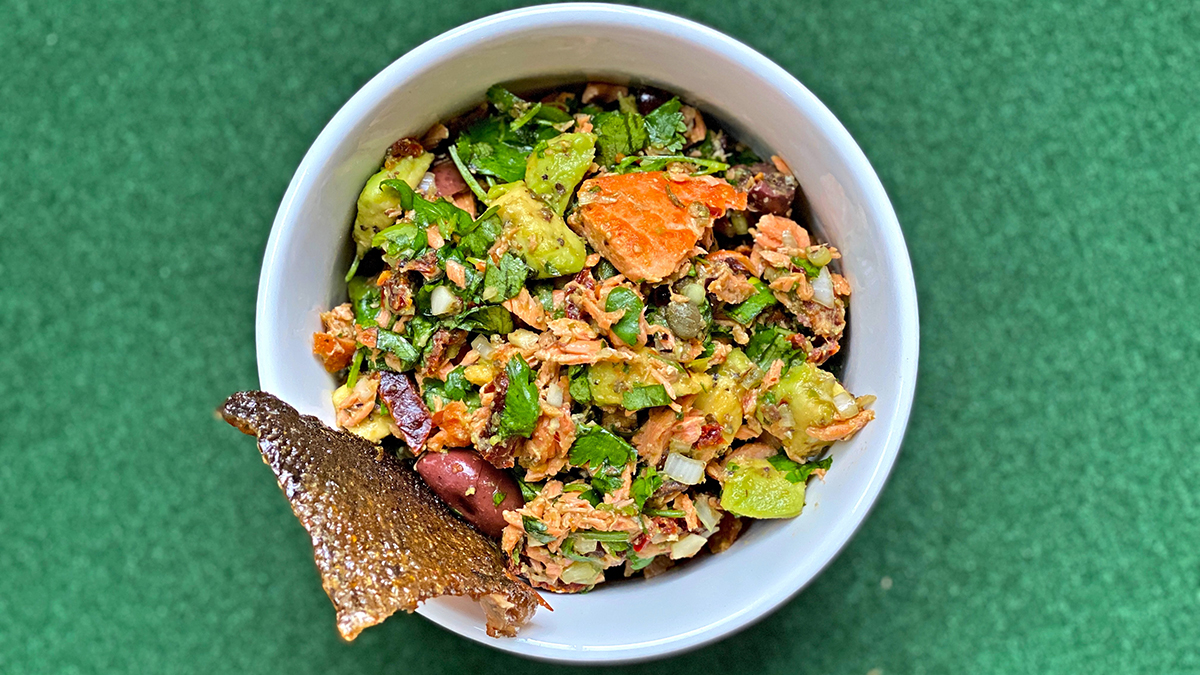 Puttanesca-Inspired Salmon Guacamole
Ingredients:
1

large avocado

(cubed)

¼

cup

sun-dried tomatoes

1

garlic clove

(minced)

½

teaspoon

red pepper flakes

1

teaspoon

dried oregano

¼

cup

pitted black olives

(cut in half)

2

tablespoons

green onions

(chopped)

1

tablespoon

capers

½ – 1

cup

cilantro

(remove the stems)

Salt & pepper to taste

1

tablespoon

olive oil
Instructions:
Add the avocado, sun-dried tomatoes, garlic, red pepper flakes, oregano, black olives, green onions, capers, and cilantro to a large bowl. Season with salt and pepper and stir until combined.

Season salmon fillet on both sides with salt and pepper.

Heat a medium nonstick pan to medium heat and add the olive oil. Once the the oil is slightly bubbling, add the salmon skin-side down.

Cook the salmon until the skin is crisp and browned, then flip it and cook it for 2-3 more minutes until it's cooked through.

Remove the salmon from the pan and let it rest for five minutes on a cutting board.

Using a fork, separate the salmon into small chunks before tossing into the avocado mixture. Stir until the ingredients are combined.

Add more salt and pepper if desired. Serve immediately.
---