My friend Randy Hartnell, founder of Vital Choice Wild Seafood & Organics, told me recently about his late mother-in-law, Ethel Davis, and her favorite breakfast. It was a salmon patty made by blending an egg and a small can of Vital Choice sockeye salmon. Ethel passed away in 2019 at age 95. "Over the years, she often credited Vital Choice for her excellent health and longevity," Randy says.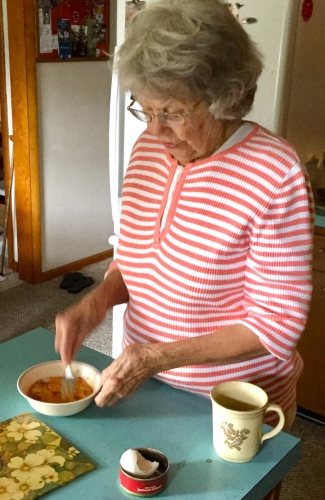 That struck me, because I am a longtime egg-salmon-breakfast-scramble guy, and at 68, am also enjoying excellent health (a little early to get excited about longevity, but I am getting there!) More about my post-60 transformation here.
As Ethel would – and I will now – attest, this salmon-and-egg breakfast offers many benefits. It is:
delicious
extremely satiating, no hunger afterward for many hours.
rich in vital nutrients including the fatty acids DHA and EPA, as well as iodine and selenium
easy to make, and
very low-carb, so starts your day with even-keel blood sugar.
As I am a 190-pound, 6-foot, 4-inch fellow who lifts weights, my version makes a somewhat larger dish than Ethel's did. I also add a few extras to the recipe, as you'll see.
In any case, I've made it hundreds of times, so here is the evolved sequence: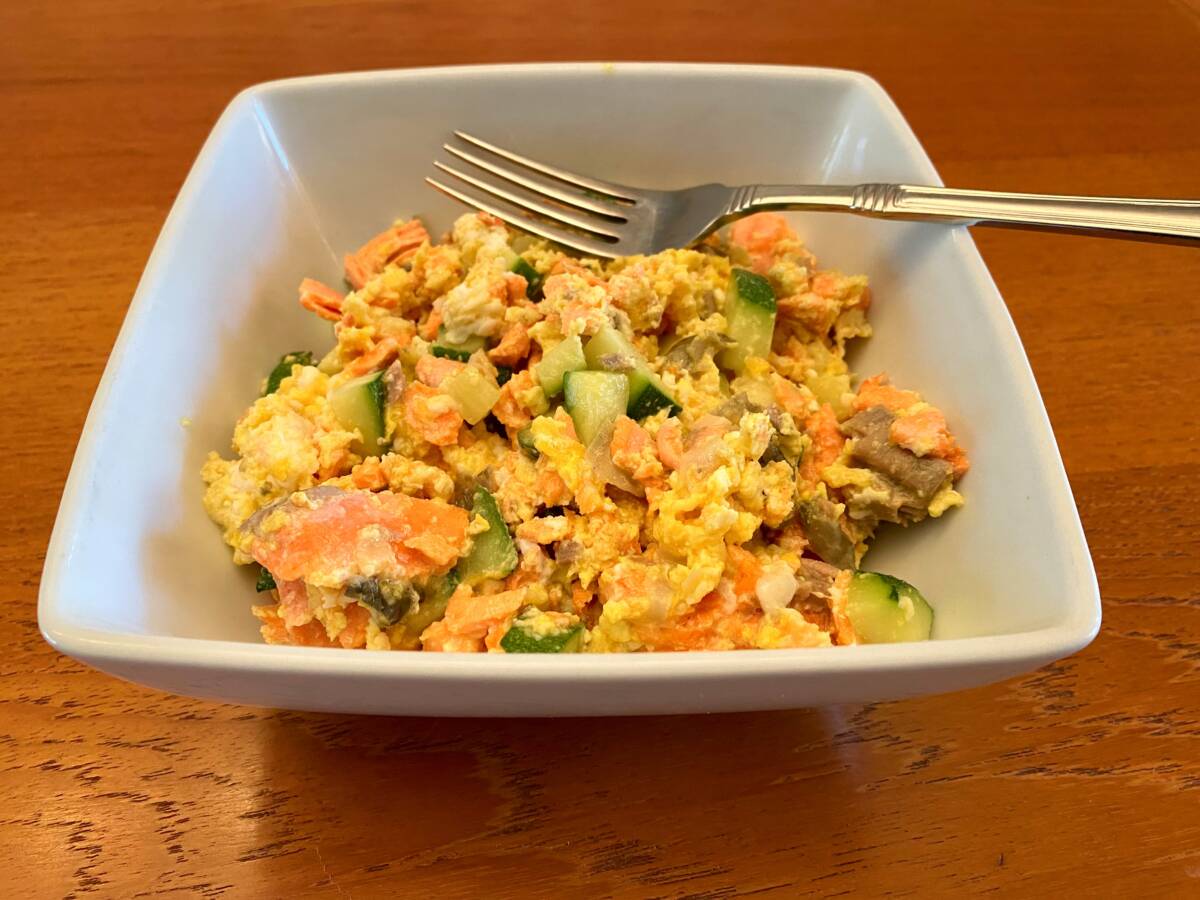 Salmon and Eggs Breakfast
The perfect way to begin a productive day! Nutritious, satisfying, and easy to make.
Ingredients:
2

tablespoons

coconut or olive oil

1

6 oz. fillet

frozen wild sockeye salmon

½

cup

diced vegetable such as zucchini to tomato

2

eggs

salt to taste
Instructions:
Spread two tablespoons of fat in a small saucepan. I prefer coconut oil. A highly saturated fat, it does not oxidize and polymerize, and I believe it is a healthful choice.

Add the fish. If I am in a hurry, I simply use a 6 oz. can of drained sockeye salmon. But roughly 95 percent of the time, I use a 6 oz. still-frozen fillet of skin-on sockeye, shown here. My garden is now cranking fresh zucchini, so this morning I added a half-cup of diced zuke as well. I've also been known to add halved cherry tomatoes or broccoli florets.

Cook this on medium-low for 8 minutes. This both thaws and half-cooks the salmon. Then flip the fillet and stir the vegetables, and continue to cook on medium-low for another 5 minutes.

Drop in a couple of eggs. Pasture-raised, if possible.

Break up the now nearly cooked salmon with the end of the spatula, then scramble together with the eggs. Salt to taste.

The finished dish. I often enjoy a bit of hot sauce on top.
There you have it – so simple it barely qualifies as a recipe. Five ingredients – coconut oil, a veggie of choice, salmon, salt, eggs – and your day is off to a fantastic start.
For roughly the last four years, I've had this breakfast almost every morning. I occasionally use cod, canned oysters or ground beef as the protein, but wild sockeye salmon is my go-to.
It is simple, and keeps my blood sugar, energy and mood stable.
And – not incidentally – absolutely delicious, I never tire of it.