Recently I came across a photo of myself looking, let's say, less-than-formidable as I trudged the backstreets of Liverpool, England.
It was taken in 2016, when I was 61, during a European vacation.
Viewing the photo in November of 2021, at age 66, I was pretty sure I didn't look like that anymore. To confirm, I snapped a shot of myself in the changing room of my gym here in my hometown, Tempe, Arizona, after a workout.
I posted both photos on Twitter with a short, encouraging message to others seeking post-60 improvement.
I figured I might inspire a few dozen people.
Two days later, I saw this: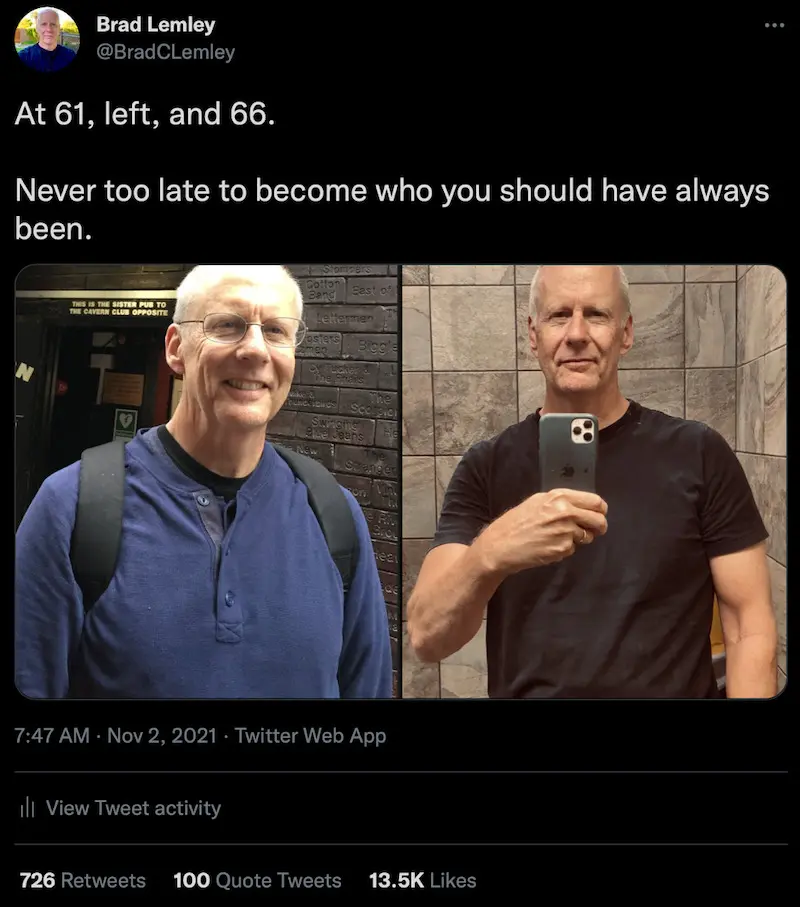 Roughly 13,500 "likes" is insane – my previous high was about 400.
I had tapped into something. Many people, apparently, want to hear it's not too late.
So, here's…
The Rest of the Story
I'm originally from Oregon and a lifelong journalist. Before becoming Editorial Director at Vital Choice Wild Seafood & Organics, I'd been a television reporter and anchor, done features for the Washington Post and Discover magazine, and written or co-written 10 books on everything from woodworking to budgeting to cooking (for better or worse, almost everything fascinates me).
Fun, but aside from dodging subpoenas, teargas, and cranky editors, the reporting gig is relatively sedentary.
Years passed. Pounds accreted. Worse was a general sense of being constantly tired.
At age 55, it hit me that the mainstream fitness advice I'd been following – eat a semi-vegetarian diet and jog a few miles three or four times a week – wasn't cutting it.
Then on Twitter, I found a community of researchers and athletes who pushed a different plan. Given that most of these folks looked amazingly strong, fit, and happy, they seemed credible.
I also found a website, Mark's Daily Apple, that promoted a "paleo" approach: that is, building health by taking lifestyle cues from human evolution.
Putting It Together
Here's a summary of advice from these sources, and from my own research in medical journals:
Lift weights. Jogging does nothing to slow sarcopenia, the technical term for muscle loss associated with aging, while a lifting program can halt or reverse this. Maintaining muscle mass does more than make you look good in a T-shirt. Research suggests benefits may include improved physical performance and cognitive ability, and better self esteem. It may also enhance cardiovascular health, boost bone density, improve insulin sensitivity and reduce lower back pain.
Get sun, at least an hour daily (admittedly easier for me in Arizona than for Northerners but do what you can). Research indicates possible benefits include vitamin D synthesis, lowered risk of types 1 and 2 diabetes, and lowered risk of rheumatoid arthritis, asthma, and infectious disease.
Optimize sleep, which is when exercised muscles grow and the brain and body get rid of their built-up cellular debris, a process called autophagy.
But the biggest of all?
A Slow Start
From age 55 to 61, I implemented this, but without much intensity and focus. This was a crazy busy time in my professional life, and I just could not get to the gym as much as I wanted. I also continued to sometimes munch carb-heavy favorites such as pizza.
But shortly after the age-61 picture was taken, I shifted to a higher gear.
More lifting. No pizza.
Then, at age 64, I began working as the editorial director of Vital Choice.
That was a game-changer. At my new job, I dived deep into the theory that seafood was a driving force in human evolution. I realized that fish and shellfish and their brain-building omega-3 fats broke humans out of the small-brained hominid pack in southern Africa roughly 160,000 years ago… and we've needed those fats ever since to keep our big brains running well. Studies have also indicated omega-3s may contribute to better muscle protein synthesis; that is, muscle growth.
Seafood Strategy
I now firmly believe it is nearly impossible to be optimally physically and mentally healthy without eating seafood. I regard 20 ounces per week as my absolute minimum.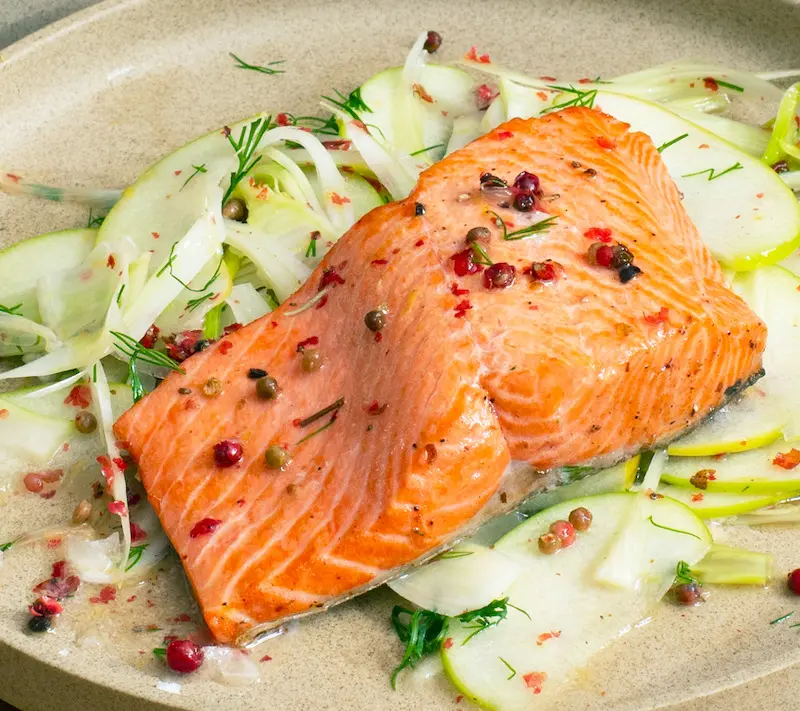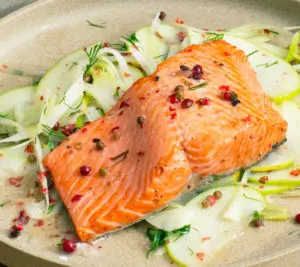 Most weeks, I eat closer to 30 ounces, or about one four-ounce filet per day, along with plenty of eggs and beef.
I also discovered this life-changing video, which transformed my vision of what senior fitness could be.
I began to push much harder in the weight room: at least four times a week, for an intense hour. And I started intermittent fasting, eating only between noon and 8 pm, which studies suggest is associated with improvements in conditions such obesity, diabetes, cardiovascular disease, cancers, and neurological disorders.
Aside from consuming copious seafood, which I love, none of this was easy. But the benefits went far beyond the physical. The new strength in my body is reflected in a new outlook, an overwhelming sense of gratitude for each new day.
It's impossible to tease apart the factors that have created this. Lifting, fasting, sun, and lots of fish all work together, I suspect, in ways too wonderful and complex to separate.
Healthy and Grateful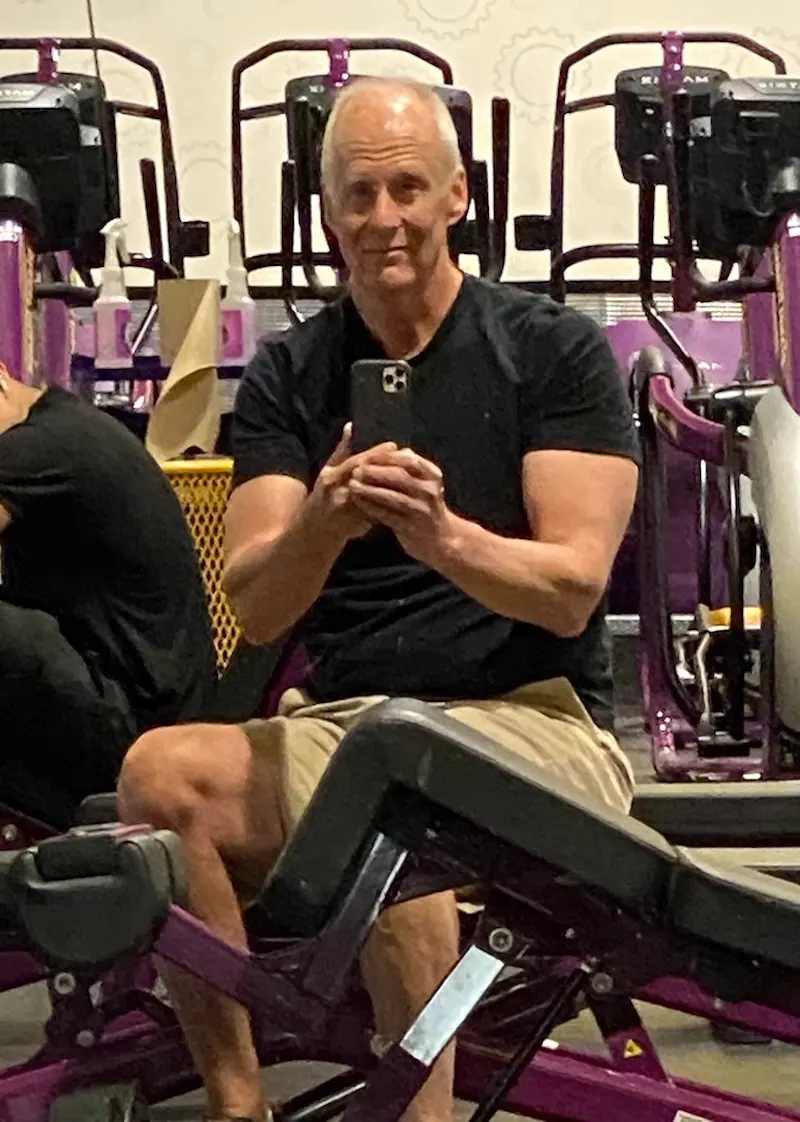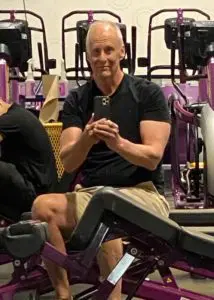 Everyone needs a focus. This gave me one. I consider my life to be a senior-fitness experiment to discover how strong and healthy a Social Security recipient can be.
Lately, I am truly surprising myself. I've lifted weights lazily and sporadically since I was in my 20s. The poundage I hoist now with a truly disciplined focus is the same as when I was 30.
It's delightful for a guy whose junk mail consists entirely of AARP flyers to be no weaker – not even a little – at this point in the game.
So…
I've greatly abbreviated my journey here, but hope I've communicated the essential elements.
Here's to looking – and feeling – formidable, with the help of a little discipline and a great deal of salmon.
It really is never too late.