You've likely had a bowl of New England clam chowder, a creamy delight. And even if you've never had it, you've likely heard of Manhattan clam chowder, which swaps the cream for a tomato-based broth. It's a lighter soup to keep a Wall Street arbitrageur on his toes. But Rhode Island clam chowder is an often overlooked American regional delight.
It's a light-broth soup with a rich, flavorful history. While New England and Manhattan clam chowder get the attention, Rhode Island clam chowder is a large gift from a small state.
And as Alistair Cooke noted, Rhode Islanders don't mind being conspicuous. So let's pay attention to their signature chowder.
Mysterious origins…
Rhode Island clam chowder's origins are obscured in the mists swirling over Narraganset Bay. There's no definitive record of its debut, but a few clues suggest it has been has been tempting Ocean State taste buds for centuries.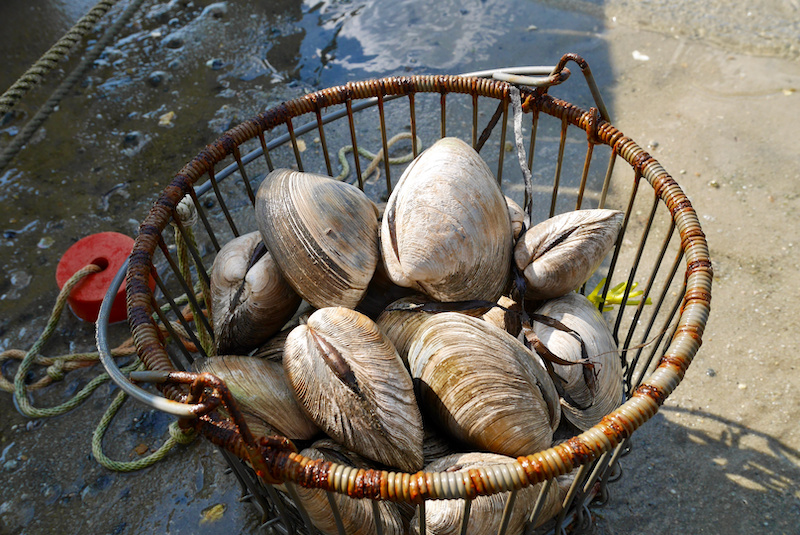 One of the earliest references can be found in an 1888 cookbook called "The Cooking Club of Tu-whit Hollow." This features a recipe for "Clear Clam Chowder." It is similar to modern-day Rhode Island clam chowders, with clams, potatoes, onions, and pork simmered in a clear broth. But the recipe also includes oysters and tomatoes, which are not typical of traditional Rhode Island chowder recipes (but still sound like a pretty good idea).
Another early reference: an 1894 cookbook called "The Dominion Home Cookbook," includes a recipe for "Clam Broth." It calls for clams, potatoes, onions, salt pork, and seasonings to be simmered in water until tender. The resulting cloudy broth was strained and served clear. The clams and vegetables were added back into the soup just before serving.
More recent versions add a cup of cream or "half and half" to a large pot. This adds fullness to the broth, but keeps it relatively light.
Before cookbooks…
It is likely that Rhode Island clam chowder as a favorite dish predates any of these literary references. Rhode Island has long been famous for its clams. Early settlers likely simmered the bivalves in water with some local vegetables long before anyone thought to write down the recipe.
Today, Rhode Island clam chowder is popular in restaurants throughout the state, especially in coastal towns like Newport and Narragansett.
For example, at the Matunuck Oyster Bar on Potter Pond in South Kingstown, the kitchen sources its clams and other seafoods from local waters. The clam chowder there is regarded by some as the quintessential example of the famous soup.
So, what's in Rhode Island Clam Chowder?
The flavor profile of Rhode Island clam chowder is delicate and refined. The point it to let the sweet, subtle flavor of the clams shine through.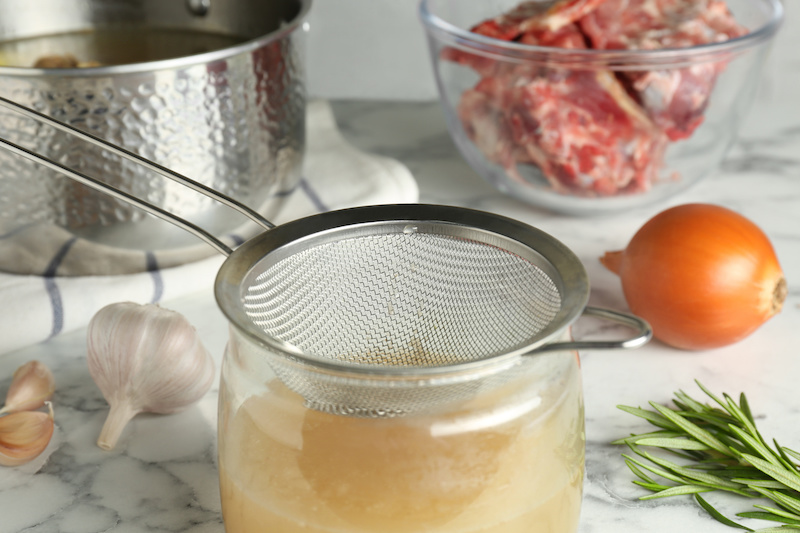 The broth is made by simmering clams, potatoes, onions, and pork in water or fish stock until tender, then straining the broth to remove any solids. The resulting broth is clear and refreshing, with a savory sweetness from the clams and a slightly salty tang from the pork.
In addition to the traditional ingredients, some recipes may also include other flavorful vegetables or herbs, such as sweet carrots, crisp celery, or aromatic thyme.
It is also quite common these days to include heavy cream, but the proportion – just one cup for a whole pot of soup – yields a chowder that's still thinner and more refined than the New England version, where the usual aim is "as thick and rich as possible."
As with all clam chowders, none of the following recipe is inscribed in New England granite. Experiment to find a version of chowder that expresses your own hearty spirit.
And one last note: You're busy! Embrace the miracle of modern life, and enjoy pouched, shelf-stable Vital Choice classic clam chowder – just heat and eat!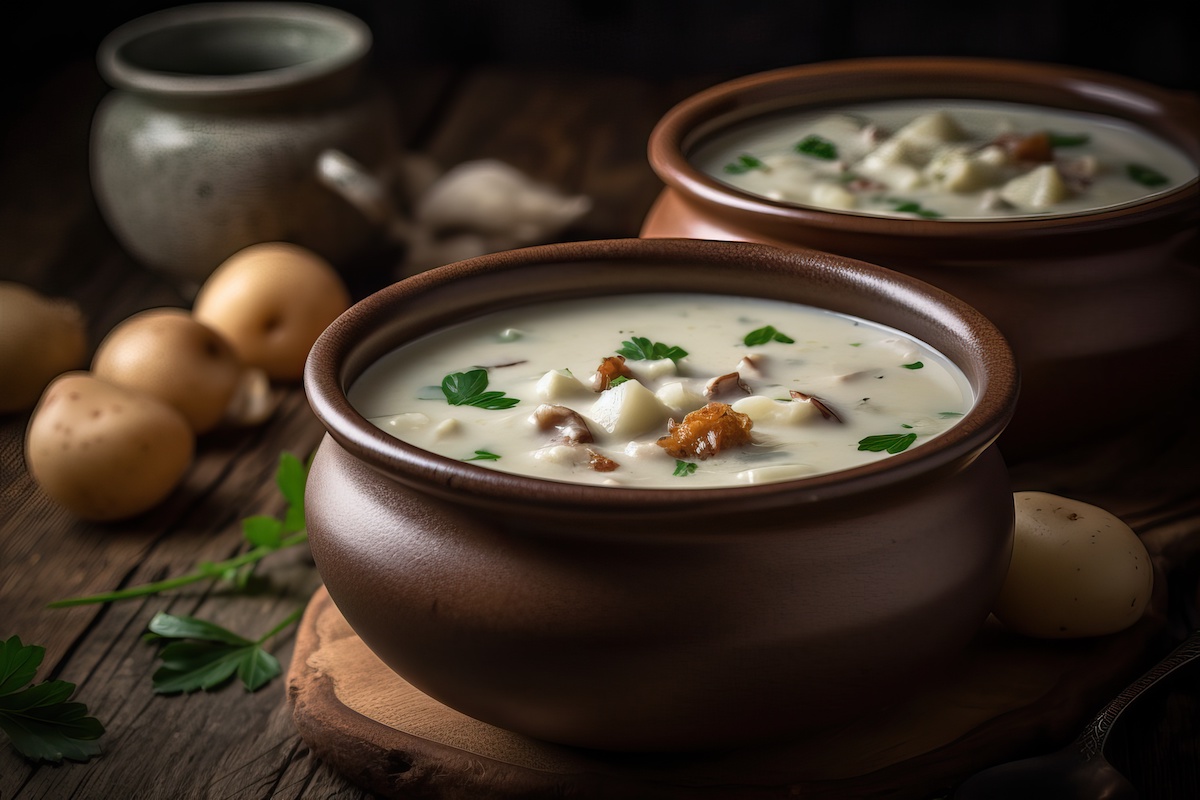 Classic Rhode Island Clam Chowder
This delicious "third chowder" deserves all of the accolades accorded to better-known New England and Manhattan clam chowders. A delicate broth with less dairy than most chowders allows the flavor of fresh clams to truly shine through.
Ingredients:
2

cups

chopped fresh clams

(quahogs)

4

slices

of bacon

(chopped)

1

onion

(medium, chopped)

4

cups

peeled and cubed potatoes

2

cups

water

2

cups

clam juice

1

cup

heavy cream

Salt and pepper to taste
Instructions:
In a large pot or Dutch oven, cook the chopped bacon over medium heat until crispy. Remove the bacon with a slotted spoon and set aside, leaving the bacon fat in the pot.

Add the chopped onion to the pot and cook until softened, about 5 minutes.

Add the cubed potatoes, water, and clam juice to the pot. Bring to a boil, then reduce heat and simmer until the potatoes are tender, about 15-20 minutes.

Strain the broth through a fine mesh strainer. Discard any solids and return the broth to the pot. (This step is optional. It yields a more delicate flavor, but many frugal Rhode Islanders can't stand wasting good food!)

Add the chopped clams to the pot and cook for another 5-10 minutes, until the clams are heated through.

Stir in the heavy cream and season with salt and pepper to taste.

Serve the chowder hot, garnished with the crispy bacon.
---