If you love crabmeat, deciding which kind of crab to eat is a pleasure, and will make you happy, not crabby.
By the way, if you are wondering why "crabby" means cranky, it goes back centuries and arises from the crustacean's habit of scuttling sideways. Crabs do this because their stiff-jointed legs move more quickly that way. Someone long ago thought that it looked like an unhappy person shuffling away from social contact.
In fact, there are more than 4,000 species of crab in the sea, and people eat many of them. For our purposes, we'll focus on just two: Alaskan snow crab and Dungeness crab.
Leg, claw, or jumbo lump?
As with meat, there are different "cuts," so to speak, of crab. "Jumbo lump" crabmeat, which comes from the muscle that propels the crab's swimmer fins, is especially mild and sweet. The claws are more muscular, which gives claw meat a stronger flavor. Leg meat usually falls in between. If you'd like to test if your taste buds can distinguish the differences between leg and claw meat, try our wild Dungeness crab sections, which offer both.
White as snow
Named for its white exoskeleton, snow crab is mainly harvested in the Bering Sea near Alaska from January to April, although it can also be caught in Atlantic waters off Maine, Canada, and Norway. Snow crabs grow to between two and four pounds and have long legs and thin shells. They crossbreed with tanner crabs, so the leg meat of both species are typically sold together. The legs are the choice part of a snow crab.
Don't confuse snow crabs with king crabs, which average about six pounds and can get scarily big, with thick, spiky shells. Snow crabmeat has a delicate texture and breaks into long pieces. King crabmeat, on the other hand, comes in thicker chunks and is closer in texture to lobster. It's also more expensive.
Right now, however, that's not a choice you need to make: The Alaska fall king crab season was canceled in both 2021 and 2022 to protect a dwindling population, as warmer waters have forced all crabs farther away from their former habitat. Vital Choice offers Chionocetes bairdi, a species of snow crab whose season has not been canceled.
Not from a dungeon!
First discovered in the Dungeness region of England — about two hours southeast of London —these crabs, recognizable by their orange, rust, or even purple shells, live in more temperate waters than the cold-loving snow crab. 
While they enjoy estuaries and shallow waters, they're also deep swimmers. Dungeness crabs grow no bigger than three pounds and have thinner and smaller legs than snow crabs, which means the best meat comes from the body and tends to be a bit sweeter. Their hard shells require special equipment to crack — a good argument for buying already-cracked sections or shucked meat.
Dungeness crabs and snow crabs can simply be boiled in buttery water, steamed in a basket or with a colander insert, or baked in heavy-duty foil.
But there are plenty of options if you're feeling playful or fancy.
Chefs make crab fab!
San Francisco Bay Area restaurants have easy access to crabmeat and use it creatively. Nick's Cove, about 50 miles north of San Francisco, enjoys fresh seafood from Tomales Bay. Menu highlights include Dungeness Crab Poutine, a dish of french fries and cheese curds topped with a brown gravy from the Quebec region of Canada, and a mac and cheese with aged cheddar and Gruyère plus Dungeness crab.
Woodhouse Fish Co. in San Francisco offers Dungeness crab cooked with butter, white wine, basil, and garlic.
For more inspiration, take a look at Seattle-based chef Becky Selengut, author of Good Fish, dressing Dungeness crab with a teriyaki-soy caramel sauce.
Have leftover rice? Chef Hank Shaw, author of Hook, Line and Supper, uses any variety of crab in his Thai-inspired recipe for crab fried rice with pineapple, lemongrass, and chiles.
You can also use either kind of crab in Louisiana recipes like jambalaya and cornbread crab cake or, from a bit north, a low-country boil. Try crabmeat in a bouillabaisse or cioppino, the San Francisco any-seafood-goes soup.
Are you a sensitive soul?
If you were born from late June to July under the astrological sun sign Cancer, the crab is your symbol. In Greek legend, the Queen of Heaven, Hera, created the crab constellation as a thank-you for a crab's timely help. But whenever your birthday falls, we invite you to embrace your inner crab, said to be sensitive, loving, and a good cook. Enjoy. Experiment. This cute crustacean is a sweet and healthful protein that will charm even the seafood-shy.
Here's a classic crab cake recipe sure to please: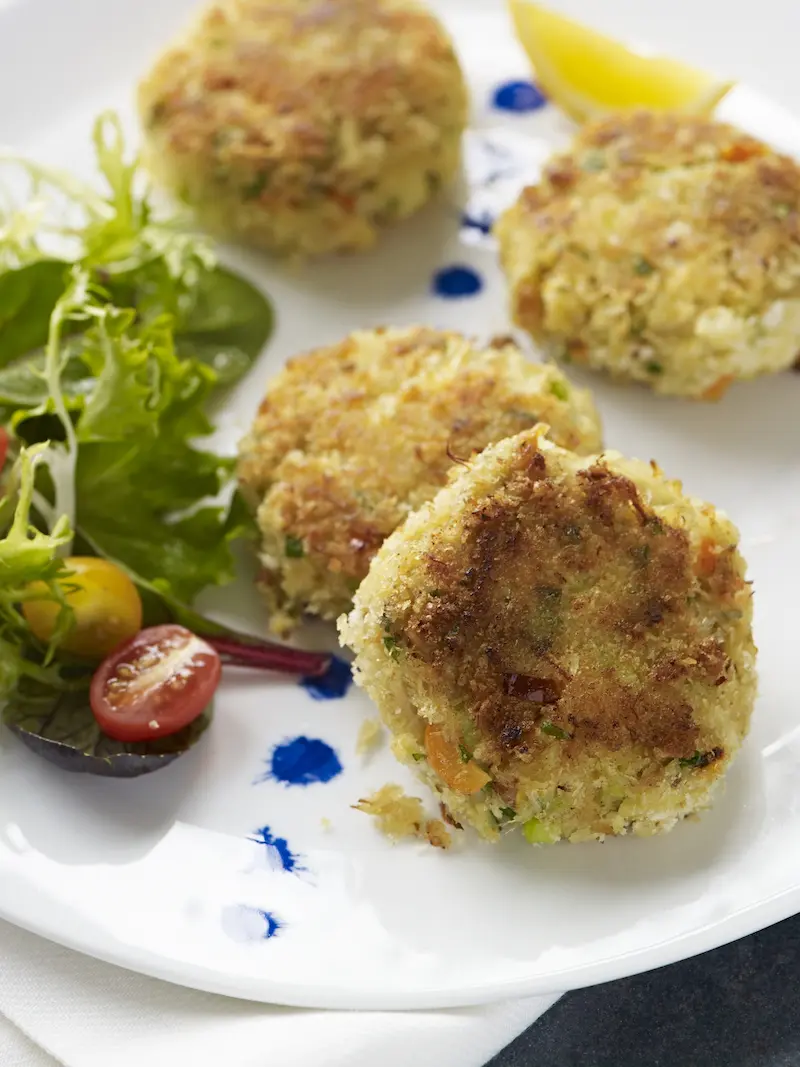 Crab Cakes with Lemon Aioli:
The secret of a memorable crab cake is not to skimp on the crab! Restaurant crab cakes can be too laden with bread crumbs, as that's the cheapest ingredient. But quality restaurants and savvy home chefs know that the crab-forward proportions in this recipe will yield a cake to remember.
Ingredients:
For the crab cakes:
¼

cup

mayonnaise

1

large egg

1

teaspoon

Dijon mustard

1

tablespoon

lemon juice

¼

teaspoon

cayenne pepper

¼

cup

bread crumbs

2

tablespoons

butter

salt and pepper to taste
For the lemon aioli
¼

cup

mayonnaise

1

clove

garlic, minced

1

tablespoon

lemon juice

salt and pepper to taste
Instructions:
In a large bowl, mix together the crabmeat, mayonnaise, egg, mustard, lemon juice, cayenne pepper, bread crumbs, salt, and pepper until well combined.

Shape the mixture into 8 small cakes.

In a large skillet, heat the butter over medium heat until melted.

Place the crab cakes in the skillet and cook for 3 to 4 minutes on each side, or until golden brown.

In a separate bowl, whisk together the mayonnaise, minced garlic, lemon juice, salt, and pepper until well combined.

Serve the crab cakes hot with the lemon aioli on the side.
---